DrChrono
Vad är DrChrono?
DrChrono's all-in-one cloud-based mobile EHR comes with speech-to-text and custom templates/forms to chart effectively. With DrChrono's practice management and medical billing software you get a live
Läs mer
claims feed for billing and payment processing, HCFA/Superbill generation, and e-fax integration. Real-time eligibility checks help you check patients' information, and you can send custom appointment reminders through email, SMS, or phone. For students please visit DrChrono University.
Läs mindre
Vem använder DrChrono?
DrChrono serves small single provider practices and large medical group practices with multiple specialty customizations.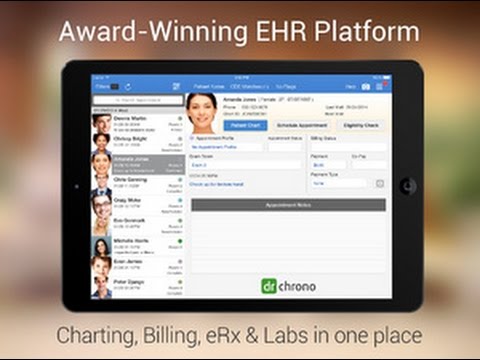 Är du osäker på DrChrono? Jämför med ett populärt alternativ
Inte tillgänglig i ditt land
Gratis version
Gratis provperiod
Gratis version
Gratis provperiod
DrChrono Hitta alternativ 2021 - Capterra Sverige
Dr Baden
Owner / Primary Chiropractic Physician at Fit 4 Life Chiropractic i USA
Verifierad LinkedIn-användare
Har använt programvaran för: 2 + år
Save thousands in upfront expenses.
Kommentarer: I saved thousands of dollars in upfront expenses from other EHR companies and then pay update fees every year.
Fördelar:
They keep current payers at the monthly price they started at when tasing the priced for new customers. I have been with and using DrChrono for about 6 years now. They are always improving. It is a nice system that can be used multi-disciplinary. I am a chiropractor an I used it with a a medical Nurse Practitioner. What initially appealed to me is there was no multi thousand dollar up front software like a lot of other EHR companies want to charge you, along with yearly upgrade fees. None of that here so you start off saving thousands.
Nackdelar:
The Price keeps raising every year, for new accounts. Customer service sinks and there is no direct phone number to call to have the issue solved right away, you have to email them and wait for them to get back to you.
Dr John
Non-Force Chiropractor i USA
Sjukhus och hälsovård, Egenföretagare
Har använt programvaran för: 2 + år
Källa: SoftwareAdvice
The ultimate software partner for your Mac computer office!
Kommentarer: Patients save me time and charting by communicating through the onpatient portal.
I can run reports and have an immediate idea of what symptoms and frequency my patients are presenting and develop educational materials that support those diagnosis.
I stay on top of my day by way of daily schedule emailed to me every morning.
Fördelar:
Seamless integration with my MacBook, iMac and iPhone. Fast, knowledgeable support. The unlimited ability to customize for my sole practitioner non-force chiropractic practice. Easy to understand video tutorials which answer most questions without having to contact support. Robust, integrated systems, such as the ability to provide credit card processing. Knowing that drchrono is a leader and partner with Apple Health.
Nackdelar:
I get frustrated when I am on a learning curve with a new part of the software. But that's my problem!
Psykisk vård, 2-10 anställda
Har använt programvaran för: 2 + år
Källa: SoftwareAdvice
Övervägda alternativ:
Does not function as advertised.
Kommentarer: The first year or two was great. The subsequent 4.5 years have been a nightmare. Because of how hard DrChrono makes it to export charts, I feel like a prisoner to it. Read only access to charts costs $150/month and require a 1 year contract, so I can't even gradually move my charts to a new system.
Fördelar:
Theoretically DrChrono offers a comprehensive product with all the features you would want under one roof. It was easy to learn how things are supposed to work. The UI is not too visually cluttered.
Nackdelar:
It doesn't work as promised. When something is broken, the help desk first gaslights you,, trying to convince you that it's not broken or that it's your fault it's broken. Sometimes tickets are open for a month or two before they even acknowledge that it's broken. They don't reliably notify the larger DrChrono community of system level problems. The status page with system uptime statistics is a lie. It presently boasts 100% up time in the last 30 days, but on 11/3/22, the system was so slow it was unusable. We cancelled patients and sent admin home because we had no access to charts, as did multiple of my colleagues using DrChrono.Also read your contract with a lawyer. The sales person will promise you the moon, and there will be things that seem like common sense, but if it's not in the contract, they won't honor it.
Medicinska apparater, Egenföretagare
Har använt programvaran för: 2 + år
Källa: SoftwareAdvice
Excellent and cost effective
Fördelar:
E prescribing and charting are easy to use
Nackdelar:
Customer support . I cannot improve because there is no technical support
Svar för DrChrono
för 3 månader sedan
Hi Alexis - thank you so much for your feedback! We are sorry to hear you feel you have not received adequate support. We'd be happy to get you connected with the right person if you still need help - please either submit a support ticket here: https://support.drchrono.com/hc/en-us/requests/new or connect with your Account Manager. You can also reply directly to this message for further assistance. Thank you for being a DrChrono user!
Psykisk vård, 2-10 anställda
Har använt programvaran för: 2 + år
Källa: SoftwareAdvice
Övervägda alternativ:
Product is "Good", Service is "Outstanding"
Kommentarer: Dr C is excellent for our practice, easy to customize templates and support is always fast and effective.
Fördelar:
Easy to implement, great support, ease of use
Nackdelar:
Some of the features don't really function as well as advertised
Svar för DrChrono
för 3 år sedan
Thank you for the kind words and helpful feedback!