Wrike
Vad är Wrike?
Wrike är en prisbelönt projekthanteringsprogramvara som fler än 20 000 företag över hela världen förlitar sig på. Skapa en strömlinjeformad digital arbetsplats med hjälp av anpassade förfrågningsformu
Läs mer
lär, Kanban-tavlor, Gantt-diagram, tidsuppföljning, uppdateringar i realtid och prestandarapporter på ett och samma ställe som kan delas över hela företaget. Integrera Wrike med mer än 400 applikationer för att automatisera dina dagliga processer. Anpassa arbetsflöden och minska behovet av e-post, möten och statusuppdateringar med mera. Arbeta smartare, inte hårdare, med Wrike.
Läs mindre
Vem använder Wrike?
Perfekt för medelstora företag och företag som anammar lagarbete, driver flera projekt samt kunder. Skräddarsy Wrike efter dina behov med anpassade arbetsflöden, fält och rapporter.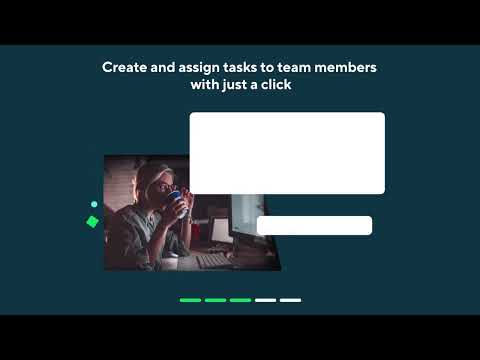 Är du osäker på Wrike? Jämför med ett populärt alternativ
Gratis version
Gratis provperiod
Gratis version
Gratis provperiod
Wrike Hitta alternativ 2021 - Capterra Sverige
Giuseppe
Head of Digital Operations i Italien
Verifierad LinkedIn-användare
Datormjukvara, 51-200 anställda
Har använt programvaran för: 1 + år
Full suite for project management
Fördelar:
There are a lot of tools for project management out there so it's crucial to understand your own need before choosing. If you are looking for a simple task management tool, maybe Wrike won't be the first choice but, when it comes for complex projects, Wrike has features that allow you to control every aspects of your project and the work of your team. You won't be able to work without it anymore.
Nackdelar:
Wrike allows you to manage projects, subprojects, folders and several other structural things. It's a bit complex at the beginning and you have to get used to it. I have also to say that customer support is amazing.
Tammy
Founder & CEO i USA
Verifierad LinkedIn-användare
Professionell träning och coaching, Egenföretagare
Har använt programvaran för: 2 + år
Övervägda alternativ:
Great Project Management System
Kommentarer: Overall my experience with Wrike has been fantastic. I've used it for many years and it has been a great system.
Fördelar:
I have used Wrike for years and highly recommend it to others all the time. The key to finding a good PM System is finding one that works like you work and Wrike offers so many ways to lay it out (boards, to do lists, by project, etc.). It is very easy to use and if you set up due dates you know what will be coming due and it will show on your to do list as well. I also love that I can add up to 5 team members + collaborators on the free version.
Nackdelar:
The only 'con' I have is that it would be nicer to have clarity on what Wrike considers 'projects' vs. 'folders'.
Verifierad recensent
Owner i USA
Verifierad LinkedIn-användare
Marknadsföring och reklam, 2-10 anställda
Har använt programvaran för: 1-5 månader
Övervägda alternativ:
Marketing Agency Buyer Beware
Kommentarer: Buyer beware if you're a marketing agency looking at Wrike for PM tool. We engaged Wrike to help us solve some very specific issues in which we outlined in detail during our numerous calls with sales rep. He showed us high-level that we could solve for our needs in his demo account which was not set-up to be agency-specific. He gave us test access and we tested as much as we knew how to test not understanding how to use the system but was reassured by the sales rep over and over again that Wrike could solve our needs. We decided to proceed with Wrike and even purchase the onboarding package so that someone could train us on how to use the system. The first onboarding rep we were given had literally zero clue how agency operations were set-up. We again outlined everything we needed Wrike to accomplish for our business and we left our first session feeling like we made a big mistake. We were given a second onboarding rep who was a lot better however, after three sessions, he couldn't even help us with solving our needs. To his credit, he tried so many workarounds but the system still wasn't working for what we made very clear we needed it to do. For reference these are the items we stated numerous times we needed this system to solve for: 1. transparency with clients being able to plan out ongoing marketing plans (solved only 50%)
2. track time and effort to be able to track workload (solved)
3. track ongoing month-over-month retainer budgets and products clients (not accurate
Fördelar:
Detailed task management Workload managment
Nackdelar:
See below including very poor customer service
Svar för Wrike
för 2 år sedan
Thanks for your feedback. The experience you describe does not reflect the level of service we strive to deliver, and we want to help make it right. We were unable to identify your account from the information here, so please contact us directly at [email protected]m. We would love to make things right if you give us another chance.
Verifierad recensent
Temporary teaching and research associate i Frankrike
Verifierad LinkedIn-användare
Utbildningsförvaltning, 1 001-5 000 anställda
Har använt programvaran för: 1 + år
Övervägda alternativ:
A powerful tool for content creation and workflow management
Kommentarer: I enjoy this tool in writing my articles, managing my content and workflow. My overall experience is good.
Fördelar:
Write is a very interesting tool for content creation and easy workflow management and planning. In addition, this software offers many interesting features such as the creation of multiple drafts and with the ability to access them anywhere, time management. It facilitates the writing and publishing of my working documents.
Nackdelar:
Write has a lot of features and I find it very good but personally I find that some of these features are not useful. Also, it is sometimes slow, which often makes it difficult to manage some workflows. Fortunately not all the time. That's why I like this software. In short, I think it should be faster, it should also allow us to schedule our articles for later.
Kristen
Delight Marketing Manager i USA
Datormjukvara, 51-200 anställda
Har använt programvaran för: 1 + år
Wrike Has Reformed Our Team Collaboration
Fördelar:
Wrike has greatly increased our efficiency across our teams. Our department has transitioned from a fully in-office team to a fully remote team to a hybrid working environment in just two short years, and thanks to Wrike, our project schedules remained on track no matter in what environment we work. The video onboarding tools built within Wrike helped each team member get started at their own pace, and the onboarding videos themselves are quite engaging and creative. Once established, our team has effectively created a high-functioning workspace in which to manage digital and print production, campaign management, and other organization. Some of our favorite features include the following. - A Gantt chart can be created so that once a task is completed, the assignee of the next task is instantly notified that they can start working on their assigned task. The Gantt chart also automatically adjusts deadlines across all items when a campaign deployment date is updated, saving us time from having to manually update dates for each task within a project. - Calendars provide us with a way to share our email campaign deployment dates company-wide and to assess workload distribution across teams. - Dashboards can be built for personal use or for team use, and customizable widgets mean that the possibilities are endless for dashboard items to display. - Forms can be programmed to use Blueprints to create and map projects/tasks automatically once submitted.
Nackdelar:
We are a small team without a dedicated project manager, and team members are required to manage their own projects. The onboarding process was lengthy, as the tool required our team to think differently about mapping project schedules. For example, if a task is created from a blueprint and the team member doesn't individualize the name of the task, Wrike may assume that the task is the same as others with the same name. Then, that one particular task will live in multiple projects. So, when a team member marks that one task as completed, Wrike will mark it as completed in all projects. This is wonderful if intentional, but it was confusing at first to some who were accustomed to linear project management tools.There are many different ways to set up projects on Wrike, which is a benefit as much as it could potentially be cumbersome. To ensure that our team members had an understanding of where to find things on Wrike and of the expectations for how we wanted to use this project management tool, we established a staff subcommittee to create a quick-reference guide that detailed the organizational structures, processes, or settings that we agreed to as a team. It worked really well for us to have a central document outlining the folder structures and notification settings for our team in addition to the onboarding tools that Wrike provided.