Vad är GoFrugal?
GOFRUGAL Technologies have been providing Point of Sale Software for Retail. Restaurant and Distribution businesses since 2004, in the form of complete business automation solutions paired with mobile apps and cloud solutions. Headquartered in Chennai, India, our technological footprint has grown to benefit of 25,000+ retail businesses across 50+ countries.
Our key focus is on providing a great customer experience with our digital solutions
Vem använder GoFrugal?
Serving digital retailers & restaurateurs across US, UK, CA, India, Australia and over 60+ countries
Var kan GoFrugal användas?
Moln, SaaS, webb-baserat, Mac (Desktop), Windows (Desktop), Linux (Desktop), Windows (på platsl), Linux (på plats), Android (mobil), iPhone (mobil), iPad (mobil)
Om leverantören
GOFRUGAL Technologies
Belägen i Chennai, Indien
Grundades 2004
Telefonsupport
24/7 (Live-support)
Chatt
Om leverantören
GOFRUGAL Technologies
Belägen i Chennai, Indien
Grundades 2004
Telefonsupport
24/7 (Live-support)
Chatt
GoFrugal videor och bilder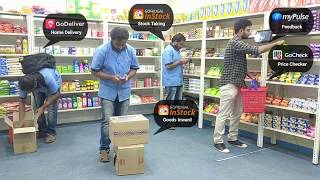 Jämför GoFrugal med liknande produkter
Funktioner i GoFrugal
Anpassning
Arbetsavgiftskalkylator
Artikelhantering
Audit av inventarier
Automatiska påfyllningar
Betalbearbetning
Bokföring
CRM
Citat / uppskattningar
Delade kontroller
Detaljhandelsförvaltning
E-post marknadsföring
Efterfrågan på prognoser
Elektronisk underskrift
Elektroniska recept
Etikettmall
Fakturering
Finanshantering
Flera platser
Flerkanalshantering
Formulärhantering
Fraktledning
För bagerier
För detaljhandeln
För restauranger
Försäljningsargument
Försäljningsrapporter
Hantering av leveranskedja
Hantering av skadeansökningar
Incheckning / Utcheckning
Inköpsorderhantering
Katalogisering / kategorisering
Kitting
Kontaktledning
Kostnadshantering
Kostnadsspårning
Kunddatabas
Kundhantering
Kundkonton
Kvalitetshantering
Kök / Menyhantering
Köpa in och ta emot
Lagerhantering
Lagerhantering för detaljhandel
Lageroptimering
Lagerspårning
Lagerstyrning
Leveranshantering
Leveransspårning
Leverantörshantering
Lojalitetsprogram
Materialhantering
Medicindatabas
Menyplanering
Mobilåtkomst
Mottagnings- och lagringshantering
Ombeställa hantering
Online beställning
Online betalning
Online påfyllningar
Orderhantering
POS-system för restauranger
Pekskärm
Personalhantering
Presentkorthantering
Prishantering
Produktidentifikation
Produktionsledning
Produktledning
Prognoser
Rabatthantering
Rapportering och analys
Receptbehandling
Recepthantering
Redovisningsintegration
Returhantering
Returneringsspårning
Routing
Sales & Operations Planning
Separata kontroller
Serienummerspårning
Streckkod / biljettavläsning
Streckkod / etiketthantering
Streckkodning / RFID
Sändning av matleveranser
Sök / filtrera
Tabellhantering
Tredjepartsintegration
Upphandlingshantering
Varningar / Meddelanden
e-handelshantering
Återförsäljarhantering
GoFrugal Hitta alternativ 2021 - Capterra Sverige
Safraz M.
IT Consultant i Trinidad och Tobago
Verifierad LinkedIn-användare
Informationsteknologi och tjänster, 11-50 anställda
Har använt programvaran för: 2 + år
Bang for your buck!
Kommentarer: Very satisfied with the company, support and follow ups. Excellwnt product, definitely needs more exposure on the market.
Fördelar:
The ability to connect across mutlipe platforms, windows and mobile solutions. Easy to use, implement and deploy from a small business to a large organisation. Simply add the devices and clients and enjoy the reach over wireless networks, or data on the go.
Nackdelar:
No cons so far. However I have to populate this field.
Svar för GOFRUGAL Technologies
i fjol
Thanks so much for your feedback! We're really glad that you are enjoying our product and service.
Sorabh A.
Director i Indien
Detaljhandel, 2-10 anställda
Har använt programvaran för: 1 + år
Övervägda alternativ:
GoFrugal is the Best
Kommentarer: Product is good, but as i mention RPOS ticket management needs to be less annoying for customer. Please assign a single support agent or atleast capture history of issue for the new agent to review and then connect with customer. Example softwares like sales force, Freshworks capture history of customer issue properly and be it any agent they all talk to customer from last communication thread. RPOS is used by NON IT people with basic IT knowledge, hence things should be made easier for trouble shooting issues at POS.
Fördelar:
There are a lot of features which i like about the software. The best one which i like is Go Sure App for Stock Taking and Audit. I would also like to highlight the HQ, which is an awesome feature. The team of HQ support is amazing and well qualified to solve the issues. SPECIAL THANKS to [SENSITIVE CONTENT HIDDEN] for their best support.
Nackdelar:
I think every thing is fine. Issue Management of RPOS with RPOS Support Team could be improved. My Experience is that i have to explain the whole issue again to the support team as the support agent changes every time.
Pardeep J.
PROPRIOTOR i Indien
Läkemedel, 2-10 anställda
Har använt programvaran för: 2 + år
Övervägda alternativ:
Data Security,Easy tools to converted Year end beginning
Kommentarer: good
Fördelar:
Sales ,purchase,credite note, debit note, ledger
Nackdelar:
data security, easy help through mail chat
Detaljhandel, 51-200 anställda
Har använt programvaran för: 2 + år
disappointment from the unsatisfactory level of service
Kommentarer: Stock management Locationwise
Fördelar:
There are a lot of things we have not been sorted out for in the system, the functions which are working fine are good to use.
Nackdelar:
We would like to express our disappointment from the unsatisfactory level of service we are receiving. Unfortunately, we can't help but submit this letter of complaint hoping for a fast and adequate resolution. We always have major critical bugs that affect the previous version set up when we do an upgrade. This always forces us to carry on with tests after every update. Much ado, the online service chat platform gets offline from the direct chat services and our requests for callbacks from it have never been attended to. Here are the pending critical issues that am yet to get a solution. 1. Expense accounts ledger mismatch error- No expense entry allows saving any particular transaction generated. (All expense services stopped and we are almost running to a week since i raised the issue) 2. Security rights login - Biometric login authentication logged in to an admin account(Recurrent issue) rather than the normal user account. In line with the above, we are not getting value on the M-PESA integration service, the service is long overdue on the agreed implementation period. We trust this is not the way you wish to conduct business nor the kind of email you wish to receive from your customers. We are asking you to look into the above subject matter and provide an adequate solution fast.
Verifierad recensent
MD i Indien
Verifierad LinkedIn-användare
Detaljhandel, 51-200 anställda
Har använt programvaran för: 2 + år
Övervägda alternativ:
Fast updates on government mandates and custom requirements.
Kommentarer: Safe and Good.
Fördelar:
Easy to use and good overall features, satisfying our large format Pharmacy Chain use.
Nackdelar:
When need to fix issues or change settings ,getting the right Support agent who sepecilises in the particular issue takes time. Need to patiently explain whole thing to newbie support agent (who will know nothing) till they connect to senior staffs who will solve in minutes. It will be better if they route to senior experts immediately by issue area.
Svar för GOFRUGAL Technologies
i fjol
Thank you for sparing your time and sharing the review. We definitely look into your feedback and work on it