Vad är Absorb LMS?
Absorb LMS ger företag över hela världen möjlighet att överträffa sina inlärningsmål. Den intuitiva designen och de robusta funktionerna skapar en engagerande inlärningsmiljö som får dina anställda, kunder och utbildningspartner att komma tillbaka för mer. Absorb LMS betjänar kunder i 120 industrivertikaler och erbjuder automation och djuprapportering för att spara tid och förbättra ROI. Välj den skalbara utbildningsplattformen som stöder integration och säkerhet, samtidigt som den erbjuder intern 24/7-support.
Vem använder Absorb LMS?
Organisationer som tillhandahåller utbildning för anställda, extern utbildning eller både och, inklusive e-handel. Absorb LMS används av organisationer med några hundra elever upp till hundratusentals elever.
Var kan Absorb LMS användas?
Molnbaserad
På plats
---
Om leverantören
Absorb
Belägen i Calgary, Kanada
Grundades 2002
Support för Absorb LMS
Telefonsupport
24/7 (Live-support)
Chatt
Prissättning av Absorb LMS
Startpris:
Levereras inte av leverantören
Erbjuder en gratis provperiod
Ingen gratisversion
Absorb LMS har ingen gratisversion men erbjuder en gratis testversion.
Prisplaner
få en gratis provperiod
Om leverantören
Absorb
Belägen i Calgary, Kanada
Grundades 2002
Support för Absorb LMS
Telefonsupport
24/7 (Live-support)
Chatt
Absorb LMS videor och bilder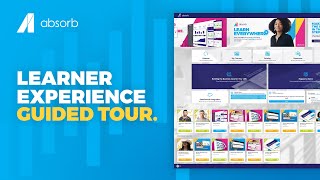 Funktioner i Absorb LMS
Administration av träning
Aktivitetspanel
Aktivitetsövervakning
Anpassningsbar branding
Användarhantering
Asynkron inlärning
Bedömningsledning
Blandad inlärning
Certifiering och licensiering
Certifikathantering
Curation för självbetjäningsinnehåll
Dokumenthantering
Efterlevnadskontroll
Elektroniska formulär
Fleranvändarsamarbete
Gamification
Hantera arbetsflöde för orientering
Importering av media
Inbyggd kursförfattare
Inlärningshantering
Inlärningsportal
Innehållsbibliotek
Innehållsdelning
Innehållshantering
Interaktivt innehåll
Kompetenshantering
Kursbibliotek
Kurshantering
Kurspublicering
Kursredigering
Kursspårning
Ljud / videoinspelning
Lägesrapporter
Lärningsspår
Mallhantering
Medarbetarenkät program
Medarbetarportal
Mikrolärning
Mobil inlärning
Mobilåtkomst
Ombordstigning av anställda
Personalhandbok
Påminnelser
Rapportering och analys
Rapportering och statistik
SCORM-efterlevnad
Självbetjäningsportal
Självlärande
Socialt lärande
Spårning av efterlevnad
Spårning av framsteg
Storyboarding
Synkron inlärning
Tester / bedömningar
Tredjepartsintegration
Uppdragshantering
Utbildning för anställda
Utbildningsföretag
Utbildningshantering
Varningar / Meddelanden
Virtuell klassrum
e-handelshantering
Absorb LMS Hitta alternativ 2021 - Capterra Sverige
Recensioner av Absorb LMS
Nicolas
Financial Analyst i USA
Verifierad LinkedIn-användare
Finansiella tjänster, 201‒500 anställda
Har använt programvaran för: 1 + år
Recensentens källa
Flexible and very complete LMS
Fördelar:
It stands out for its simplicity of use and its pleasant user interface. It offers great flexibility in the design of learning experiences, adapting them to the characteristics of each training process. It has an electronic signature so that participants can demonstrate that they met the requirements of their training process. Integrates seamlessly with any eLearning content library.
Nackdelar:
I consider that this is a platform with a lot of potential, the only thing that I think can be improved is to simplify some processes to make the configuration easier.
Yashovardhan
Researcher i Indien
Utbildningsförvaltning, 1 001‒5 000 anställda
Har använt programvaran för: 1 + år
Recensentens källa
All-in-one learning platform for Everyone
Kommentarer: I have been using the Absorb LMS for a few years, and have been very pleased with their platform. It is user-friendly, offers a great range of features, is well-supported and highly customisable. The training program setup and course creation process has been easy to learn and manage. I especially appreciate the reporting features which are very user-friendly and provide meaningful data. I also think Absorb has done a great job of creating an online community of customers which is a great resource for ideas and best practices.
Fördelar:
The features most impactful in Absorb LMS are customizability, scalability, analytics, and reporting. Users can easily customize the look and feel of the platform to best suit their organization's needs. Additionally, it can be scaled up or down depending on the size of the organization and their training needs. The analytics and reporting tools provided by Absorb LMS make it easy to track learner engagement and course effectiveness. Additionally, Absorb's API also allows organizations to easily integrate Absorb into existing business processes. Finally, Absorb LMS is incredibly easy to use and provides a straightforward user interface for authors and learners.
Nackdelar:
One of the areas of least satisfaction with Absorb LMS is the amount of setup required to configure the system. This can be particularly challenging for non-technical users and requires a fair amount of time and energy to get the system settings just right. Additionally, the interface of the interface and navigation could be more intuitive.
Övervägda alternativ: eFront och Docebo
Anledningar att byta till Absorb LMS: Absorb LMS stood out to us as a comprehensive, cost-effective, and intuitive platform that addressed all of our training needs. It provides a comprehensive range of features and customization options, making it easy to customize and configure the system to our specific needs. The customization flexibility also allows us to create automated rules and automate much of the training process. It offers scalability for growth, flexibility for changes, and has robust security measures in place to protect our data. Finally, the Absorb LMS is one of the most cost-effective options on the market. That combination of features makes it an easy choice for a reliable and successful implementation of our online training.
Pritam
Developer i Kanada
Informationsteknologi och tjänster, 10 000+ anställda
Har använt programvaran för: 6-12 månader
Recensentens källa
Absorb LMS review
Kommentarer: Development team is making it more flexible by constantly improving and adding features.
Fördelar:
It's integration with ADP is considered to be essential for our team. It has the flexibility of features and is robust and stable. The intelligence search feature making it possible to search the most accurate courses. Videos are so much informative.
Nackdelar:
It takes more time to configure the setup. The course organization can be done more properly. The modules are needed to be create by our team only to import the data from LMS.
Stefan
Manager, Knowledge Management i Kanada
Datormjukvara, 201‒500 anställda
Har använt programvaran för: 1-5 månader
Recensentens källa
Easy to use LMS platform with the right amount of features for our needs
Kommentarer: We were looking for an LMS platform for internal training that could be expanded to customer training afterwards. The sales engagement with Absorb LMS has been a great experience, providing us with the tools and knowledge to properly evaluate the platform (including a trial portal which we could test with our own content). Onboarding was well structured, with a clear plan of tasks to accomplish both on our side and on the vendor side. Absorb provides a series of well-made self-training modules to go through, which complemented the training provided by the implementation project manager. Compared to other LMS, the platform itself is easy to use while providing a good breadth of features for our use. It's a mature product, with a solid backend. We did not experience any performance issues or security concerns. Look and feel customization is relatively basic. The interface is also quite rigid: for example, thumbnails or banners must have precise dimensions, otherwise images are stretched. Because of that it requires a lot of efforts, trials and errors, if you want to have a visual experience distinct from the Absorb default. The main shortcoming we experienced is that some common workflows could be streamlined. They can involve a lot of clicks, which is irritating when you're repeating the same workflow several times in a row. Keyboard shortcuts could be introduced to facilitate some operations, which would alleviate this.
Fördelar:
Easy to use Solid onboarding training for admins Provides content hosting Supports SCORM and xAPI (Tin Can) Supports Instructor Led Classes Zoom integration BambooHR integration Salesforce integration Overall mature platform Great customer support
Nackdelar:
Look and feel customization lacks flexibility Some workflows could be streamlined, especially for course management No actual course authoring functionality: users need to import learning objects created with external tools, such as 3rd party eLearning authoring tools. This is fine for our needs, but it would add flexibility if there was at least some content authoring functionalities.
Övervägda alternativ: Cornerstone LMS
Anledningar att byta till Absorb LMS: The intersection of ease of use, features, customer service and costs of Absorb was superior to all other alternatives we considered. Some were superior in terms features but were too expensive for our needs. Some were less expensive but the customer service was a concern. Some were not as user-friendly. It all came down to that equation: ease of use + features + services + costs. Absorb LMS hit the sweet spot for us.
Alex
Content and Student Experience Manager i Australien
E-lärande, 11‒50 anställda
Har använt programvaran för: 1-5 månader
Recensentens källa
Intuitive, Adaptable System
Kommentarer: We have not had the option to easily view student logins, update courses, create courses and manage our student experience to date, and Absorb has solved all of these problems immediately. The system has been very easy to set-up, easy to navigate within - from a student and admin experience - and the Absorb Create function is invaluable.
Fördelar:
The simplicity of the system - back end and front end - have made the implementation and launch of our Absorb LMS very straightforward. My company has some unique use cases and my implementation manager, [sensitive content hidden], workshopped a number of issues with me and together we came up with effective solutions. The ease of uploading content has meant that I have had the opportunity to test various course set-ups very quickly.
Nackdelar:
Our courses require individualised feedback for assessments and currently Absorb is not set-up to allow for this in a comprehensive manner.
Övervägda alternativ: Docebo
Anledningar att välja Absorb LMS: Our previous LMS did not have any of the functionality we needed. It was set-up without planning or assessment of our requirements.
Anledningar att byta till Absorb LMS: The features available in Absorb LMS were similar to these other products, but Absorb Create and the pricepoint were what set Absorb apart.