Vad är QuickBooks Desktop Enterprise?
QuickBooks Enterprise (spara upp till 40 %) är en början till slut bokföringsprogramvara som kan växa tillsammans med din verksamhet. Det innehåller alla verktyg som din verksamhet behöver, men är ändå enkelt att använda. Du kan organisera din bokföring, hantera lagerhållning, följa upp försäljning och till och med sköta löneutbetalningar, men till en bråkdel av kostnaden. Med QuickBooks Enterprise sparar du tusentals dollar per år jämfört med liknande lösningar. Det är kraftfullt och flexibelt och finns också i versioner utformade för att passa dina specifika behov. Prova gratis idag.
Vem använder QuickBooks Desktop Enterprise?
Utgåvor dedikerade till entreprenörer, tillverkning och grossister, ideell verksamhet, detaljhandel med mera.
Var kan QuickBooks Desktop Enterprise användas?
Moln, SaaS, webb-baserat, Mac (Desktop), Windows (Desktop), Windows (på platsl), Linux (på plats)
Om leverantören
Intuit
Belägen i Sacramento, USA
Grundades 1983
Telefonsupport
Chatt
Tillgängliga länder
Indien, Kanada, USA
Språk
engelska, franska, italienska, kinesiska, spanska
Om leverantören
Intuit
Belägen i Sacramento, USA
Grundades 1983
Telefonsupport
Chatt
Tillgängliga länder
Indien, Kanada, USA
Språk
engelska, franska, italienska, kinesiska, spanska
QuickBooks Desktop Enterprise videor och bilder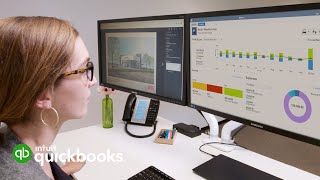 Jämför QuickBooks Desktop Enterprise med liknande produkter
Funktioner i QuickBooks Desktop Enterprise
"Vad händer om" -scenarier
ACH betalningshantering
Aktivitetspanel
Anpassning
Anpassningsbara fakturor
Anpassningsbara fält
Anpassningsbara mallar
Artikelhantering
Bankavstämning
Bearbetning av fakturor
Bearbetning av överbetalning
Beställning av restorder
Betalbearbetning
Beviljande av bidrag
Bokföring
Bostad
Budget / Prognoser
Budgetspårning / Jobbkostnad
Budhantering
CRM
Checkbearbetning
Citat / uppskattningar
Delbetalningar
Dokumenthantering
Donationsspårning
Dubblett betalningsvarning
Entreprenörshantering
Ersättningshantering
Fakturahistorik
Fakturering
Finanshantering
Finansiell rapportering
Finansiell stödhantering
Flera valutor
Fondredovisning
Fraktledning
För AEC-industrin
För ideella organisationer
För revisorer
För små företag
Försäljarstyrelse
Försändelsespårning
Förvaltning av anläggningstillgångar
Grundläggande redovisning
Hantering av kontanter
Hantering av leveranskedja
Historisk databas
Huvudbok
Incheckning / Utcheckning
Inkomst & balans-blad
Inköpsorderhantering
Integrerad affärsdrift
Jobbkostnad
Jobbplanering
Kalenderhantering
Kapitalhanteringssystem för företag
Katalogisering / kategorisering
Klientportal
Konsolidering / Roll-Up
Kontaktdatabas
Kontrakt / Licenshantering
Kostnadsberäkning
Kostnadsdatabas
Kostnadshantering
Kostnadsspårning
Kundfordringar
Kundhantering
Kundreskontra
Kunduttalanden
Köpa in och ta emot
Lagerhantering
Lageroptimering
Lagerspårning
Lagerstyrning
Leverantörshantering
Leverantörsskulder
Lägesrapporter
Lönhantering
Mobila betalningar
Mobilappar
Mobilåtkomst
Online betalning
Online fakturering
Orderhantering
Orderläggning
Personalkalender
Produktidentifikation
Produktionsplanering
Prognoser
Projektfakturering
Projektledning
Projektplanering
Projektredovisning
Projektspårning
RFI och inlämningar
Rapportering och analys
Rapportering och statistik
Realtidsdata
Redovisningsintegration
Resultat- / förlustredovisning
Returhantering
Schemaläggning
Serienummerspårning
Skapa förslag
Skapande av faktura
Skattehantering
Skattkalkylator
Spårning av fakturor som förfallit till betalning
Spårning av förfallodatum
Streckkod / biljettavläsning
Streckkodning / RFID
Sök / filtrera
Tid och kostnadsspårning
Tidrapportering
Tidsspårning
Tillståndshantering
Uppdateringar i realtid
Uppgiftshantering
Uppskattning
Utrustningsspårning
Vad-om-analys
Verifieringskedja
Visuella hopsättningar
Ändra orderhantering
Återkommande beställningar
Åtkomstkontroller / behörigheter
QuickBooks Desktop Enterprise Hitta alternativ 2021 - Capterra Sverige
Recensioner av QuickBooks Desktop Enterprise
Ankush
Manager- Finance i Indien
Verifierad LinkedIn-användare
Informationsteknologi och tjänster, 501-1 000 anställda
Har använt programvaran för: 2 + år
QuickBooks Desktop Enterprise: Finance and Accounting sorted!
Kommentarer: QuickBooks Desktop Enterprise proved to be an amazing tool for our organization. Seamless and easy to use inventory management, accounting, receivables and payables modules.
Affordable pricing and easily available.
Highly recommended for startups and MSMEs.
Fördelar:
QuickBooks Desktop Enterprise is a power packed tool and offers all the features and reports which are required for accounting and compliances. Following are the best features of QuickBooks Desktop Enterprise: - QuickBooks Desktop Enterprise have superb customer support - Easy to generate invoices and mark them as paid or pending - Multiple API integrations which support synchronizations - Easy to update bank statement in QB - Easy to process payment batch to Vendors - Multi-Currency accounting for global business - Preformatted reports - Easy to enable and create desired reports and dashboards
Nackdelar:
There is nothing to dislike about the QuickBooks Desktop Enterprise. Some of the extra user friendly features beats the general accounting principal. - Like creation of negative bill amount while paying to a vendor.
Verifierad recensent
CEO i USA
Verifierad LinkedIn-användare
E-lärande, Egenföretagare
Har använt programvaran för: 2 + år
QuickBooks is Quick and Easy! (I would definitely recommend it!)
Kommentarer: This has been a game-changer is organizing my receipts!
Fördelar:
I use QuickBooks for my two self-employed businesses and really love it. The first thing that I really like about QuickBooks is that it integrates with other softwares that I use. It is a part of the Intuit suite of softwares including Mint and TurboTax, and it also works with Square. The software has a user-friendly interface. I like that you can upload pictures of your receipts and attach them to each expense. No more worrying about your paper receipts fading or being misplaced. PRICELESS!! They also have a mileage tracker, which is super helpful. Of course, you can run important reports like Profit & Loss and your Balance Sheet. Quickbooks has also gotten into banking, and you can set up an envelope system for your business expenses. They offer several price points that are not that expensive. I would definitely recommend this software.
Nackdelar:
The hardest part about Quickbooks is just getting into the habit of reconciling your books. I do this myself, but you can hire a book-keeper to do it for you. They have a list of local Quickbook savvy bookkeepers in your area.
Shirley
Director of Finance i USA
Mediaproduktion, 11-50 anställda
Har använt programvaran för: 2 + år
Good for straight forward small business
Fördelar:
Bank feed connection and bank reconciliation.
Nackdelar:
Need to "work around" certain items such as creating robust chart of accounts and credits on invoices.
Svar för Intuit
förra månaden
We appreciate you leaving us a review, Shirley! If you ever need a hand with any questions or concerns please don't hesitate to reach out to the QuickBooks Desktop team for assistance. You can find their contact info here: (https://quickbooks.intuit.com/learn-support/en-us/help-article/account-management/contact-quickbooks-desktop-support/L9d0ZUCrC_US_en_US) Wishing you all the best! -Kristina, The QuickBooks Team
Carolyn
Office Manager i USA
Veterinär, 11-50 anställda
Har använt programvaran för: 2 + år
Övervägda alternativ:
Mount Carmel Animal Hospital
Kommentarer: Overall, Quickbooks is an amazing program. As someone who had no training in bookkeeping or business, it was very easy to navigate and utilize fairly quickly. The system is ultimately error proof, which is incredibly reassuring for someone who had no experience when starting out.
Fördelar:
Quickbooks is very user friendly and easy to navigate while being incredibly detailed and accurate. Coming from a veterinary background with not training in bookkeeping or accounting, I was able to utilize the software with minimal training. The way the software is designed, it is virtually impossible for errors to go unnoticed. There are multiple checks systems in place to ensure everything is accurate and correctly accounted for.
Nackdelar:
Having multiple users can become a bit expensive. Remote access is also more difficult, requiring a third party to manage remote access. Quickbooks Online offers easy remote access, however, we found that the desktop version was better suited for our needs overall.
Kommersiella fastigheter, Egenföretagare
Har använt programvaran för: 1 + år
Övervägda alternativ:
Great Tool For Small Business Management
Kommentarer: The other subscription based programs were not what I was really needing for my relatively simple, small business. I needed something straight forward, and easy to use. The bells and whistles weren't so important to me. I just wanted a program that I could buy outright that would accomplish what I needed it to do, without continuously paying a fee every month.
Fördelar:
Although I know that this program has many capabilities, it is also a simple and inexpensive solution for my small business. I have a storage unit management program that I use to manage my customers and billing, but I needed an easy to use and affordable way to take care of my other needs (bank reconciliation, accounts payable, and detailed reports to give to my accountant for tax purposes). I really appreciate that I can do all of this on a desktop program that I only had to purchase once, and can serve me long term.
Nackdelar:
Sometimes I find it difficult to go in and edit entries that I have made a mistake on or need to adjust. I tend to forget how to do it if I have not had to do it for awhile. The help can be a little confusing, but for the most part, I am always able to figure it out eventually.