Vad är Radar Healthcare?
Radar Healthcare supports organisations across health and social care to improve quality and compliance. With an in-depth understanding of your operational challenges and by working collaboratively across all areas of healthcare, our intuitive software simplifies the regulatory complexities you face giving you more time to focus on delivering service excellence.
Vem använder Radar Healthcare?
Designed for healthcare businesses, it is a quality management solution that helps monitor compliance, identify existing as well as potential non-conformances, take preventive action plans, and more.
Radar Healthcare Detaljer
Radar Healthcare
Grundades 2012
Radar Healthcare Detaljer
Radar Healthcare
Grundades 2012
Radar Healthcare videor och bilder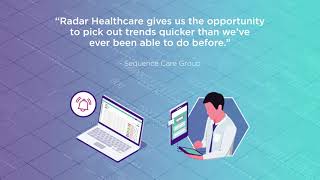 Jämför Radar Healthcare med liknande produkter
Startpris
N/A
N/A
N/A
N/A
Radar Healthcare distribution och support
Spridning
Moln, SaaS, webb-baserat
Android (mobil)
iPhone (mobil)
iPad (mobil)
Utbildning
I person
Live online
Webinarier
Dokumentation
Radar Healthcare Funktioner
Helen P.
Head of Quality Improvement i Storbritannien
Sjukhus och hälsovård, 1 001-5 000 anställda
Har använt programvaran för: 1 + år
The implementation and use of Radar
5
för 2 månader sedan
Nytt
Kommentarer: We chose Radar because we were given the impression that we would be supported well by the company and this has proven to be true
Fördelar:
Radar is user friendly. If however you run into difficulty with its use then there is always an easy way of finding out how to proceed that is all built into the system. Radar is helping us to see a real picture of risk across our organisation and we can then use this picture to build up a meaningful risk register (also embedded into the system). The analytics give you 'at a glance' information and the 'heat maps' are particularly informative.
Nackdelar:
The issues that we have found in the early days have been more about the way that we set Radar up than the system itself. With help and support we have overcome early teething problems.
Svar för Radar Healthcare
förra månaden
Hi Helen, Thank you so much for your fantastic review! It's great to know that the inbuilt help and guidance is proving so useful for you and that Radar Healthcare is helping you set up a meaningful picture of risk in the organisation. We have "big things" planned for the analytics in 2022 so I look forward to your feedback on the upcoming new features. Mark Fewster Head of Product at Radar Healthcare
Joanne H.
Director of Nursing and Quality i Storbritannien
Medicinsk praktik, 201-500 anställda
Har använt programvaran för: 2 + år
Övervägda alternativ:
Excellent Software
Kommentarer: Radar has helped us to be complaint with regulatory requirements. Radar gives us assurance that staff receive and read notices. Radar helps us keep in touch with our staff. Radar has pretty much been a life saver during the Pandemic - its portability has meant that when staff have had to work from home or different locations they can access it easily on any device.
Fördelar:
Its ease of use. It is clear and easy to read items. Document management means that end users know exactly which version to use and can see when and why a document of updated. Notices - these have really helped us manage the COVID updates and ensured that all staff have received the information they need to do their job safely. Event reporting - this has enabled us to make real quality improvements. the use of sub-categories helped us identify in depth issues and put in place workable solutions.
Nackdelar:
Compliments - I would like compliments made about individuals to be sent to them so that they get that feedback. Events - I would like the reporter to receive a copy of the completed event so that they get the feedback and know action has been taken.
Svar för Radar Software
för 11 månader sedan
Great review Joanne, thank you. We're really proud we are supporting our customers during the pandemic. In terms of your Cons, your Customer success manager has hopefully been in touch already as we can deliver on both of those feature requests for you. Mark Fewster Head of Product at Radar Healthcare
Lydia B.
HR Manager i Storbritannien
Sjukhus och hälsovård, 51-200 anställda
Har använt programvaran för: 1 + år
An effective, user-friendly system!
Fördelar:
The Workforce Compliance section of Radar is methodical and user-friendly. It keeps our managers organised and reduces the risk of missing important reviews such as probations and Supervisions. The way in which these meetings are logged is extremely simple - you don't have to be an IT genius to use Radar, which is very refreshing compared to systems used in the past!
Nackdelar:
There has been one occasion where there was an error at Radar's end which threw out all of our due dates which we had kept up to date, they tried to resolve as much as they could, however we had to correct the DBS dates from our end as this could not be rectified, which was quite time consuming. That being said, this has only happened once in a year.
Svar för Radar Healthcare
förra månaden
Thank you so much for the review, Lydia! Thanks for saying that Radar Healthcare is effective and user friendly and helps you reduce risk! Sorry to hear about the issue you experienced earlier in the year, we have implemented a number of improvements to workforce compliance to ensure this issue isn't repeated.
Russell D.
Head of Quality and Performance i Storbritannien
Sjukhus och hälsovård, 501-1 000 anställda
Har använt programvaran för: 1 + år
Sequence Care Group Integration of RADAR
Kommentarer: RADAR has allowed us to be much more transparent, ensure critical business processes are being completed and to be able to respond efficiently and effectively to incidents and emerging trends. Most importantly it enables us to ensure the safety of the people we support and gives us great evidence of a robust quality assurance process for the regulator.
Fördelar:
Incident management, Audit and automatically identification of actions to contribute to the continues improvement (action Plans)- Placing emphasis on business processes begin followed and leaving no stone un-turned. The flexibility and adaptability to be able to make agile changes as and when the business required them
Nackdelar:
Being able to upload cross group actions in one transaction would be most helpful rather having to provide separate entries for each site can be time consuming.
Svar för Radar Healthcare
för 4 månader sedan
Hi Russell, Thank you so much for your review! Great to see Radar Healthcare playing a part in enabling you to deliver safer care to the people you support! In terms of the idea around action plans, you will be pleased to know this is planned in a feature on our 2022 roadmap - you will be able to create 'cascading' action plans across locations and track progress both overall and at a location level! Mark Fewster Head of Product at Radar Healthcare
Misha F.
Quality & Policy Manager i Storbritannien
Sjukhus och hälsovård, 1 001-5 000 anställda
Har använt programvaran för: 2 + år
Fantastic software and amazing customer service
Kommentarer: Their customer service and approach to listening to their customers has to be my favourite part of their software. Great support initially - and their enthusiasm and support has been flawless. Seriously. We have had queries - all the time - they answer them friendly, patiently and are really supportive. They have TONS of helpful information on their Help page - but we are bad in not using that as much as our customer service rep - as we very much like both of them! They do not constantly charge for more and more for general work and queries. They have also conducted workshops with their customers to find out better ways of doing things - and have actually listened to us and made improvements.
Fördelar:
We really like the ease of using Radar. We have used it in many ways, and are still finding new ways of using it. During this pandemic we were able to make 2 new Events within 24 hours that tracked both cases of Covid and testing of Covid for staff. We are able to know at any point in time, within 2 minutes of all stats - Covid and others. It is easy to change about. Very few things are not changeable. We are using this across the organisation and it is very effective. We are able to change forms ourselves to respond to business changes - easily.
Nackdelar:
Introducing it. Nothing to do with Radar, but getting teams on board and getting it embedded was the hardest part. We had support from Radar at the time, and lots of meetings, but people change, and our training did not keep up internally - initially.
Svar för Radar Software
för 11 månader sedan
Thanks, Misha! Really kind of you to review us, we make a conscious effort every day to deliver great customer service so it's lovely to see what that means to our customers as described so well in your review. Mark Fewster Head of Product at Radar Healthcare