Vad är Google Sheets?
Online spreadsheet making tool that helps in creating, editing & sharing spreadsheets in real-time through any PC, mobile or tablet.
Vem använder Google Sheets?
Designed for businesses of all sizes, it is a spreadsheet making & editing tool with built-in templates, pivot tables, conditional formatting & more.
Var kan Google Sheets användas?
Molnbaserad
På plats
---
Support för Google Sheets
Support för Google Sheets
Google Sheets videor och bilder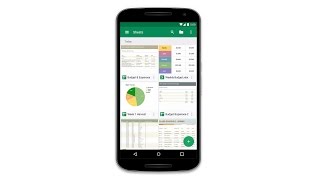 Jämför Google Sheets med liknande produkter
Funktioner i Google Sheets
Data Import/Export
Kommentarer / Anteckningar
Mallar
Rapportering och analys
Samarbetsverktyg
Sök / filtrera
Åtkomstkontroller / behörigheter
Google Sheets Hitta alternativ 2021 - Capterra Sverige
Recensioner av Google Sheets
Alexandru Cristian
QA Engineer i Rumänien
Verifierad LinkedIn-användare
Internet, 201-500 anställda
Har använt programvaran för: 2 + år
Google Sheets is the little brother of Microsoft Excel
Kommentarer: My overall experience with Google Sheets is a good one, being able to create basic and also complex tables on the fly, on any device.
Fördelar:
I like the most about Google Sheets that it is an easy to use table application, has a lot of collaboration features, also being able to edit in the same time with different people, and has a lot of features and implementations.
Nackdelar:
I do not have any cons regarding the Google Sheets application.
Affärsmaterial och utrustning, 2-10 anställda
Har använt programvaran för: 2 + år
Övervägda alternativ:
Easy to use alternative to Excel
Kommentarer: We use it for a lot more than crunching numbers. For instance, we have 300+ items we hire out, and we use Sheets to keep track of who has them booked and when (like a Gantt chart). The fact that we can all work on this sheet simultaneously makes Sheets work when an offline version of Excel wouldn't. That said, Office 365 would allow a similar experience.
Fördelar:
The collaboration options within a team are game changing. No more save, attach and send - everyone's aligned on the same sheet at the same time. You don't realise how much work and confusion this elimiates until you switch to it.
Nackdelar:
Its strength is its weakness. It's quite a cut down alternative to Excel, which makes it easy to use, but if you want to do something advanced or nuanced then you may find the feature you want is missing. Luckily you can export to Excel and carry on there if you want to. We very rarely have to. Collaboration also requires the other users to have Google accounts. Sometimes you just want to share with someone when you don't know if they have one or not. And they may have one, but not using the email address you assumed they did, which means they have to make an access request. It could be easier.
Verifierad recensent
Video Producer & Editor i USA
Verifierad LinkedIn-användare
Datormjukvara, 1 001-5 000 anställda
Har använt programvaran för: 2 + år
I Prefer Other Applications
Fördelar:
If you need to get a quick spreadsheet going, Google Sheets is a straightforward solve. If I'm performing simple functions, or want to customize or add onto an external xls file, it's very easy to get started with Google Sheets.
Nackdelar:
Google Sheets is not my preferred spreadsheet application simply because there are other applications out there that are substantially more aesthetically pleasing and user-friendly. Airtable's bases or Notion's databases can perform the same functions as Google Sheets, and the visual presentation of the data combined with customizable views makes either of these applications vastly more appealing. Google Sheets feels like the past of spreadsheet software. Competitors are doing what they do better, and adapting to their customers' needs at an impressive rate.
Gregor
Senior Operations Executive i Storbritannien
Informationsteknologi och tjänster, 1 001-5 000 anställda
Har använt programvaran för: 1 + år
Övervägda alternativ:
For the most part, an excellent platform
Kommentarer: I do so much with Google Sheets! I run a very large volume of payments every week through google sheets, which involves running data from a sheet filled out by other employees through an SQL script, adding this back to my google sheet, and then downloading it as a CSV to process the payment through our portal. On a daily basis, I add data from CSVs derived through SQL to Google Sheets in order to convert the data into something more legible and readable. This may involve linking it to data in other sheets through VLookups, or creating graphs of my data. I also frequently collate postcodes and locations through Google Sheets and then download the CSV and upload to My Maps in Google Maps to produce a map of pinned locations. I use Google Sheets to manage a calendar of events that are important to our company's demand. I do it to keep lists of employees, customers, bookings and more. I spend almost my entire working day on Google Sheets, working both on my own and collaboratively with my own team and teams in other countries. It's generally excellent!
Fördelar:
The thing I like most is the fairly obvious feature - how easy it is for multiple people to edit a document simultaneously, across not only our company, but also with partners. It is fantastic how easy it is to control access to a particular sheet, and that we can integrate this with Slack to facilitate multiple access requests. There is a fantastic array of formulae and functions available within Google Sheets, improved yet further by an impressive selection of add-ons. I feel like every week I find out something new that I can do with sheets! The formulae are generally very clear and easy to understand and the Google Sheets support online helps massively if I ever have an issue. I really like the conditional formatting feature. I really like that I can download a specific tab as a CSV file. I really like being able to carry out VLookups across multiple sheets. The Concatenate function is immensely helpful. Honestly I could go on forever - Google Sheets is fantastic!
Nackdelar:
I really have very few complaints about Google Sheets. Occasionally, sheets can become slightly glitchy when I edit a formula, but it's ok. It's annoying that columns have to be in the correct order for a VLookup function to work - this really confused me for a while and continues to occasionally cause some frustrations. I would like a duplicate checker to be more easy to implement. Finally, I also find that Google Sheets glitches a lot around the 'format' section. I often have to manually change plain text to 'number', and then the settings to 'Germany' in order for the formatting to be correct when uploading details of payments stored in Google Sheets, but every single time I do this there is some form of glitch, with not all data points immediately becoming of German formatting, and then it appears to be a fairly random process of repeatedly changing the formatting to plain text and back until all of them seem to become German format (e.g. 1,00). I really don't understand what's happening so I usually have to revert to doing this manually. I would also like to be able to do a reverse concatenate/split based on the number of characters, rather than some defining character like a comma.
Dilshad
Business Development Manager i Indien
Personalavdelning, 2-10 anställda
Har använt programvaran för: 6-12 månader
Övervägda alternativ:
I use it as a Application tracking system and also for many other things
Kommentarer: Best experience so far. Would recommend all organizations to use google workspace as their basic CMS platform.
Fördelar:
Most of the organizations are on google cloud now. So it becomes easy to share and transfer files and update the trackers and data. It is integrated with all of the google apps hence making it very useful
Nackdelar:
Few more functions are required which are currently present in Microsoft Excel. However, you will find constant updates bringing necessary functions into google sheets.