Vad är Microsoft Teams?
Microsoft Teams is a group chat solution for teams who want a shared workspace and messaging service. Microsoft Teams replaces Skype for Business as the chat-based communication service of choice for Microsoft 365 team collaboration. It's available on iOS, Android and Windows 10 operating systems. Microsoft Teams is an enterprise-grade messaging application that is a collaboration hub for teams. Create new teams to manage projects, and use Microsoft Teams to send messages, make calls and video conference with coworkers. Get real-time updates to keep everyone on task throughout the day.
Vem använder Microsoft Teams?
Cloud-based solution designed for business communications to help teams manage chat, meet, file sharing, team discussions, and more.
Var kan Microsoft Teams användas?
Moln, SaaS, webb-baserat, Mac (Desktop), Windows (Desktop), Android (mobil), iPhone (mobil), iPad (mobil)
Om leverantören
Microsoft
Belägen i Middletown, USA
Grundades 1975
24/7 (Live-support)
Chatt
Om leverantören
Microsoft
Belägen i Middletown, USA
Grundades 1975
24/7 (Live-support)
Chatt
Microsoft Teams videor och bilder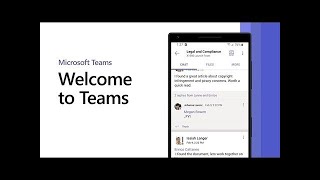 Jämför Microsoft Teams med liknande produkter
Funktioner i Microsoft Teams
Aktivitetspanel
Aktivitetsspårning
Anteckningar
Användarhantering
Automatisk inramning
Automatisk transkription
Chatt och meddelanden
Data Import/Export
Delning av skrivbord / webbläsare
Diskussioner / forum
Dokumenthantering
Dokumentlagring
Eventhantering
Fildelning
Fjärråtkomst / kontroll
För små företag
Hantering av presentatörskontroll
Hostkontroller
Inspelning
Kalenderhantering
Kommunikationshantering
Konferens
Kontaktledning
Livechatt
Ljudinspelning
Meddelanden i realtid
Mobil skärmdelning
Mobilåtkomst
Mötehantering
Omröstningar / Röstning
Online röstöverföring
PBX
Presentationsströmning
Privat chatt
Rapportering och statistik
Realtidschatt
Rollbaserade behörigheter
SSL-säkerhet
Samarbetsverktyg
Samtalsdirigering
Skärmdelning
Skärmdelning i realtid
Skärminspelning
Skärmupptagning
Sök / filtrera
Telefonkonferenser
Tredjepartsintegration
Tvåvägs ljud och video
Uppgiftshantering
Varningar / Meddelanden
Videokonferense
Videolayouter / visningsläge
Virtuella bakgrunder
Åtkomstkontroller / behörigheter
Microsoft Teams Hitta alternativ 2021 - Capterra Sverige
Recensioner av Microsoft Teams
Omar E.
Accounting i Egypten
Verifierad LinkedIn-användare
Bokföring, Egenföretagare
Har använt programvaran för: 2 + år
Microsoft
Fördelar:
Easy to use and easy to communicate with your friends and you can use it on the phone and PC and get easy to call with others
Nackdelar:
To get more options you must use paid version
Kristianna W.
Supervisor - Insurance Sales i USA
Verifierad LinkedIn-användare
Försäkring, 51-200 anställda
Har använt programvaran för: 2 + år
Microsoft Teams - Making Remote Work Possible
Kommentarer: I use Microsoft Teams all day, every day to engage with my team, communicate in the remote work environment, hold video meetings to incorporate as much human interaction as possible into the virtual environment. Teams allows me to share information with my team, help them in their daily tasks, play games to lighten the workday, send praise features to celebrate their hard work, etc. Remote work would not be possible (at least on my team) without it!
Fördelar:
I would not be able to function in my role without the consistent, daily use of Microsoft Teams. I use Teams to easily chat with my team, host online Team events, share important data, private message, host video meetings, make quick and easy phone calls, etc. I also love that there are so many add-ons that I can utilize (like the Praise feature) to engage with my team and reward productive output.
Nackdelar:
The only con that I would list would be that the emoji menu should have a recently used section. But, this is super minimal, as the selection for emojis to brighten up my team chat and engage with my team is vast!
Alba S.
Front end developer i Spanien
Datormjukvara, 1 001-5 000 anställda
Har använt programvaran för: 1 + år
Para trabajar en equipo
Fördelar:
Lo más útil me parece la posibilidad de crear diferentes salas de chat para poder organizar las conversaciones por temática. Hace bastante fácil tener a mano la información que necesitas en cada momento. Indispensable para el trabajo en equipo y en remoto.
Nackdelar:
La aplicación de escritorio no funciona demasiado bien y consume muchos recursos del ordenador. Se cierra muchas veces solo.
Verifierad recensent
Software developer i Indien
Verifierad LinkedIn-användare
Informationstjänster, 1 001-5 000 anställda
Har använt programvaran för: 2 + år
Best application for video calling and remote controlling.
Kommentarer: Overall Microsoft teams is best application in my perspective. I loved approximately each and every feature.
Fördelar:
The best thing about Microsoft teams as a video conferencing is the audio and video quality. This application do not consume large amount of memory and space which makes it friendly for the developers like myself. Microsoft teams is easily understandable and easy to use software. Teams provide lots of feature which comes handy to the user such as video calling, chats, screen sharing, polls, note making etc. The most facinating thing that I liked in teams is taking remote access to other collegues.
Nackdelar:
Microsoft teams sometimes do not update or wrongly update the status. For example, when I am in a call, sometimes it shown to other users that I am away or awailable. The file structures is very confusing and at some point there is unnecessary storage consuption. The swtiching of the call from mobile to PC sometimes is harder. It may happen that the message is not getting sent even if the network is strong and there is no option to try again.
Melissa G.
Operations Analyst i USA
Verifierad LinkedIn-användare
Statsförvaltningen, 201-500 anställda
Har använt programvaran för: 6-12 månader
Övervägda alternativ:
Video Conferencing, Ease Communication, Project Management!
Kommentarer: We have been using the system for 6 months, I love how easy it was for our team to learn and begin using the software. It really allowed for an easier buy-in from staff.
Fördelar:
The variety of applications you can incorporate into teams to allow for the system to be more customized to each individual teams needs. It helps reduce email and eases up on project management by putting it all in 1 system.
Nackdelar:
So many 3rd party apps, it would be great to have a description or more information on which ones other teams use to help determine if they are good for our team