Vad är NinjaOne?
NinjaOne (tidigare NinjaRMM) är den ledande enhetliga IT-driftlösningen som förenklar hur IT-team arbetar. Med NinjaOne kan IT-team hantera alla sina slutpunkter och stödja slutanvändare inom en snabb, modern, intuitiv plattform, som förbättrar teknikernas effektivitet och användarnöjdhet. NinjaOne-plattformen ger IT-team proaktiv övervakning, patchhantering och mer. NinjaOne stöder över 9 000 kunder runt om i världen, och rankas ständigt #1 för vår världsklassiga kundsupport.
Vem använder NinjaOne?
För IT-personal som behöver omedelbar respons på användarproblem och säkra sina IT-miljöer.
Var kan NinjaOne användas?
Molnbaserad
På plats
---
Om leverantören
NinjaOne
Belägen i San Francisco, USA
Grundades 2013
Support för NinjaOne
Telefonsupport
24/7 (Live-support)
Chatt
Prissättning av NinjaOne
Startpris:
3,00 US$/månad
Erbjuder en gratis provperiod
Ingen gratisversion
NinjaOne har ingen gratisversion men erbjuder en gratis testversion. NinjaOnebetald version börjar på 3,00 US$/månad.
Prisplaner
få en gratis provperiod
Om leverantören
NinjaOne
Belägen i San Francisco, USA
Grundades 2013
Support för NinjaOne
Telefonsupport
24/7 (Live-support)
Chatt
NinjaOne videor och bilder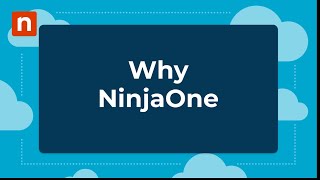 Funktioner i NinjaOne
Aktivitetspanel
Aktivitetsspårning
Anpassning
Anpassningsbara rapporter
Antivirus
Användarhantering
Applikationssäkerhet
Arbetsflödeshantering
Arbetsflödeskonfiguration
Automatisk patchdistribution
Automatiska skanningar
Bare-Metal Restore
Beteendeanalys
Bilddistribution
Biljetthantering
Bred hantering av nätverk
Cloud Backup
Datasäkerhet
Datavisualisering
Diagnos verktyg
Efterlevnadskontroll
Enhetshantering
Fildelning
Fjärråtkomst / kontroll
Fjärråtkomst och övervakning
Flera kommunikationskanaler
Full Backup
För MSP: s
För webbsidor
Hantering av slutpunkter
Hotinformation
Hotsvar
Hotvarningar
Händelseloggar
IP-adressövervakning
IT-kapitalförvaltning
IT-rapportering
Image Creation
Implementeringshantering
Incidentshantering
Inkrementell säkerhetskopiering
Inspelning av session
Instrumentbräda
It-säkerhetsprogram
Katastrofåterställning
Kompression
Konfigurationshantering
Kontroll och hantering remote
Kryptering
Kundtjänst
Kundtjänsthantering
Kunskapsbashantering
Kunskapshantering
Lagerhantering
Lösenordshantering
Makron / mallade svar
Meddelanden i realtid
Multi-OS
Nätverksanalys
Nätverksövervakning
Obemannad tillgång
Patchhantering
Policyhantering
Prestandamätningar
Prestandaövervakning
Prioritering
Problemgranskning
Problemhantering
Rapportering och analys
Realtidschatt
Realtidsrapportering
Restaureringshantering
Revisionshantering
Riskbedömning
Schemaläggning
Schemaläggning av säkerhetskopiering
Schemaläggning av underhåll
Serverövervakning
Självbetjäningsportal
Skärmdelning
Spårning av efterlevnad
Stöd för biljetthantering
Stöd för flera format
Säker datalagring
Säkerhetskopiering och återställning
Säkerhetskopieringslogg
Sårbarhetsskanning
Testning av tillgänglighet
Tillgångsspårning
Tredjepartsintegration
Uppgiftshantering
Upptidsrapportering
Varningar / Eskalering
Varningar / Meddelanden
Varningar i realtid
Vitlistning / svartlistning
Ändringshantering
Åtkomstkontroller / behörigheter
Övervakning
Övervakning av bandbredd
NinjaOne Hitta alternativ 2021 - Capterra Sverige
Tim
Director of Technology i USA
Verifierad LinkedIn-användare
Faciliteter tjänster, 1 001-5 000 anställda
Har använt programvaran för: 6-12 månader
Best RMM tool on the market
Kommentarer: I manage an in-house IT department and we always struggled with tracking hardware, history, and status. No matter what we found, we just couldn't get one that was accurate and easy to keep up to date. Ninja just DOES it. I don't have to think about it. I know all my machines in Ninja and the latest info on them is all right there. This makes our network more visible, trackable. My team solves issues faster, more accurately, and in a happier way than ever before.
Fördelar:
Ninja was so easy to setup. It's fun to tweak. The scripts are simple and there are even some basic templates. It tells me everything I need to know about a computer and what's going on. The integrations have been a huge help. Their documentation is precise, easy to follow and accurate. Our account manager actually cares and checks in on us every 2 weeks. Good vendors are so rare, no matter the product. I'm not really sure I could love this product and this company any more than I do.
Nackdelar:
The only things I can think that I wish was if Ninja made some their own basic ticketing system. That's not a complaint about the product at all, but the other partners they integrate are way more complicated and expensive than I'd like. I know Ninja would crush it if they made a simple one of their own that was tightly integrated with the Ninja portal. Also, the NMS deployment is slightly clunkly. I would like Ninja to bring that in house too.
Övervägda alternativ: Atera och Kaseya VSA
Anledningar att välja NinjaOne: spiceworks wasn't accurately keeping my hardware up to date.
Tidigare programvara: Spiceworks
Anledningar att byta till NinjaOne: Ninja was easier and integrated better with the tools I wanted. The company was more pleasant to work with too.
Brian
Technical Director i Irland
Informationsteknologi och tjänster, 2-10 anställda
Har använt programvaran för: 1 + år
Ninja One changed our business
Kommentarer: Fantastic, I can't fault ay aspect of the solution or the people working with the company.
Fördelar:
The ease of use along with the great development, technical, support and sales teams mean we are never stuck. That great relationship with the company along with the efficiency of the software means we gave gained and incredible amount of time to do work instead of working on the software.
Nackdelar:
The only criticism I have of Ninja One is that they produce a huge amount of features regularly but we would love to have access to them often before they are ready. This is due to the development being customer driven so the upgrades they offer are always great and we are a little impatient!
Övervägda alternativ: N-central
Anledningar att välja NinjaOne: Needed a more mature and capable product
Tidigare programvara: Atera
Anledningar att byta till NinjaOne: Better functionality, better ease of use, better value, and better people to work with.
Jamie
Helpdesk Specialist i USA
Informationsteknologi och tjänster, 51-200 anställda
Har använt programvaran för: Gratis provperiod
RMM with not enough going on for it
Kommentarer: None. We choose not to use this software as it didn't do what we wanted it to do.
Fördelar:
I like the overall look of the user interface and it is quick and speedy. Installs quickly without much delay, provides good information about computer specs.
Nackdelar:
Hard to figure out how it works. Uninstall option simply didn't work. RMM software installs NOT in the system tray. Patching is a joke. You cannot block patches easily, its either all of a cateory, ALL or none. User interface navigation is terrible. Was completely unable to figure out how scripting works. No native remote control. Not enough options. We have been using Kaseya for 5+ years and it is so much better and easier to use.
Dator- och nätverkssäkerhet, 11-50 anställda
Har använt programvaran för: 1 + år
Software per MSP
Kommentarer: It has greatly simplified the work of technicians. It has improved all prevention work and especially the ability to handle multiple devices at once.
Fördelar:
What is interesting is the ability to automate so many repetitive and tedious functions for an IT person. Centrally manage patches of windows and third-party software.
Nackdelar:
The thing that perhaps needs improvement is that when running tasks at set times there is no option to have an email arrive with the outcome of the task.
Övervägda alternativ: SolarWinds Service Desk
Anledningar att välja NinjaOne: Because Ninjaone in my opinion handled the update patch better. Furthermore, the price includes a ticketing system
Tidigare programvara: Datto RMM
Anledningar att byta till NinjaOne: Price, simplicity, functionality and product offer
Ioan
IT & Project Manager i Frankrike
Informationsteknologi och tjänster, 11-50 anställda
Har använt programvaran för: 1 + år
Migrating to NinjaOne was the best choice for our firm
Kommentarer: We use a majority of the functionnalities (monitoring, scripting, remote control, update management) on a daily basis, but still have the pleasant feeling of discovering new ways to deploy, retrieve information on the clients park and save time on time-consming tasks. On the human level, discussing with the NinjaONe team has always been a real pleasure, as they are accessible, from the commercial team to the back office team (support & expert team) . After more than a year and a half working with their tool and having regular exchanges with the NinjaOne team, I have never experienced the classic and destestable one way relationship : provider to client. I can truly say that the relationship with the NinjaOne team represents a real collaboration between two companies.
Fördelar:
Compared to the RMM Platform we used for more than 4 years (which was a must in the market), I discovered with NinjaOne a complete tool bringing a real sense of modernity in this RMM sector. I'm still wondering how their team managed the difficult task of combinging a fully developed tool with and an interface easy to apprehend.
Nackdelar:
So many functionalities that it was sometimes frustrating for my team to figure out how to totally manage the tool.