Jotform
Vad är Jotform?
Trusted by over 10 million users, Jotform's form builder is the easy way to create and publish online forms from any device. The company offers 10,000+ ready-made form templates, 100+ integrations to
Läs mer
3rd party apps, and advanced design features making it the leading online form builder for organizations all over the world. It's popularly used to create payment forms, lead generation forms, registration forms, contact forms, application forms, and more.
Läs mindre
Vem använder Jotform?
Whether you run a business, nonprofit, or work in education or healthcare, Jotform makes it easy to collect and manage information. Receive payments, registrations, appointments, uploads, and more.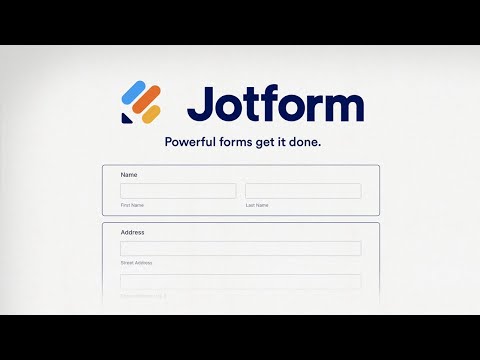 Är du osäker på Jotform? Jämför med ett populärt alternativ
Inte tillgänglig i ditt land
Gratis version
Gratis provperiod
Gratis version
Gratis provperiod
Jotform Hitta alternativ 2021 - Capterra Sverige
Kavindu Githsara
System Specialist i Sri Lanka
Verifierad LinkedIn-användare
E-lärande, 11-50 anställda
Har använt programvaran för: 2 + år
Övervägda alternativ:
Powerful Online Form Automation System
Kommentarer: As of Today, We are using JotForm over 4+ years continuously. We did not face any kind of system issues or troubles so far. We use it daily to collect our customers data and responses via 25 Jot Forms. Currently we are using Google Sheet and Google Drive integration which is really helpful for us to archive our daily targets. Their massive Template collection, Integrations and Widgets were very supportive to our business everyday. Finally i should say, as a system admin, JotForm is a Very Powerful Form Builder that can archive anyone's business requirements with a grate value by using only few simple clicks.
Fördelar:
First of all, The user interface is brilliant. Very easy to understand. Easy Drag and Drop form builder saves lots of time in our corporate life. JotForm design process is very straight forward and gives ability to customize out forms according to our requirements. It allows our team to collaborate simultaneously which is a grate feature that i did not see from other competitors before. Another Plus point is that JotForm has lots or integration options with 3rd party systems like Paypal, Stripe, Skrill & etc. They provide few different pricing plans with a very attractive Free Plan which includes 5 Free Forms. Of course JotForm has a reasonable price when compare to its competitors. It has a grate library with over 10,000 Templates. E Signature is a another grate feature to mention.
Nackdelar:
Sometimes, Its confusing to find the right template for us. But eventually we do. I would appreciate if they can improve their customer service center. sometime it is harder to get a help instantly form their side. Better if they can implement more Tutorials and Guides us to follow.
Svar för Jotform
för 2 veckor sedan
Hello Kavindu, Thank you so much for taking the time to share your experience using our platform. You can check this link, https://www.jotform.com/help/, to view our quick guide. Rest assured, we're always working to add new services and features to Jotform. If you have any questions or suggestions, please contact us via the support contact form at https://www.jotform.com/contact/. We'll be glad to assist.
Karma
Special Education Teacher i USA
Verifierad LinkedIn-användare
Utbildningsförvaltning, 51-200 anställda
Har använt programvaran för: 1-5 månader
Powerful, professional tools for your small business, with no hit to your bottom line
Kommentarer: Jotform helped bring my small business venture to life by providing inspiration and needed tools without a grand investment that I simply wan't ready to make. It has helped me learn new ways to add accessibility and interactivity to user interfaces across platforms by making these options easy to use and understand in their form editor.
Fördelar:
Jotform has such an impressive array of elements to drag and drop into your form it is a near certainty that you will be inspired by it all. File uploaders, music streaming, video players, sketchpads, even interactive dice to roll, it's all there! Most of these options include a field for CCSS customization, as well, helping with brand fidelity or jsut making it yours. Beyond the aesthetics are plenty of security options such as email verification, phone number verification, ReCaptchas of all kinds (think visual, audio, and even drawing!), data capture, field masks, and more. Payment portals can be set up directly in the form and linked to their easily customized store inventory widget or to whatever dynamic data stream you create with their form calculation and dependent action tools. Small businesses can streamline this crucial piece of their online presence and do it with personality and professionalism, all with no out of pocket expense.
Nackdelar:
Data calculation and dependent actions are all possible in Jotform. However, the process is facilitated through the strategic placement and coding of form calculation fields that need to be hidden from user view and generally clutter the worksapce for editing. While there are many hints and reminders built into the steps to add these actions, I am fairly certain anyone that is not comfortable with setting up spreadsheet automations might feel overwhlemed or confused by the process. Since these are not needed by all users, it is certainly not a dealbreaker. Additionally, the majority of Jotform's "flashy" options are in the form of "widgets" that appear to be affiliate-created or sponsored for the most part, such as the Vimeo video player or Facebook Messenger button. Because of this, it is hot or miss what type of data you will render from them or how to do so. For widgets built simply for looks, like the graphic headers or page dividers, this is obviously not an issue. But for others you can end up with data that is nearly impossible to use dynamically. Take the "fancy range slider" for example. Users slide the ends to create a range within a set provided by the form creator. The data that this produces is read as the beginning number of the range and the ending number of the range strung together (ex: starting page=2, ending page=10, resulting data= 210), making it only of value by manual analysis.
Svar för Jotform
för 3 veckor sedan
Hello Karma, Thank you for the detailed review of our platform and recommendations. We are glad that you are able to check our available features and widgets. If you have questions or suggestions, please contact us through our support contact form at https://www.jotform.com/contact/. We will gladly assist you.
Grafisk design, Egenföretagare
Har använt programvaran för: 2 + år
Good product, but price increases out of control
Fördelar:
Jotform is the easiest online form builder, bar none. It is remarkably easy to use.
Nackdelar:
The prices keep increasing at massive rates. The software is no longer affordable for small-level users.
Svar för Jotform
för 2 veckor sedan
Hello Timothy, Thank you for the feedback. We believe that, because of the features and services we offer, our pricing is competitive with that of our rivals. If you have questions or suggestions, please contact us through our support contact form at https://www.jotform.com/contact/. We'll be happy to help.
Tim
Design Director i Filippinerna
Verifierad LinkedIn-användare
Arkitektur och planering, 2-10 anställda
Har använt programvaran för: 6-12 månader
Övervägda alternativ:
A great transition from manual to digital
Kommentarer: Overall, we've used Jotform quite regularly now and we haven't had any complaints yet. Of course we've tweaked the forms in order to make the experience smoother for our team. It is quite easy to learn, and we've even added in some computations in the forms, and it's been really helpful. It does take a while to figure out the approval feature, but once you've overcome that hurdle, it gets easier. I particularly like the fact that we can customize it just enough so it doesn't look like Google Forms or Microsoft Forms.
Fördelar:
We use Jotform for leave applications and petty cash requests in our small team. Before Jotform, we would typically do it manually and though it is seemingly mundane, does contribute to some inefficiencies specifically for me an my partner who approve these requests. Jotform helped streamline all those. I like the feature that allows people to sign in the digital forms. This allowed us to completely remove some of the basic forms we have in our office and just transition to digital. It then gives us a PDF report after.
Nackdelar:
The free version is quite generous, allowing you to use the useful features of the app. I do find the pricing a bit expensive. It start from free and then suddenly jumps to 34 USD.
Svar för Jotform
för 2 månader sedan
Hello Tim, Thank you so much for the positive review. Please don't hesitate to get in touch with us at https://www.jotform.com/contact if you need help with your form.
Ismael
Guest manager i Spanien
Turistföretag, 2-10 anställda
Har använt programvaran för: 6-12 månader
Övervägda alternativ:
Jotform in tourist rentals
Kommentarer: In general, my experience is very good and has allowed me to keep better accounting records and on the other hand to have better control of the condition of the floors and the identification of potentially dangerous reserves.
Fördelar:
It allows us to carry out a check-in registration by our check-in agents, where you can register instantly if there is any problem in the apartment or with the guests, everything is done through a form that has logical answers to send email alerts in case there is a problem.On the other hand, it allows us to keep track in real time of the money of rates received by the agents.
Nackdelar:
We would like to customize even more the automatic messages/warnings to make it easier to identify them in the mail. On the other hand, we miss more modes for the forms with more options, such as being able to enter an unlimited number of photos without this number having to come predetermined by default.