Vad är Vagaro?
Använd denna allt i ett-programvara för salong- SPA-, och träning för att administrera ditt företag och få det att växa. Få bokningar och betalningar dygnet runt. Håll dig säker med 100 % kontaktlös in- och utcheckning. Nå fler kunder via med SMS- och e-postmarknadsföring. Få bokningar på Vagaro Marketplace och i sociala medier. Minska utebliven ankomst med automatiska påminnelser. Administrera bokningar och paket på alla enheter. Vagaro Pro är den mest nedladdade/recenserade Apple- och Android-appen. Priser från 25 USD/månad. Registrera dig för en gratis provperiod på en månad.
Vem använder Vagaro?
Salongägare, SPA-ägare, träningscenter-/gymägare, friskvårdspersonal, tränare, dietister, kiropraktorer, sjukgymnaster, dans-, pilates- och yogainstruktörer.
Var kan Vagaro användas?
Molnbaserad
På plats
---
Support för Vagaro
Telefonsupport
24/7 (Live-support)
Chatt
Tillgängliga länder
Australien, Kanada, Storbritannien, USA
Support för Vagaro
Telefonsupport
24/7 (Live-support)
Chatt
Tillgängliga länder
Australien, Kanada, Storbritannien, USA
Vagaro videor och bilder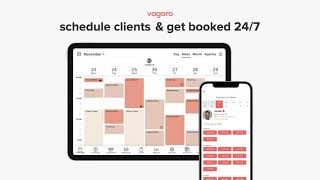 Jämför Vagaro med liknande produkter
Funktioner i Vagaro
Adressbok
Aktivitetspanel
Anpassningsbar branding
Anpassningsbara formulär
Applikationshantering
Automatiserad schemaläggning
Automatisering av marknadsföring
Avgifter förvaltning
Behandlingsplanering
Bekräftelse / påminnelser
Betalbearbetning
Bokningshantering
E-post marknadsföring
EMR/EHR
Elektroniska betalningar
Email Reminders
Eventhantering
Fakturering
Fakultets- / personalhantering
Fitness plan
Flera platser
For Barbershops
For Dance Studios
For Medical Spas
For Yoga/Pilates Studios
Färgkoder / Ikoner
För kampsport
För kiropraktorer
För salonger och spa
För sjukgymnastik
Förnyelser av medlemskap
Försäljningsargument
Gruppschemaläggning
HIPAA-kompatibel
Hantering av patientjournaler
Integration av sociala medier
Kalender / Påminnelsessystem
Kalenderhantering
Kalendersynkronisering
Klasshantering
Klassplanering
Klientdatabas
Klientportal
Kommunikationshantering
Kontaktdatabas
Kunddatabas
Kundhantering
Kundprofiler
Lagerhantering
Lojalitetsprogram
Lägesanteckningar
Läkarehantering
Lön och provisioner
Lönhantering
Medlemsdatabas
Medlemskapsledning
Medlemskatalog
Medlemskommunikation
Medlemsportal
Medlemstyper
Mobilappar
Mobilåtkomst
Möteshantering
Närvarohantering
Närvarospårning
Online betalning
Online bokning
Online registrering
Personaladministration
Personalhantering
Praktikhantering
Presentkorthantering
Påminnelser
Rapportering och analys
Rapportering och statistik
SMS-påminnelser
SOAP-anteckningar
Schemaläggning
Schemaläggning av anställda
Schemaläggning av möten
Schemaläggning i realtid
Självbetjäningsportal
Tillgänglighetshantering
Tredjepartsintegration
Uppdateringar i realtid
Varningar / Meddelanden
Webbplatsintegration
Återkommande möten
Vagaro Hitta alternativ 2021 - Capterra Sverige
Axel
Engineer i Mexiko
Verifierad LinkedIn-användare
Bil, 2-10 anställda
Har använt programvaran för: 6-12 månader
Övervägda alternativ:
It's great but unnecessary
Kommentarer: It's awesome really really awesome but like I said is not necessary for small companys, maybe if you grow up in the future it is a better idea. Is your decision.
Fördelar:
It's a good option for organize all the company schedule, there are so many functions for all, anyone can use this and is not necessary to know about this software, is so intuitive.
Nackdelar:
I really thing that is unnecessary beacuse you can do a lot of this things in other app for free, but some functions are only in this app that made it better. If you don't have the money for pay this, I really recommend use your phone calendar or something like that.
Svar för Vagaro
för 2 månader sedan
Hello Axel. We appreciate the review. We'll definitely take your feedback into consideration.
Molly
Salon Owner/Esthetician i USA
Kundservice, 2-10 anställda
Har använt programvaran för: 1-5 månader
Övervägda alternativ:
Is Varago is good for your company?
Kommentarer: With Vagaro the purpose was always selling time. FIlling up the white space on the calendar with clients and making sure you did that as efficiently and productively each day as possible in order to create growth and profit for the company. Vagaro is a tool in which you are able to do that. But for bigger salons that need more details, reports, numbers, it does fall bit a short.
Fördelar:
I liked that this system was super simple and straight forward. It is very easy to switch over to Vagaro from another company which is what we did. The ease of use is definitely a plus but it also was a reason why we left. It was not very detailed on other aspects that we needed more options and attention on.
Nackdelar:
I love a software company that has a well developed app for it's salon users. This is important for the team because they use this every hour to see and check their schedules. I think also the reports should have been more detailed and intricate but they may have improved that at this time. I don't think anything was difficult to use but because of it's ease of use, it meant that the software didn't really allow for as much information and details as we needed at the time to run a salon aiming towards growth. Things were hard to find or figure out because it wasn't provided in the reports or we had to add other features from outside companies to make up for lacking features.
Hemelektronik, 2-10 anställda
Har använt programvaran för: 1 + år
Just ok, they will nickel and dime you to death
Kommentarer: It's ok, I'm looking for something better that fits what I need and doesn't add in $ for every single thing you do
Fördelar:
Easy to set up, and app is pretty good as well
Nackdelar:
When a customer pays a deposit booking online (a feature I set up) and upgrades to a package when they come in for service the system doesn't allow the deposit to be applied towards the package so you have to manually refund the deposit payment onto a gift card and then apply that gift card to the purchase of a package which is time consuming and confusing for staff who have not set up the system from the get-go. Not to mention when the client purchases this package Vagaro does not allow them to add gratuity to the package. So clients purchase a package of six sessions for laser hair removal and can spend $1000 Vagaro doesn't see that as a service so they do not allow tipping which is upsetting for practitioners and as a business owner I would like my staff to have that opportunity. After contacting customer support Vagaro suggested that we ask our customers to tip us at each individual treatment, if I were that customer I would leave and never come back again!
Svar för Vagaro
för 2 månader sedan
Hello Marie. We appreciate your feedback. Would you please reach out to [email protected], so we can look into this further for you? Thank you.
Kläder och mode, 2-10 anställda
Har använt programvaran för: 1 + år
Källa: SoftwareAdvice
Great system for Nail salon
Kommentarer: So far works great for our nail salon with 3 full-time employees and 2 part time employees. Everyone is staying on top of the schedule and its easy for employees and clients. There are so mani other report and dashboard you can run to be on track.
Fördelar:
Easy to use, able to do online booking and scheduling for multiple artists at the time. Each artist views the most resent schedule and any last min cancelations.Easy check out.
Nackdelar:
I would love to see more customized features when sending a confirmation message, or reminders.
Svar för Vagaro
för 2 månader sedan
Hello Inna. Thank you for sharing your feedback! You are able to customize your email confirmation message, which you can read about in this article https://support.vagaro.com/hc/en-us/articles/115000439594. If you're looking for customized text message, that would require text marketing, which we also offer! You can learn more about the kinds of campaigns we offer here https://support.vagaro.com/hc/en-us/articles/4412652458779
Tasha
business owner i USA
Hälsa, välbefinnande och fitness, 11-50 anställda
Har använt programvaran för: 2 + år
Källa: SoftwareAdvice
Love using Vagaro!
Kommentarer: overall pleased with our experience
Fördelar:
We are able to schedule multiple service providers, check clients in and out/POS, provide online booking, use the email/text marketing and appointment reminders, as well as use client intake forms and create soap notes all in one place rather than paying for and navigating several programs. However, my most favorite thing about Vagaro is the interaction and follow through of customer service and the constant improvements with the software!
Nackdelar:
some features aren't optimally designed for our specific needs, but in general we are able to get by using what is provided so it still works great for us.