Vad är Connecteam?
Connecteam is a workforce management app that allows managers to put their business processes on autopilot and focus on business growth while also freeing up employees to be more productive, flexible, and happy. Save time and increase productivity with mobile-first custom checklists, forms, and reports; Schedule shifts and track work hours with GPS time clock; Simplify employee communication, enhance professional skills, manage daily tasks and so much more, all in one app.
Vem använder Connecteam?
Connecteam serves the following industries; hospitality, retail, construction, manufacturing, healthcare, services, security, HVAC, and any other industries that have a need to manage their staff.
Var kan Connecteam användas?
Moln, SaaS, webb-baserat, Mac (Desktop), Windows (Desktop), Android (mobil), iPhone (mobil), iPad (mobil)
Om leverantören
Connecteam
Belägen i New York, USA
Grundades 2015
Telefonsupport
Chatt
Tillgängliga länder
Australien, Kanada, Storbritannien, USA
Om leverantören
Connecteam
Belägen i New York, USA
Grundades 2015
Telefonsupport
Chatt
Tillgängliga länder
Australien, Kanada, Storbritannien, USA
Connecteam videor och bilder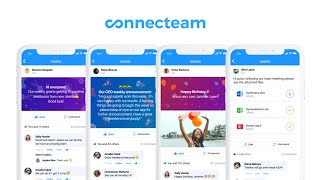 Jämför Connecteam med liknande produkter
Funktioner i Connecteam
360 graders återkoppling
Administration av anställda
Administration av träning
Aktivitet / Nyhetsflöde
Aktivitetspanel
Aktivitetsspårning
Anpassningsbar branding
Anpassningsbara frågor
Anpassningsbara mallar
Anpassningsbara rapporter
Anställdas databas
Anställdsigenkänning
Anställdsprofiler
Användarhantering
Användningsspårning / Analytics
Arbetsflödeskonfiguration
Arbetsorderhantering
Arkivering och lagring
Automatiserad schemaläggning
Automatisering av affärsprocesser
Automatisk tidtagning
Benchmarking
Bilder från anställda
Bostadsinspektioner
Brainstorming
Bränslespårning
Chatt och meddelanden
Data Import/Export
Diskussioner / forum
Dokumenthantering
Dokumenthämtning
Dokumentlagring
Dra och släpp
Efterlevnadskontroll
Elektronisk underskrift
Elektroniska formulär
Enhetlig katalog
Entreprenörshantering
Ersättningshantering
Eventhantering
Feedback-hantering
Fildelning
Fillagring
Fjärråtkomst / kontroll
Flera kommunikationskanaler
Flerkanalsdistribution
Flerspråkig
Formulärhantering
Frågebibliotek
Fulltextsökning
För VVS-branschen
För bemanningsföretag
För klimatiseringsföretag
För vård av gräsmattor
Förarhantering
Försäljarstyrelse
Förvaltning av anläggningstillgångar
GPS
Geofencing
Geografiska kartor
Geolokalisering
Godkännande av profilhantering
Grafisk arbetsflödesredigerare
Grupphantering
Hantera arbetsflöde för orientering
Hantering av hemsjukvård
Historisk rapportering
Hushållning
Hålkort
Idé
Incidentshantering
Inlärningshantering
Innehållsbibliotek
Innehållshantering
Interaktivt lärande
Jobbannons
Jobbhantering
Kalenderhantering
Kalendersynkronisering
Kandidathantering
Kapacitetsplanering
Kataloghantering
Katalogisering / kategorisering
Kommentarbibliotek
Kommentarer / Anteckningar
Kommunikationshantering
Kompetensspårning
Kontaktdatabas
Kontaktledning
Kontroll av profilsynlighet
Kunddatabas
Kunskapsbashantering
Kunskapshantering
Kurshantering
Kurspublicering
Kursredigering
Kursspårning
Lagerhantering
Layout och design
Ledighetsförfrågningar
Ledighetshantering
Leveranshantering
Leverantörshantering
Livechatt
Lägesrapporter
Lägg till och redigera foton
Lämna spårning
Lönhantering
Mallar
Medarbetarkatalog
Meddelanden
Meddelanden i realtid
Medlemskapsledning
Medlemskatalog
Mobil inlärning
Mobil tidsspårning
Mobilappar
Mobilåtkomst
Märkning av uppgift
Möteshantering
Ombordstigning
Online Time Tracking Software
Online bokning
Peer-to-Peer-erkännande
Pekskärm
Personalhandbok
Personalhantering
Planering av anläggningar
Platsspårning
Prestandamätningar
Prestationshantering
Procent-fullständig spårning
Produktivitetsanalys
Pulsundersökningar
Punch-kort online
Påminnelser
Randomisering
Rapportering och analys
Rapportering och statistik
Realtidschatt
Redigering/uppdatering av uppgift
Redovisningsintegration
Registrera dig för online-förmåner
Resurshantering
Rich Text Editor
Rollbaserade behörigheter
Samarbetsverktyg
Schemaläggning
Schemaläggning av anställda
Schemaläggning av event
Schemaläggning i realtid
Semester- / ledighetsspårning
Servicehistorik
Sjukledighetsspårning
Självbetjäningsportal
Självlärande
Skapa och designa formulär
Skapa undersökningar
Skapa underuppgifter
Skiftesbyte
Socialt lärande
Spårning av efterlevnad
Spårning av erkännande
Spårning av fordon
Spårning av framsteg
Statusspårning
Säker datalagring
Sök / filtrera
Teknikledning
Textredigering
Tid och kostnadsspårning
Tid och närvaro
Tidrapportering
Tidsspårning
Tidsur online
Tillgänglighetshantering
Transkript/chatthistorik
Transporthantering
Tredjepartsintegration
Underhållsstyrning
Undersökningar och feedback
Uppdateringar i realtid
Uppdragshantering
Uppgiftsförloppsspårning
Uppgiftshantering
Uppgiftsplanering
Utbildningshantering
Utrustningshantering
Varningar / Meddelanden
Virtuellt tangentbord
Återkommande möten
Återkommande uppgifter
Åtgärdshantering
Åtkomstkontroller / behörigheter
Övertidsberäkning
Övervakning av anställdas aktivitet
Övervakning i realtid
Connecteam Hitta alternativ 2021 - Capterra Sverige
Recensioner av Connecteam
Scott W.
Director of Operations i USA
Verifierad LinkedIn-användare
Informationsteknologi och tjänster, 2-10 anställda
Har använt programvaran för: Gratis provperiod
Övervägda alternativ:
Most Valuable APP for SMB Ever
Kommentarer: Our company utilizes employees here in the US, and numerous remote employees in the Philippines (less than 20 employees). We had one solution for scheduling, another program for task and project management, another app for messaging, and a cloud-based program for time-tracking. Until we found ConnectTeam. Everything we needed (plus more), all in a single solution. Not only did we cut our previous costs by 80%, everything is now in a single solution.
Fördelar:
- Only add the functions you want. Not encumbered by bloatware or features we will never us. - EXTREMELY intuitive. Once create an account, do the 5 minute walkthrough and you feel confident enough to manage yoir company. - Their FREE option is actually very useful and includes 80% of the features. - FLAT-FEE pricing! Once you decide to upgrade (we chose $29 plan) No 'per-user' cost like virtually every other solution. One flat-fee and can add up to 200 users with no hidden fees. - 24/7 live support; even for the free account! When we first got started, we had a couple hiccups, and at 1:30am, their live support spent over an hour helping us get everything working perfectly (thanks again Noam). - Supports overseas employees in other countries natively. E.g. we have employees in Philippines, and the installed the app and verified their phone numbers via text on their Philippines phone with no issue. Can text-message filipino worked through app, even on free mode. - Messaging/chat options are way better than other messaging apps. Like 'voice' chat, and the ability to integrate other formats. Supports rich text. Take FB messenger, Sling, and viber and combine all the good features, and this is what you have. - GPS tracking of all remote employees.
Nackdelar:
- At the time of writing this review, all admin features have to be done through website, and not through the app (though they say they are working on that). - Could use more hierarchy fratures, other than just basic. Would be nice to see customizable permissions for Administrators (may support but I didn't see). - App only supports Android and iPhone. No desktop app for Windows or Mac available.
Svar för ConnecTeam
för 2 år sedan
Hi Scott! Thank you so much for taking the time to write this amazing review! Please note that there's A LOT you can do as an admin from the app, under the the ADMIN tab. Make sure to reach out to us for further assistance if needed :)
Sarah L.
General Manager i USA
Hälsa, välbefinnande och fitness, 11-50 anställda
Har använt programvaran för: 1-5 månader
Övervägda alternativ:
ConnectTeam helped us transition from a handful of productivity apps to ONE.
Kommentarer: We are very satisfied with the app, as well as the service! Thank you for helping us work through the initial transition and we appreciate your team's attention to detail. Our staff have adapted to using the app with incredible ease and we are looking forward to using this as a tool moving forward.
Fördelar:
The user-end is designed for mobile use, so it's super convenient and easy to use your personal mobile device to stay connected with the team. There are so many time-saving features available that take advantage of the tools we already have on hand and make an impact on our daily operations. The mobile app is clear, looks great, and even incorporated our logo into the initialization window. Very professional.
Nackdelar:
Our previous scheduling software had quite a bit more clarity and control over schedule creation, shift swapping, time-off requests, and general management. ConnectTeam has a functional scheduling feature, which is honestly better than some of the other apps out there, but this aspect could use some improvement. As with any good app company, they have assured me they are continuing to develop this feature and will release any improvements in an update.
Svar för Connecteam
för 10 månader sedan
Sarah, you're amazing :) Thank you so much for taking the time to write such a detailed review, and share with others about your positive Connecteam experience. At Connecteam, we do nothing else but building a product that helps companies manage their remote teams easily and efficiently, so as always, you can expect improvements coming out on a regular basis :) It's really great that you were able to combine so many other softwares into one and become more productive as a company. Thanks again, and please make sure to reach out to our team for more feedback and things you'd like to see in Connecteam :)
Harry H.
Director i Storbritannien
Sport, 2-10 anställda
Har använt programvaran för: 6-12 månader
Övervägda alternativ:
Great software would recommend
Kommentarer: I'm generally happy with it - the customer service is great.
Fördelar:
The employee scheduling is so easy to use, it's a really intuitive design and you can implement it and get employees on boarded so quick with it
Nackdelar:
I dislike that I can't book 1-2-1 sessions for employees - a live timetable I can send front end to customers so they can book my employees out per session. Would be a great add. It's also not cheap price wise.
Svar för Connecteam
för 4 veckor sedan
Thank you so much for your review, Harry! It's great to know that you find Connecteam to be simple to use both for you and for your employees and that you're happy with our customer service :) Although Connecteam is an employee management tool, we already talk internally about adding capabilities for the business' customers to book their meetings directly in the schedule, so that's definitely something to look forward to in the future :) If you have any more feedback for us or would like to suggest an improvement, please reach out to us at [email protected] at any time :) Thanks again!
Michael B.
Director i Storbritannien
Verifierad LinkedIn-användare
Faciliteter tjänster, 51-200 anställda
Har använt programvaran för: 6-12 månader
Övervägda alternativ:
User-friendly software with many features, but needs improvements around scheduling & time clock
Kommentarer: We have been using the software for about 8 month now. Some problems have been resolved. A huge improvement was around open shifts. That feature was basically unworkable until a few months ago. However, no improvement in core functionality of job scheduling and time clock since then.
Fördelar:
We mainly use software for job scheduling and time clock. Pros: It is easy to create a job and a shift Easy to add an employee Job scheduling views are good Training module (courses) has been useful
Nackdelar:
The more employees and jobs you add, the slower it gets for admin users The jobs schedule opens slow on mobile phones The app users a lot of RAM memory on desktops If you have many shifts in the schedule, the app may start freezing The company often focuses on getting some minor features rather than improving their core elements, such as Job Schedule and Time Clock Not easy to go through Time Clock entries as the hours in Job Schedule are not shown. They claim that Time Clock and Job Schedule are synced, but sync only works for mobile users to clock in and out. There is no sync for admin users, who are checking the entries! Chat feature is undeveloped. It is easy to send information to staff, but it is not possible for field staff to have 1 clear communication channel. The job schedule shows names of the person, who created a job, so field staff have multiple conversation about various jobs, rather than have 1 point of contact. If the person who created the job is away, there is no way to see the message. So software creates a communication nightmare for admin and for field staff as well.
Svar för Connecteam
förra månaden
Thanks for the feedback, Michael. First, it sounds like you're experiencing some technical issues. Things should not load slow or freeze. The best we can suggest is to contact us so we can investigate your issues and have them resolved. As for the schedule and time clock sync, there might be a misunderstanding or unfulfilled expectations here, and we'd like to clarify: the sync doesn't mean that any scheduled shift will automatically create a time entry in a schedule. The schedule lets users know what they need to do, when and from where, but they must clock in and out for those entries to show in their timesheets. As for the chat - what's missing for you that you feel it's undeveloped? As for employees seeing who created a shift - that's 100% to your control as an admin. Simply remove this option from the scheduling settings menu. Would like to connect with us so we can see what can be done to assist you? Please email me personally at [email protected] :) Thanks!
Karen T.
Administrative VP i USA
Konstruktion, 11-50 anställda
Har använt programvaran för: 1-5 månader
Explore the features they are gems
Kommentarer: I am getting the forms and documents I need from the field. They were using paper forms before this and would lose them, forget them...bottom line we would never get them in the office. Getting the documentation keeps us OSHA compliant and helps us with unemployment claims if we had a legit reason to terminate someone. Also, I cannot stress enough, their support is fabulous. I scheduled a training online and the rep that helped me, [SENSITIVE CONTENT], was phenomenal! She continues to reach out and offer to help. She showed me all of the extra features that I really did not anticipate using and I am so glad she did.
Fördelar:
I love the ease of implementation. The software automatically sent invites to the users to download the app. The form creator gives so many options to use forms already created or to create one of your own. The forms are simple and can be signed from a mobile phone. Signatures are critical for documentation of training, write ups, injury reports etc.
Nackdelar:
Unless a user purchases the expert version there are limits to the number of jobsites you can use GPS tracking on. With the level that we have we are limited to 10 jobs. I would be much happier with the ability to have 15 to 20 without having to upgrade. We are working with the limits of 10 for now because there really is a large jump in price.
Svar för Connecteam
för 3 månader sedan
Amazing review, Karen! Thank you so much! It's great to hear Connecteam helps you better manage your business and team, save time, and automate day-to-day workflows. As for the capabilities you're looking to have in your plan without upgrading again, the best would be to communicate that to your Customer Success Manager at Connecteam and ask if there's something that can be done to help :) Thanks again for your positive detailed review!!