Tradify
Vad är Tradify?
Tradify is an all-in-one job management platform + mobile app designed to help small businesses with 1-20 employees control business admin. Quotes, estimates, invoices, timesheets, field service
Läs mer
management, purchase orders, scheduling & job reporting. Tradify handles it all with ease. Over 30,000 electricians, plumbers, HVAC, builders, and other trades around the world use and love Tradify. Our customers and their teams benefit from using Tradify because it's quick to set up and easy to use.
Läs mindre
Vem använder Tradify?
Trade & Service based businesses - Electricians, Plumbers, HVAC, Painting, Building & Contraction, Service Technicians, IT, Installers, Appliance Repair, Property Maintenance, Solar, Landscaping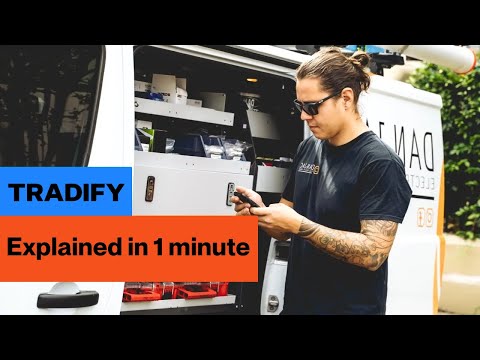 Är du osäker på Tradify? Jämför med ett populärt alternativ
Inte tillgänglig i ditt land
Gratis version
Gratis provperiod
Gratis version
Gratis provperiod
Tradify Hitta alternativ 2021 - Capterra Sverige
Paul
Business Owner i Australien
Verifierad LinkedIn-användare
Telekommunikation, 2-10 anställda
Har använt programvaran för: 6-12 månader
Radical Tradify
Kommentarer: Really helpful. Gave me an extended free trial period. Are very fast to call back wroth over the phone support. I'm not moving any time soon. Love this tooll and the company.
Fördelar:
Yes a great tool. I use it daily to quote and invoice my jobs as a Data Cabler. T connects with my suppliersso my invoices are costed correctly. I'm a happy camper. The mobile app is 100%functional. So I can invoice customers on the job if I need to and take payment via credit card via stripe. Easy.
Nackdelar:
It's a pretty gripe but they are in new Zealand so that's an issue I suppose. Since I'm an Aussie. Lol.
Damian
Office Manager i Guernsey
Konstruktion, 11-50 anställda
Har använt programvaran för: 2 + år
Övervägda alternativ:
Island Electrics Ltd - How Tradify is helping the company to keep moving forward!
Kommentarer: As stated Tradify is really aiding us to push the company forward and progress to where we want it to be, the guys on jobs like the fact that its there on there phones/smart devices meaning that timesheets don't need to be submitted at the end of the week as it previously was. The integrated invoicing system is really good as well. On the whole Island Electrics Ltd are very happy with Tradify
Fördelar:
The fact that its there on everyone's smart phones/devices. Its instant in terms of updating tasks/jobs
Nackdelar:
The software is amazing and continues to help push the company forward, however we do feel that the reports that are included in the software aren't what we use on a daily,weekly or monthly basis. Also the software slows up on big jobs which is frustrating.
Kundservice, 2-10 anställda
Har använt programvaran för: 6-12 månader
Källa: SoftwareAdvice
Fairly Easy to use, some good features, requires more development
Fördelar:
Saves time quoting and invoicing, layout of invoice looks good, the app is easy to use so the guys in the field don't struggle with how to use it.
Nackdelar:
when sending emails from tradify the invoices at the bottom say sent from Tradify, i get that its a bit of free advertising for Tradify but I think it looks unprofessional from our point of view, you can download invoices and documents and send your usual way but that does take longer. Doesn't get updated very regularly I used a competitors software for a while (doesnt integrate with MYOB essentials which is why i stopped) and they did regular improvements every month. doesn't integrate with other calendar programs like google calendar. kits which i like where you basically put together regular things that you do ie install a double Power point, but you cant do this on invoices. Pages on the app do take a long time to load and a big downfall no offline access to the app.
Luuk
Electrician i Nya Zeeland
Konstruktion, 2-10 anställda
Har använt programvaran för: 2 + år
Ease of use, Value for money
Kommentarer: Overall it is a great product, with all the features I required, at an affordable price.
Fördelar:
Ease of job tracking, notes feature is great, quoting, invoicing, its all straight forward
Nackdelar:
Would be nice for it to be able to save when out of reception and update itself when you get back into reception
Ben
Director i Storbritannien
Konstruktion, 2-10 anställda
Har använt programvaran för: 1 + år
Tradify
Kommentarer: We have loved using Tradify and have had a great experience with the team. Tech support is great too!
Fördelar:
Tradify is an easy to use all in one software for small to medium size companies. We found it quick and easy to learn and most things are self explanatory to figure out.
Nackdelar:
The scheduler gets very busy when you get past a certain number of employees making it harder to see the workloads at a glance. However, you can use filters to view the day another way to see what's going on day by day.