Vad är Safety Champion?
Safety Champion is Australian-made and owned cloud-based software, developed by qualified safety professionals using QMS principles.
Designed for businesses delivering a full safety program across multiple locations, Safety Champion provides you with a centralised management system everyone in your business can use with ease.
Benefits; task delegation, native iOS and Android apps, how-to guides/videos, professional safety guidance, customer support, reporting and analytics, and more.
Vem använder Safety Champion?
Ideally suited to organisations with a full safety program working across multiple workplaces and teams. This software supports legislative compliance, streamlined operations, and is easy to use.
Var kan Safety Champion användas?
Moln, SaaS, webb-baserat, Android (mobil), iPhone (mobil), iPad (mobil)
Om leverantören
Safety Champion
Belägen i Cremorne, Australien
Grundades 2011
Telefonsupport
24/7 (Live-support)
Chatt
Tillgängliga länder
Australien, Nya Zeeland, USA
Om leverantören
Safety Champion
Belägen i Cremorne, Australien
Grundades 2011
Telefonsupport
24/7 (Live-support)
Chatt
Tillgängliga länder
Australien, Nya Zeeland, USA
Safety Champion videor och bilder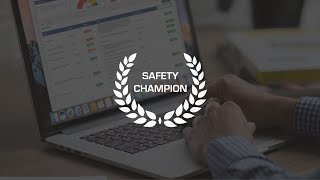 Jämför Safety Champion med liknande produkter
Funktioner i Safety Champion
Arkivering och lagring
Audit av kontroller
Dokumenthantering
Hantering av företagshälsovårdstjänster
Incidentshantering
Incidentsrapportering
Inspektionshantering
Korrigerande och förebyggande åtgärder (CAPA)
OSHA-registrering
Olycksutredning
Process / arbetsflödesautomatisering
Rapportering och analys
Revisionshantering
Riskbedömning
Riskhantering
Spårning av efterlevnad
Utbildningshantering
Versionskontroll
Safety Champion Hitta alternativ 2021 - Capterra Sverige
Recensioner av Safety Champion
Costa V.
CEO i Australien
Verifierad LinkedIn-användare
Översättning och lokalisering, 11-50 anställda
Har använt programvaran för: 1 + år
Brilliant OH&S Software
Fördelar:
Easy to use. Very friendly customer support who help when I don't understand how features work.
Nackdelar:
Hard to say. I really enjoy using the software.
Craig S.
Director i Australien
Ledningsrådgivare, 11-50 anställda
Har använt programvaran för: 1 + år
A class above other Safety and Compliance Solutions
Kommentarer: As a safety consultancy, I wanted to establish a best-practice solution to support and drive our internal health and safety program. In our role as a consultancy, we have had exposure to a number of safety systems. Most often, the safety systems we have been exposed to required a stakeholder to manage the implementation of the software solution, and/or spend significant time using the solution to understand where things are and how the software works. Safety Champion, is different - it has been developed with the observations we made in mind. It is easy to set up and allows all of our consultants with ready access to our safety program. Since we implemented Safety Champion, both incident and hazard reporting has increased. Workers advise that it is due to them being able to enter this information directly into the app, without having to look for "the form" that they previously used and then "sending the form on". Safety Champion is worth a close look if you are looking for a solution that is simple to use. I have enjoyed the transition across to Safety Champion from paper, as it has been a very visible way for Action OHS Consulting to demonstrate to our workers, sub-contractors and suppliers that we have adopted a best practice approach with our safety management. If these people are confident that we are serious about safety, then our workplace will be a safer environment for our workers, or those involved with our workplace.
Fördelar:
I love how simple Safety Champion is to use. The direction we need is located on the dashboard. As a manager, I have visibility of our overall performance and importantly now have confidence in the reports that we run. Previously, we would save data in Excel, our registers were often riddled with errors from either data entry or people not saving/adding data as required. Significant time was wasted in cross-checking data.
Nackdelar:
There are no negatives from our experience so far.
Marcelo N.
HSEQ Specialist i Australien
Maritim, 11-50 anställda
Har använt programvaran för: 1-5 månader
Övervägda alternativ:
Harvest - 3 months Feedback
Kommentarer: Excellent customer service provided. [SENSITIVE CONTENT HIDDEN] are exceptional professionals and provided an outstanding service. The software has some opportunities for improvement. The reporting module cannot be tailored to our needs and end up with charts that are not as relevant for a report to upper management for example. Inspections using the App are really good and allow a quick paperless inspection report with possibility to add photos. This was a game changer for us. The Dashboard shows all chemicals and certificates even that they are not close to expire. These could be on their own modules. On Report module, the pizza type charts only show the value if you hover the mouse over the chart. It does not show the value when printed (pdf). The inspection templates are always associated to a grade system. There should be an option not to use grades. The incident investigation report shows Safety Champion logo instead of Harvest's when printed (pdf).
Fördelar:
The support team is extremely professional and helpful.
Nackdelar:
Dashboard - The Dashboard cannot be tailored. I had the impression we could customise the Dashboard during the presentations. I'd rather see other HSE indicators on the dashboard such as Incidents and Inspections. Actions - Actions should be closed out by an approver, specially related to audits. The system doesn't allow to have the action closed by a person and approved by another person. Same for Incidents. Compliance - The Compliance Module doesn't allow us to include a name or title when adding to the system. We are using the "Reference No." space to inform the certificate's name. In the Compliance Module is Ok to find the Certificate as you can see the title on the reference, but the task cannot be signed-off on the Compliance Module. On the dashboard the item can be signed-off and the name or title is visible, however the "Name" relates to the Classification and Sub-Classification. The "Reference No." where the Certificate's name is, it is not visible, so I can't find the right certificate as they all look similar. We could add the title to the space "Detail", but it wouldn't' be visible on the Compliance Module. App - Records of Inspections, Incidents cannot be accessed using the App. Notifications - Hard to set up. Notifications are sent to people with the same profile but from different workplaces. Difficult to tailor the notifications. Too many set ups - worker user, user, worker group user, organisational user, super user... No more space to write here...
Svar för Safety Champion
i fjol
Hi Marcelo, Thanks so much for your valued feedback. Whilst we're disappointed to hear some of your feedback, we're happy to let you know that some of these items mentioned are enhancements that will be deployed in releases in the near future. We'll reach out to you to run through the details.
Paul K.
General Manager i Australien
Konstruktion, 11-50 anställda
Har använt programvaran för: 6-12 månader
Simple to use software, that allows our workers access OHS documents when working at client sites.
Kommentarer: We were looking for a web solution that would allow our tradesmen and women to access safety documents such as SWMSs and Operating Procedures when working at client sites. In addition, we wanted a system to ensure that there was a simple way workers could report incidents and hazards, to allow these to be tracked by management. When looking at web software, Safety Champion had the modules that we required and was identified by our team as the simplest solution to navigate.
Fördelar:
It's simplicity. We are able to upload documents and these documents are controlled. When looking for a solution, we did not consider how obsolete documents would be managed. Safety Champion saves all historical versions when a document is superseded, however it also allows us to archive documents that are no longer used within our workplace.
Nackdelar:
Maybe not a "con", however, there have been some difficulties with workers remembering their password. Computer literacy is high at our workplace so we are currently looking at ways to support this!
Tom H.
HSE Manager i Australien
Förnybara energikällor och miljö, 11-50 anställda
Har använt programvaran för: 1-5 månader
Övervägda alternativ:
Excellent product
Fördelar:
When we investigated the options for an online safety system for our people, we specifically looked for power at the management level and ease of use for the frontline to encourage uptake. This has been achieved and more with Safety Champion. It also helps that it is at a reasonable price point and local customer backup is all in place.
Nackdelar:
There are features that are yet to be offered, but we can definitely see the improvements coming through at a good pace.