Vad är Raklet?
Raklet gör det möjligt för nätgemenskaper att träffas, nätverka och växa. Allt-i-ett-plattform för nätgemenskapshantering som hjälper dig att skapa varumärkesengagemang och möjligheter. Den är enkel att installera för att matcha dina varumärkesfärger. Du kan:
– Organisera och berika din medlemsdatabas med Raklet CRM
– Skapa obegränsat antal anpassade formulär och sidor
– Kommunicera via appen, textmeddelande eller e-post
– Inkassera betalningar online (produkt och biljettförsäljning, medlemskap, donationer ...)
– Förenkla evenemangshanteringen
– Utföra avancerad rapportering.
Vem använder Raklet?
Raklet stärker organisationer oavsett vilken bransch de är verksamma i. Plattformen inriktar sig på kontakter, meddelanden och betalningslösningar.
Var kan Raklet användas?
Moln, SaaS, webb-baserat, Android (mobil), iPhone (mobil), iPad (mobil)
Om leverantören
Raklet
Belägen i San Francisco, USA
Grundades 2014
Telefonsupport
24/7 (Live-support)
Chatt
Tillgängliga länder
Albanien, Amerikanska Jungfruöarna, Amerikanska Samoa, Andorra, Anguilla och 126 andra
Om leverantören
Raklet
Belägen i San Francisco, USA
Grundades 2014
Telefonsupport
24/7 (Live-support)
Chatt
Tillgängliga länder
Albanien, Amerikanska Jungfruöarna, Amerikanska Samoa, Andorra, Anguilla och 126 andra
Raklet videor och bilder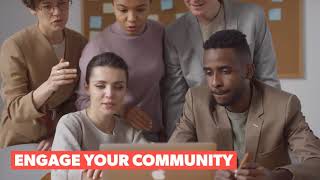 Jämför Raklet med liknande produkter
Funktioner i Raklet
Användarprofiler
Applikationshantering
Automatisering av marknadsföring
Avgifter förvaltning
Besökshantering
Betalbearbetning
Beviljande av bidrag
Bidragsspårning
Biljettbokningar
Biljettförsäljning
Bokföring
Budget / Prognoser
CRM
Deltagarhantering
Deltagarspårning
Dokumenthantering
Donationsspårning
E-post marknadsföring
Elevhantering
Emblemhantering
Eventhantering
Fakturering
För ideella organisationer
Förnyelser av medlemskap
Försäljningsargument
Ge online
Givarhantering
Godkännande av profilhantering
Gruppregistrering
Hantering av kunddata
Insamlingshantering
Instrumentbräda
Integration av sociala medier
Kalenderhantering
Kampanjhantering
Kommittéledning
Kontaktledning
Kontroll av profilsynlighet
Kundportal
Kvittanshantering
Layout och design
Löftehantering
Medlemsdatabas
Medlemskapsledning
Medlemskatalog
Medlemskommunikation
Medlemsportal
Medlemstyper
Närvarospårning
Online bokning
Online registrering
Rapportering och analys
Registrering på plats
Registreringshantering
Reserverad placering
SEO-hantering
Schemaläggning av event
Sittkarta
Social marknadsföring
Streckkod / biljettavläsning
Sök / filtrera
Teamhantering
Utställnings- / Leverantörshantering
Varningar / Meddelanden
Webbplatshantering
Återkommande presenter
Raklet Hitta alternativ 2021 - Capterra Sverige
Fatih T.
Genel Sekreter i Turkiet
Verifierad LinkedIn-användare
Har använt programvaran för: 1-5 månader
As we were about to spend thousands to develop membership software, we discovered Raklet and saved.
Fördelar:
Raklet has a lean and well thought architecture that provides you the most important features you need for membership features. It looks familiar from day 1 and is easily usable by staff without extensive training.
Nackdelar:
Well, we are currently working on a feature to customize Raklet to insert a specific type of membership information. If we fail on that, its customizability would be the least liked feature but currently that is not the case.
Svar för Raklet
förra månaden
Hi Fatih, It's of top priority for us that our platform is as affordable as it is functional and easy-to-use, so we are very happy to hear that you agree with us on this. We also hope that the whole customization process worked out well for you and you are content with the new features! Best, Raklet Team
Garrett J.
Director i Turkiet
Ideell organisationsledning, 1 001-5 000 anställda
Har använt programvaran för: 1 + år
Övervägda alternativ:
Great platform, highly recommended!
Kommentarer: Support team is really helpful. We can easily get in touch with them over phone/video calls. Engineering team delivers new features and improvements all the time.
Fördelar:
It's really easy to import members, assign dues and collect payments online. We use it for membership management at Center for Financial Inclusion at Accion.
Nackdelar:
Nothing in particular. It works like a charm.
Svar för Raklet
förra månaden
Hello Garret, We are very happy to hear that you found our service to your liking. Our customer support team works quite hard to give you, our precious customers the best experience possible. It's a pleasure to work with you! Best, Raklet Team
Terry W.
membership chair i USA
Medborgerlig-och social organisation, 2-10 anställda
Har använt programvaran för: 1 + år
Bad experience with this company
Kommentarer: This company is NOT located in the US. All the support comes from somewhere 8 hours ahead of Mountain Standard Time. Names are foreign and it does not seem that English is the common language. They are very slow to return emails or to address the issues.
Things would randomly go wrong - and no recourse was offered, much less apologies offered.
Fördelar:
the poor service and communication make it difficult to comment here. For a time, the renewals and notices went out smoothly, then, for no apparent reason, they stopped. Then, many memberships were deleted, again. no reason for this was given.
Nackdelar:
Not consistent. The updates seem to "break" processes that had been working fine.
Svar för Raklet
i fjol
I'm founder of Raklet and I want you to know more about what happened here. We're a US corp, operating in California. We have been a remote company since 2013. That's how we have the best pricing in the market. Our product is modern and easy to use. We offer free email/chat support and respond in less than 24 hours (usually within minutes). We worked with Horticultural Art Society for about 18 months. We offered them a huge discount in order to help their non-profit grow. Things went great on the first year, they even had a 5 star review on this site with a great comment (unsurprisingly it is now deleted). They collected significant amount of payments so our payment gateway requested additional info about their owners as part of Know-Your-Customer laws and regulations. They declined to provide necessary documents, hence their payment account got disabled. We responded 200+ emails along the way, tried our best to help them out but they did not cooperate, so here we are...
Amando boncales B.
CEO i USA
Verifierad LinkedIn-användare
Utbildningsförvaltning, 11-50 anställda
Har använt programvaran för: 1 + år
Membership & Continuing Technical Education Software
Fördelar:
We are a professional organization that requires the capacity to track our members in order to award certifications, track continuing education units, and conduct events for the professional growth of our members. In light of the preceding requirements, we discover that racklet are capable of assisting us in achieving our goals. The certificate is one of the things we'll need to make, and it will help us a lot to make sure that our organization runs smoothly. The developers working on this platform are quite approachable and well-versed in the requirements of our firm. Their understanding of our organization's needs, as well as their eagerness and willingness to help us reach our goals, is a big deal. There is always the chance to check with the team and ask that a feature be added to your account if one isn't already there. It is possible that this platform will provide us with many additional functionalities that we have not yet completely explored. Utilize digital tools such as memberships, newsletters, and other forms of advertising to develop and monetize your following. There is no need for coding. There are a lot of useful tools that this platform can offer that we haven't used yet that will help us make our community experience beautiful. I would strongly recommend this platform to any serious businesses that want to give their users a great experience.
Nackdelar:
Feature limitations on artifact submission
Svar för Raklet
förra månaden
Hi Amando, Thank you so very much for taking the time to write us a review. As a team, we are doing our very best to make our platform user-friendly and customizable. It's also very important for us that our customers find a direct way to communicate with our team, so any suggestion or support request doesn't go overlooked. It's a pleasure to be of service. Best, Raklet Team
Elisabetta M.
Professor i Italien
1 001-5 000 anställda
Har använt programvaran för: 1 + år
Evviva Raklet!
Kommentarer: I am the President of a No Profit Italian Cultural Association (we perform Ancient Classical Theatre in Milano) and I can assure that a software like Raklet can give a very important help in the administration of the Association (a complex task) and in the relationships with members.
Fördelar:
It gives an answer to most of the administrative and other kind of needs of our Cultural No Profit Association. The founders of Raklet have been and are open to our requests and we found a very positive collaborative dialogue with them.
Nackdelar:
At the moment - I do not understand how I can get the complete list of all the anagraphical, fiscal and administrative data related to all members (this is our most important administrative need). For each member we need to show: Name, Second Name, Italian Fiscal Code, date of request and date of acceptance of the Association, address and email or telephon number, if he is Active or not. If we receive a Fiscal Visit we have to present easily the complete list of all these data of all our members. - Raklet does not still allow to keep a register of Contacts of Persons that are not yet MEMBERS. Therefore we cannot envoy Newsletter to them, nor envoy promotional messages or Invites. - The graphic possibilities of Newsletters might be potentiated. - It might be good to let New Members of our Association to read Italianinformations about Raklet and few but clear instruction about its use. - It might be developped the use of Raklet as Social Network of Members. - It might be developped the use of SMS for the payment of the fees!
Svar för Raklet
förra månaden
Hi Elisabetta, Thank you so much for taking the time to leave such a thorough feedback, we really appreciate it! It's of utmost importance for us that our customers find us easy to reach and pleasant to communicate with. We do our best to be open for any suggestions being sent our way too. We now have an export feature where you can get a detailed list of all of your members with any information stated in their profiles. You can also find the guide on this in our help center. It's a delight to be of service. Best, Raklet Team