Vad är ScreenCloud?
Digitala skyltar behöver inte vara komplicerade. Programvaran ScreenClouds för digitala skyltar gör det enklare än någonsin för dig att lägga in meningsfullt innehåll på valfri skärm, var du än befinner dig. Använd den för att styra en skärm, eller tusen, från var som helst i världen.
ScreenCloud drivs av ett molnbaserat innehållshanteringssystem och passar in i dina befintliga smarta system så att du kan se de senaste nyheterna och företagsuppdateringarna, övervaka anställdas internkommunikation och stödja datavisualiseringar med ett centralt medium.
Vem använder ScreenCloud?
ScreenCloud arbetar med alla företag eller organisationer som vill kommunicera via skärmar. Så de kan vara småföretag, företag, nystartade företag, detaljhandel, gästfrihetsetablissemang, kyrkor, utbildning osv.
Var kan ScreenCloud användas?
Moln, SaaS, webb-baserat, Mac (Desktop), Windows (Desktop), Android (mobil), iPhone (mobil), iPad (mobil)
Om leverantören
av ScreenCloud
Belägen i London, Storbritannien
Grundades 2015
Telefonsupport
Chatt
Prissättning av ScreenCloud
Starting Price:
24,00 US$/månad
Erbjuder en gratis provperiod
Ingen gratisversion
ScreenCloud har ingen gratisversion men erbjuder en gratis testversion. ScreenCloudbetald version börjar på 24,00 US$/månad.
Prisplaner
få en gratis provperiod
Om leverantören
av ScreenCloud
Belägen i London, Storbritannien
Grundades 2015
Telefonsupport
Chatt
ScreenCloud videor och bilder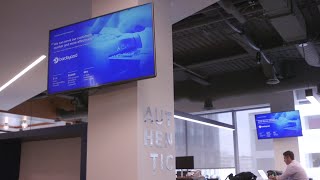 ScreenCloud Funktioner
API
Aktivitetspanel
Anpassningsbar branding
Anpassningsbara mallar
Användarhantering
Automatiserad schemaläggning
Automatisk uppdatering
Bildbibliotek
Data Import/Export
Datasäkerhet
Digital menytavla
Digital skyltning
Dra och släpp
Eventkalender
Fjärrskärmshantering
Fjärråtkomst / kontroll
Flera platser
Hantering av spellista
Innehållsbibliotek
Innehållshantering
Integration av sociala medier
Interaktivt innehåll
Layout och design
Mallhantering
Meddelanden i realtid
Mediabibliotek
Mobilåtkomst
Multimediasupport
Offlineåtkomst
Rapportering och statistik
Realtidsdata
Reklamhantering
Schemaläggning
Schemaläggning av innehåll
Schemaläggnings av kampanjer
Stöd för flera skärmar
Tredjepartsintegration
Uppdateringar i realtid
Varningar / Meddelanden
Verifieringskedja
Videohantering
Videostreaming
Videosupport
Visuell redigerare
WYSIWYG-redigerare
Widgets
XML / RSS
Åtkomstkontroller / behörigheter
Övervakning
Övervakning i realtid
Fabian M.
Marketing and Communications Manager i USA
Verifierad LinkedIn-användare
Utbildningsförvaltning, 51-200 anställda
Har använt programvaran för: 1 + år
Real-Time automated Digital Signage
Kommentarer: It allows real-time and automated information about events and happenings at our school.
Fördelar:
We use screen cloud to display live Twitter and Instagram feeds throughout our Campus. The interface is clean, easy to use and accessible via a web browser from everywhere. Lots of additional app integration are available and being added regularly. The Screencloud staff is very responsive and helpful. What I particularly like is the clean design of the displayed apps. It looks very professional.
Nackdelar:
Ideally, I would like even more customization on the look and fell of certain apps. But overall there is nothing I dislike so far.
Logistik & Supply Chain, 51-200 anställda
Har använt programvaran för: 1-5 månader
ScreenCloud is very easy to use and the customer service is great!
Kommentarer: I enjoy ScreenCloud a lot. It livens up the workplace and is easy to use. The customer service was great and they seem to really care about their customers.
Fördelar:
When looking for a digital signage software, ScreenCloud was a little bit more expensive per screen than competitors, but in my opinion, a lot more easier to understand and use. Also, uploading your own videos and pictures is easy along with scheduling times for certain playlists. The customer service was also phenomenal compared to other software. I would email someone about a question, and then 30 minutes later I would have an answer! The team at ScreenCloud was very helpful and worked with us for a while in order to make sure we understood what we were buying and to help us understand all the different parts of the software.
Nackdelar:
The canvas feature has limited customizability and the app store doesn't have a ton of new apps. Using internal links is also not possible at the time but it seems like other services also do not have that feature. However, from talking to customer support, it seems like they are working on new apps and improvements all the time.
Övervägda alternativ: OptiSigns
Anledningar att byta till ScreenCloud: The customer support was very good and the software was much easier to use and understand.
Svar för ScreenCloud
för 3 månader sedan
Hi Cameron, thank you so much for leaving us a review. It's great to see the value you're getting from using ScreenCloud and it's always a nice boost for the team to see their efforts recognized. We strive to create a great experience for our users and always welcome feedback on how we can make further improvements. If you'd like to submit additional feedback, please reach out to our support team at [email protected]
Steve K.
I.T.Manager i Kanada
Konstruktion, 51-200 anställda
Har använt programvaran för: 1 + år
A great product, but not competitive pricing
5
för 2 månader sedan
Nytt
Fördelar:
We have used ScreenCloud for over a year. I always thought it was too expensive per screen. I had a need for a second screen to be added, and I came across OptiSigns. I reached out to ScreenCloud and asked about the second screen and if they could be competitive. I was told no. OptiSigns does the same thing as ScreenCloud, and even used our existing hardware (firetv stick), and is half the cost. At $10 per screen, it's a reasonable price for use to expand to more screens. So we switched.
Nackdelar:
The cost was too high, and there are similar and better priced products available.
Konstruktion, 501-1 000 anställda
Har använt programvaran för: 1-5 månader
Great potential but a lot still to develop
Kommentarer: This is just used as our entry way marketing material. This has been more of a head ache than it should have been.
Fördelar:
Ease of use is a fact. I liked the layouts and basic idea of this product. That was about it.
Nackdelar:
Needs more native apps. Not a very "smart" program (i.e. have pictures in a custom zone to a special size - this requires me to go back to marketing team to re-edit the photos down to what the app can handle. This should be done as part of the program to allow for overall easier use). While the support team is quick to respond, they missed the mark greatly in actually addressing the issues and are rather snarky when you point out the pitfalls of the program. There are misspellings in the warnings that pop-up throughout their app. It is all around a work in progress.
Svar för ScreenCloud
för 2 år sedan
Hi Mitch, this is Adam, the Head of the Support team at ScreenCloud. I'm really sorry you've been experiencing these issues. We take your feedback seriously, so thank you so much for taking the time to share this with us. We're always trying to improve our app and stay on top of an agile work environment and sometimes we don't meet the standards we want to achieve for our customers. Although we've built ScreenCloud to optimize your images to look at their best for your screens, in some cases you'll need to edit the dimensions of the image to capture the area you want to show the most. To make this easier, we've been developing a new app to help you do just that. We've also been revising our on-boarding experience to share the good practices as early as possible. I'd really appreciate it if we had a call to get to the bottom of this and also show you what we've been working on. I'll make sure to personally reach to you.
Runar I.
Systems engineer i Norge
Konstruktion, 1 001-5 000 anställda
Har använt programvaran för: 1 + år
Affordable, easily scalable and easy to use Digital Signage!
Kommentarer: We're very pleased to be able to distribute digital signage to multiple locations, with little effort in terms of implementation, as well as eliminating the need for on-premise or LAN management.
Fördelar:
Great support for most OS-types, low cost, versatile in terms of deployment, easy to use for users with basic IT knowledge. Cloud managed, only need local access to internet in able to manage a remote screen.
Nackdelar:
Required the use of a credit card, at the time of acquisition. Invoice would be better suited to our needs.
Svar för ScreenCloud
för 3 månader sedan
Hi Runar, thank you so much for leaving us a review. It's great to see the value you're getting from using ScreenCloud and it's always a nice boost for the team to see their efforts recognized. We strive to create a great experience for our users and always welcome feedback on how we can make further improvements. I'll pass on your feedback about the acquisition payment process to our product team. If you'd like to submit additional feedback, please reach out to our support team at [email protected]