Easy LMS
Vad är Easy LMS?
Easy LMS är byggt i Nederländerna av ett multikulturellt team och är en av marknadens coolaste och användarvänligaste utbildningsplattformer. Easy LMS har den enkla och tydliga nederländska designen
Läs mer
som gör den mycket enklare att använda än de flesta andra plattformer. Den är också prisvärd och tillgänglig på många språk. Be om en demo idag och se själv.
Läs mindre
Vem använder Easy LMS?
Easy LMS är för alla organisationer, oavsett storlek, som vill utbilda effektivt med ett intuitivt och kvalitativt verktyg till ett mycket bra pris.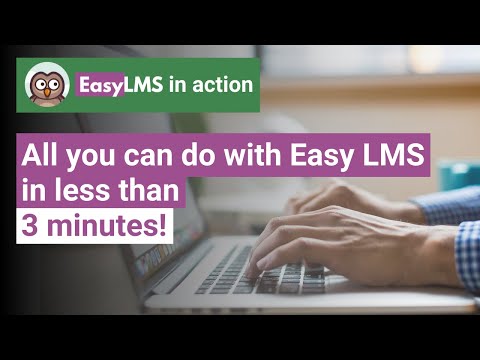 Är du osäker på Easy LMS? Jämför med ett populärt alternativ
Inte tillgänglig i ditt land
Gratis version
Gratis provperiod
Gratis version
Gratis provperiod
Easy LMS Hitta alternativ 2021 - Capterra Sverige
Pedro
Investigador/Docente i Portugal
Verifierad LinkedIn-användare
Professionell träning och coaching, Egenföretagare
Har använt programvaran för: 6-12 månader
Quizzes, courses and much more easy!
Kommentarer: With this tool, I can keep my students motivated, with short quizzes, usable in any platform (many of them use smartphones). They keep the knowledge updated with fun with easy LMS
Fördelar:
It's a well-constructed page/app, well conceived for teaching purposes. Have many intuitive tools (quizzes, lectures, evaluations, etc). The Teacher Owl price is very good for a small business like mine, to help my students get interested without hassle.
Nackdelar:
I only dislike the courses construction page. It should be more intuitive (like powerpoint). We add slides, but to see how a course looks like, after configuring everything, we need to enter with a registered email. Should be easier than that, because we're the administrator, should be possible to jump that part. And should be possible to import powerpoint to easy lms courses.
Joshua
CEO i USA
Verifierad LinkedIn-användare
Marknadsföring och reklam, 2-10 anställda
Har använt programvaran för: 1-5 månader
You should use Easy LMS
Kommentarer: My experience so far has been great, I love using the system, it's helped a lot in my business already and I'm excited to continue to see the benefits of producing training programs that can help my team duplicate their work in a error free manner.
Fördelar:
The software is easy to use and also very detailed. You can do a lot with it including courses, tests, exams, and personality assessments. I love that it's easy to use but you can get a lot more complicated with it to as you did into the settings and analytics.
Nackdelar:
I think the one that that I don't like is that there doesn't seem to be as much documentation on some of the sections. I would love to see more information about analyzing results, and better information on each setting and what it does. I think that would help a lot.
Kelsie
Program Coordinator i USA
Högre utbildning, 11-50 anställda
Har använt programvaran för: 2 + år
The product is good overall, but a lot of money for only hosting one quiz.
Fördelar:
I like that I was able to develop a quiz even though I am not too tech savvy. The quiz is used often by youth and doesn't have too many instruction barriers.
Nackdelar:
I pay per year to host one quiz and many of the functions are not accessible because I am a Teacher Owl, considered midline not premium. There should be a way to scale price to factor in how many quizzes someone uses. It is difficult to navigate the back-end and I have needed to call for support many times. The new way results are displayed is not as useful as it was before. There is always a delay in getting support since you can only send emails. I have had many misunderstandings on my question or options since email is more limited than a conversation on the phone.
David
US Director - Zodhiates International New Testament Study Center i USA
Verifierad LinkedIn-användare
E-lärande, 11-50 anställda
Har använt programvaran för: 1 + år
Excellent value for dollar
Fördelar:
This is a simple software, making it very useful for basic projects which need a powerful media presentation and testing mechanism. There are some advanced features, but not a full suite. Yet if you are looking for something straightforward (like I am), this makes for an excellent option.
Nackdelar:
The interface could use some improvements in terms of being intuitive or making less clicks between screens when constructing a module. In the end, you can get where you are going. I have never had to repeat any work due to bugs in the software.
Daniel
Shared Services & IT Director i Brasilien
Verifierad LinkedIn-användare
, 1 001-5 000 anställda
Har använt programvaran för: 6-12 månader
Having a great experience using the service!
Kommentarer: We were able to train more than 2.000 employees using an interactive course. They loved learning a new skill in an innovative training session!
Fördelar:
- Powerfully easy interface - Low cost - Great customer support - All features you may need in one product
Nackdelar:
- Unable to customize sender email address - I had some challenge to change the credit card used for billing