Vad är UpKeep?
UpKeeps CMMS rankas som kanske den främsta lösningen för mobilt underhåll och resurshantering för ditt team. UpKeep är lätt att komma åt när som helst, från skrivbordet och telefonen och till och med surfplattan. Skapa arbetsordrar snabbt, få meddelanden när uppgifter uppdateras och få aviseringar direkt från din app när tillgångar försvinner, vilket gör att din verksamhet fungerar mer effektivt än någonsin tidigare.
Vem använder UpKeep?
Tillverkning, fastighetsförvaltning, flotta, hotell, olja och gas, bygg, kommuner, distribution, lager, restauranger, allmännyttiga företag, kyrkor, utbildning, livsmedelsbearbetning, förpackning
Var kan UpKeep användas?
Molnbaserad
På plats
---
Om leverantören
UpKeep Technologies
Belägen i Los Angeles, USA
Grundades 2014
Support för UpKeep
Telefonsupport
24/7 (Live-support)
Chatt
Tillgängliga länder
Amerikanska Jungfruöarna, Australien, Brasilien, Brittiska Jungfruöarna, Indien och 10 andra
Om leverantören
UpKeep Technologies
Belägen i Los Angeles, USA
Grundades 2014
Support för UpKeep
Telefonsupport
24/7 (Live-support)
Chatt
Tillgängliga länder
Amerikanska Jungfruöarna, Australien, Brasilien, Brittiska Jungfruöarna, Indien och 10 andra
UpKeep videor och bilder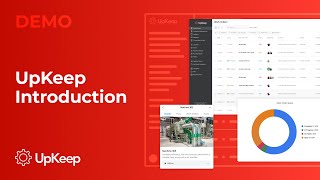 Jämför UpKeep med liknande produkter
Funktioner i UpKeep
Aktivitetspanel
Aktivitetsspårning
Anpassningsbara fält
Anpassningsbara rapporter
Användarhantering
Arbetsflödeshantering
Arbetskraftsrapportering
Arbetsorderhantering
Artikelhantering
Asset Lifecycle Management
Asset Planning
Audit av inventarier
Autofyll
Avskrivningshantering
Bildtagning
Bränslespårning
Citat / uppskattningar
Data Import/Export
Datavisualisering
Delhantering
Dokumenthantering
Dra och släpp
Efterlevnadskontroll
Elektronisk underskrift
Facility Asset Management
Fakturering
Fillagring
Fordonsinformation
För klimatiseringsföretag
För mekanisk utrustning
Förebyggande underhåll
Försäljarstyrelse
Förutsägbart underhåll
Förvaltning av anläggningstillgångar
Garantispårning
Grundorsaksanalys
Hantering av fakturor
Historisk rapportering
IT-kapitalförvaltning
Inbyggd redovisning
Incheckning / Utcheckning
Incidentshantering
Inköpsorderhantering
Inspektionshantering
Jobbhantering
Kalenderhantering
Kartskapande
Kitting
Kodhantering
Komponentspårning
Konfigurationshantering
Kontaktdatabas
Kontrakt / Licenshantering
Kostnadsspårning
Kunddatabas
Kvalitetshantering
Köpa in och ta emot
Lagerhantering
Lageroptimering
Lagerspårning
Lagerstyrning
Leveranshantering
Leverantörshantering
Loggboksspårning
Materialräkningar
Meddelanden i realtid
Mobilåtkomst
Mottagnings- och lagringshantering
Möteshantering
Offlineåtkomst
Ombeställa hantering
Online bokning
Orderhantering
Pave-certifierad försortering
Planering av anläggningar
Platsspårning
Prestandamätningar
Process / arbetsflödesautomatisering
Produktidentifikation
Prognoser
Påminnelser
Rapportering och analys
Rapportmallar
Realtidsanalys
Realtidsdata
Redovisningsintegration
Reparationsspårning
Returhantering
Revisionshantering
Rumslig analys
Rymdhantering
Samarbetsverktyg
Schemaläggning
Schemaläggning av produktion
Schemaläggning av underhåll
Schemaläggning i realtid
Servicehistorik
Självbetjäningsportal
Skapa och designa formulär
Skapande av arbetsorder
Spårning av efterlevnad
Spårning av stillestånd
Statusspårning
Streckkod / biljettavläsning
Streckkodning / RFID
Sök / filtrera
Teknikledning
Tidsur online
Tillgångsspårning
Tredjepartsintegration
Underhållsstyrning
Uppdateringar i realtid
Uppgiftsplanering
Utrustningshantering
Utrustningsspårning
Utrustningsunderhåll
Varningar / Meddelanden
Verifieringskedja
Åtkomstkontroller / behörigheter
Övervakning
UpKeep Hitta alternativ 2021 - Capterra Sverige
Dirk
Director of Operations i USA
Verifierad LinkedIn-användare
Fastighet, 11-50 anställda
Har använt programvaran för: 1-5 månader
Övervägda alternativ:
Crucial Team Management
Kommentarer: This creates the foundation for extensive maintenance records, historical tracking of problems, inventory, and more. It allows you to monitor your entire portfolio on a macro and micro level.
Fördelar:
Functionality. This cloud-based task manager functions at the level that works for you. Whether you're assigning basic tasks at a complex you own and manage or inspecting individually tagged pieces of hardware this is essential. The accountability from a required signature showing this task has been done is reassuring. Should there be a hang-up or question UpKeep's customer service is there to help you through it.
Nackdelar:
The initial challenge is determining the depth at which to utilize this software most effectively. Whenever an organization chooses to go with a task manager, it is only effective as the degree to which your staff buys into it.
Svar för UpKeep Technologies
för 3 år sedan
Hi Dirk, Thank you for taking the time to leave a review for UpKeep! We're so happy to hear that UpKeep is serving your team for tasks and projects big & small. The fact that the signature feature has provided a layer of accountability for your team is amazing! We're glad that the ability to historically track your work at a micro and macro level is helping you take the team to the next level. If you ever do need assistance in developing your maintenance program using UpKeep, feel free to reach out to your dedicated Customer Success Manager. Our team will follow up with you to connect your team to this dedicated resource. Thank you again for leaving us a great review. We really do take and appreciate your feedback seriously!
Rick
Facility Manager i USA
Religiösa institutioner, 51-200 anställda
Har använt programvaran för: Gratis provperiod
Källa: SoftwareAdvice
Övervägda alternativ:
Perfect CMMS for my Needs
Kommentarer: Using Upkeep has been an easy process, and it helps keep everything in one place. I also like the fact that our Operations Manager sees everything that I do, from creation of work orders, to updates, and completion of work orders.
Fördelar:
The free features are perfect for my use. My day is all about work orders, and being able to manage these work orders easily makes my day easier. We used to use paper work orders, which I had to fill out, file, and then track in another file. I would then need to create a separate report to send to the property team for review. I like having the ability to have everything in one place, without having to create so many separate reports.
Nackdelar:
Nothing about this software is difficult to use. I do wish more was offered in the free version, such as reporting. I was able to use it during the free trial, but now am using the free version, in which reporting is only available in paid versions. I understand that this is how the company makes money, and I will be making the switch to a paid version when it is approved in our new budget. One thing that bugs me and hope gets fixed, is during the work order creation. I have over 120 locations and sub-locations. When I create a work order and choose the location, you should be able to begin typing the location in the box and it should self-populate the box. Right now, only the main locations will self-populate, not the sub-locations. I only have three main locations, and all the rest are sub-locations, so I have to scroll to search for the exact location I need. It's nothing major, but just an annoyance, and I hope this will be fixed soon so that any location will self-populate the box when you begin typing it.
Jamie
Grounds & Buildings Manager i USA
Evenemangstjänster, 11-50 anställda
Har använt programvaran för: 1 + år
A very strong start, but a long way to go yet.
Kommentarer: We all like it, but the glitches are too slow at being corrected. I really don't want to switch companies but it has come up recently. I like working with the support team, they always seem very willing to help. Unfortunately the solutions they provide are hardly ever agreeable with me. I think that is usually no fault of theirs, but rather that we keep reaching the end of the program's capabilities. That is frustrating for me.
Fördelar:
I really love the layout and the ease of use. I also appreciate the diverse application to many different uses. The fact that you can access it from a phone or a computer is amazing. Very convenient that way.
Nackdelar:
RECURRING WORK ORDERS! There are so many glitches when you start making work orders recur. I've tried my best to provide feedback on this because it is really starting to be a deal breaker but the problems continue. 1) duplicates pop up constantly and they don't go away easily. 2) The scheduling options for recurring work orders is totally bad. Model it after Google Calendar first, then add options to make it more detailed. The fact that you can't schedule seasonal tasks without some silly back-end procedure to duplicate the work orders every year is highly frustrating. 3) Gonna need a little more flexibility in the different categories of user. My techs need to be able to create their own work orders without being a complete access administrator. There should be something in between. I trust my guys and they know their jobs, I don't need to make all their work orders for them. 4) I'd like to see some improvement in the template modules. I've not been able to benefit from them realistically even though I've tried. When you go to add them into a work order it just never seems to make much sense.
James
Operations Manager i Australien
Ideell organisationsledning, 11-50 anställda
Har använt programvaran för: 2 + år
It does what we need
Fördelar:
We use it to keep track of the building ongoing maintenance tasks and assets management. Easy to generate information required for the accounting department. Keep the work orders organised.
Nackdelar:
Reporting can be better. Report generation is not intuitive and may take sometime to get familiar
Jonathan
Clinical Engineering Director i USA
Sjukhus och hälsovård, 51-200 anställda
Har använt programvaran för: 1 + år
Källa: SoftwareAdvice
Övervägda alternativ:
Best overall usability
Kommentarer: Overall, this is the best CMMS we have used. I did sample the top 10 for a year before deciding and upKeep was the best because of easy of use in the field. This software saves time by reducing paperwork and admin tasks.
Fördelar:
I sampled many different CMMS programs and upKeep was the only software that made the cut. This software is actually usable in the field.
Nackdelar:
There are a few additional features I would like to see. I would like to be able to set exact permissions per user. the amount of administrative data available to Limited Technician renders some functionality not usable. Not everyone needs a list of all vendors and customers. There needs be a permissions checkbox to limit some access and functionality per user. Depending on how this software is used, it could cause an issue. would you want everyone in your company to have a list of our all your customers and vendors? for this reason. We avoid using some features and have not upgraded to the business package.
Svar för UpKeep Technologies
för 2 år sedan
Thank you so much for taking the time to leave us a review! We're glad to hear our software is helping you and your team track work orders! Our team is always making improvements and adding new features to the application based on customer feedback. Feel free to visit our support page if you ever have any questions: https://www.onupkeep.com/customersupport/ Thanks again!