Vad är Spectrio?
Spectrio's digital signage transforms over 150,000 business locations into exciting destinations for customers and employees. Powered by technology that's easy-to-use, scalable, and reliable, clients use our unbeatable content library to capture attention with Branded Videos, Digital Menus, Waiting Room TV, Interactive Kiosks, Video Walls and Wayfinding. Access tons of integrations and content customized for Automotive, Healthcare, Finance, QSR, Internal Comms and more. Get your free demo!
Vem använder Spectrio?
Spectrio is a digital signage solution for businesses of all sizes, across a wide range of industries.
Var kan Spectrio användas?
Molnbaserad
På plats
Spectrio videor och bilder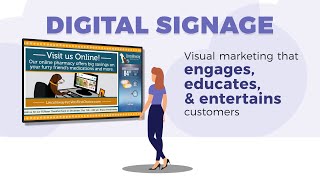 Jämför Spectrio med liknande produkter
Funktioner i Spectrio
Anpassningsbara mallar
Automatisk uppdatering
Fjärrskärmshantering
Hantering av spellista
Kampanjanalys
Layout och design
Mediabibliotek
Schemaläggning av innehåll
Stöd för flera skärmar
Verifieringskedja
Visuell redigerare
XML / RSS
Spectrio Hitta alternativ 2021 - Capterra Sverige
Christa
Freelance Graphic Designer i USA
Verifierad LinkedIn-användare
Har använt programvaran för: 1 + år
A digital, interactive social experience
Kommentarer: More social interactive, a great platform to showcase promotions, customers enjoy the changing content such as news, weather, maps, etc.
Fördelar:
It creates a social platform for our customers to view promotions, menus, media posts, news, weather, traffic, sports and other fun apps. The digital ease of it allows me to keep it updated with fresh content that can keep viewers engaged. I enjoy being able to manage it from any computer and the changes take effect instantly. Our customers love seeing their photos/videos displayed on screen and getting to see other people's experiences be showcased. It's a great product, quick customer service, and having this as a feature in our center really adds to the overall social customer experience.
Nackdelar:
There will be times when the apps have issues which makes our display have a big "error" screen appear - this is obviously very unsightly, but normally after contacting their support team they get the issue resolved quickly and easily. If not, a quick system reset typically solves most problems. The available app selection has been increasing over the months, which I love, so I would like to continue to see a wider selection of apps to display. This service is not cheap, but if you want to add a social and digital experience to your business then it's a great feature to invest in.
Svar för Enplug
för 5 år sedan
We appreciate the in-depth review. It's great to hear that you've found Enplug to be easy to use and engaging for your customers! We apologize for the "error" screens you've seen, and we're hard at work on eliminating those errors! We're also working on a redesigned social media design that will be even more modern and interactive - so stay tuned! Lots more updates coming soon.
Jesse
Internal Communications Specialist II i USA
Sjukhus och hälsovård, 10 000+ anställda
Har använt programvaran för: 6-12 månader
Övervägda alternativ:
Best user-friendly solution out there
Kommentarer: Of all of the different CMS solutions out there for digital signage, Enplug gives you one of the most engaging experiences possible. Our employees enjoy this new solution and I've heard nothing but good feedback.
Fördelar:
Enplug is extremely intuitive and user friendly. There is also a plethora of applications and features available to content creators. Enplug also updates screens in real time, meaning that you do not have to wait to see your changes. The app-based content is engaging and helps keep employees informed.
Nackdelar:
There are no stand out negatives about Enplug. We have been extremely satisfied with this solution so far. If I had to pick one thing that could be improved, I would say that it would be great to get some additional enterprise applications, such as a Yammer app and other Microsoft Apps like Microsoft Stream.
Svar för Enplug
för 2 år sedan
Jesse, thank you for taking the time to share your Enplug experience. We are happy to read that you see our software powerful and easy to use. Good news! Microsoft Teams is on our feature roadmap and we'll be sure to keep you updated.
Emily
Creative Director i USA
Restauranger, 51-200 anställda
Har använt programvaran för: 2 + år
Expensive, Buggy and Poor Support
Kommentarer: This is a review of Enplug Digital Signage software. With the advent of smart tv's, their product is becoming obsolete. They charge $200+ for a streaming device which is buggy – we had 1 faulty device upon receipt and another 2 that subsequently died. Upon reaching out to support to fix or replace the dead devices, they simply stopped responding to my emails. Next step, cancellation of their service due to poor products, competitive pricing elsewhere and poor customer service. I emailed them to cancel. No response for weeks. I call to confirm cancellation and they can't find my account. Ask for my account number – it is NO WHERE to be found on their website. I get transferred around to various people who can not help in cancelling my account and shoved back into an email support thread.
Fördelar:
Nothing good to say about the software Enplug.
Nackdelar:
Poor customer service. Weak customer account portal on website. Buggy devices that arrive defective, stop working randomly and not competitively priced.
Marisa
Digital Experience Coordinator i USA
Verifierad LinkedIn-användare
Fastighet, 51-200 anställda
Har använt programvaran för: 1 + år
Looks slick, easy to set up and manage!
Fördelar:
Our agents and staff love to get involved with the social feed by using our hashtags, and they love the weather app as well. We love being able to schedule our content in advance with graphics/videos and have the control to customize each display group to fit that location.
Nackdelar:
We have had a few faulty boxes that have had to get replaced. Wish it was easier to switch displays between groups without having to reset the box and be at the location in person...just have to do a lot of thinking/planning/adjusting on how to organize the groups to make it easiest to manage. Would be great to have stats that show which pieces of content are getting shown the most and be able to see live in the dashboard what's displaying on each screen at that moment. Would love to approve/deny/favorite social posts individually on each display group instead of the apply all method.
Svar för Enplug
för 5 år sedan
Hi Marisa, Thank you for the review and for being a great customer. Great to hear the social feeds have been engaging! To address your notes: 1. We're always testing new media player devices to find the most affordable yet reliable option. 2. We're adding the ability to switch devices between display groups this month! 3. We're adding the ability to get content play stats this month! 4. We're adding live display previews in early Q2. 5. We're launching a new and very much improved social wall experience in February. We look forward to continuing to work with you!
Nick
Communication Specialist i USA
Verifierad LinkedIn-användare
Elektrisk / elektronisk tillverkning, 5 001-10 000 anställda
Har använt programvaran för: 1 + år
Incredible Digital Signage Solution
Kommentarer: We are using Enplug as our employee communication solution to reach over 7,000 employees at their facilities for the latest in company and site-specific communication. We publish slides, integrate social media and share regular video update messages from our CEO across 150+ endpoints. We have HR team members and admins at each facility who post site-specific comms and employee recognition content, and the app-based cloud solution has been incredibly easy for them to learn.
Fördelar:
Affordable Ease-of-use Zoning app makes layouts a breeze App-based Cloud-based Lightning fast support SSO login
Nackdelar:
N/A, even if there are small quirks, one email to the support team gets any issue resolved in an instant!
Svar för Enplug
för 2 år sedan
Thanks for your review, Nick! It's great to hear that our product is working for you seamlessly across multiple locations. We value your feedback and will share your praise with our support team. Thanks again for your time!