Vad är Quickbooks Online?
QuickBooks Online is a small business accounting software and app that allows you to manage your business anywhere, anytime. Used by over 4.5 million customers, QuickBooks provides smart tools for your business, yet is easy to use. You can organize your books, manage expenses, send invoices, track inventory, and even run payroll. With QuickBooks Online, you can get organized, save time, and even get paid fast by adding payment features. Best of all, you can try it for free for 30 days.
Vem använder Quickbooks Online?
The #1 Accounting and Financials software for Small Business.
Var kan Quickbooks Online användas?
Molnbaserad
På plats
---
Om leverantören
Intuit
Belägen i Sacramento, USA
Grundades 1983
Support för Quickbooks Online
Telefonsupport
24/7 (Live-support)
Chatt
Språk
engelska, franska, portugisiska, spanska, traditionell kinesiska
Om leverantören
Intuit
Belägen i Sacramento, USA
Grundades 1983
Support för Quickbooks Online
Telefonsupport
24/7 (Live-support)
Chatt
Språk
engelska, franska, portugisiska, spanska, traditionell kinesiska
Quickbooks Online videor och bilder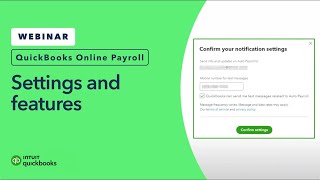 Jämför Quickbooks Online med liknande produkter
Funktioner i Quickbooks Online
"Vad händer om" -scenarier
ACH betalningshantering
Aktivitetspanel
Anpassningsbar branding
Anpassningsbara fakturor
Anpassningsbara fält
Anpassningsbara rapporter
Asset Lifecycle Management
Avgiftsberäkning och bokföring
Bankavstämning
Bearbetning av fakturor
Bearbetning av överbetalning
Betalbearbetning
Beviljande av bidrag
Bokföring
Budget / Prognoser
Checkbearbetning
Citat / uppskattningar
Core Accounting
Cross Ledger-bokföring
Data Import/Export
Datautvinning
Delbetalningar
Direkt insättning
Donationshantering
Donationsspårning
Dubblett betalningsvarning
Efterlevnadskontroll
Elektronisk överföring av medel
Elektroniska betalningar
Ersättningshantering
Ersättningsledning
Fakturahistorik
Fakturering
Finansiell rapportering
Finansiell stödhantering
Flera avdelningar / projekt
Flera valutor
Fondredovisning
För AEC-industrin
För ideella organisationer
För religösa organisationer
Försäljarstyrelse
Förvaltning av anläggningstillgångar
Förvaltningsskatter
Hantering av fakturor
Hantering av kontanter
Huvudbok
Inkomst & balans-blad
Inköpsorderhantering
Konsolidering / Roll-Up
Kontaktdatabas
Kontoplan
Kostnadsberäkning
Kostnadshantering
Kostnadsspårning
Kundfordringar
Kundreskontra
Kunduttalanden
Kvittanshantering
Kvittouppladdning i mobilen
Lagerhantering
Leverantörsskulder
Lägesrapporter
Lönerapportering
Lönhantering
Mervärdesskatt (moms)
Mobila betalningar
Mobilappar
Mobilåtkomst
Online betalning
Online fakturering
PO-försoning
Prognoser
Projektfakturering
Projektredovisning
Rapportering och analys
Realtidsdata
Realtidsrapportering
Resultat- / förlustredovisning
Samling av brevhantering
Självbetjäningsportal
Skapande av faktura
Skattehantering
Skatteregistrering
Skatteöverensstämmelse
Spårning av fakturerbara artiklar
Spårning av fakturor som förfallit till betalning
Strategisk planering
Tid och kostnadsspårning
Tidsspårning
Tillgångsredovisning
Transaktionsspårning
Tredjepartsintegration
Tryckning av checkar
Undantagshantering
Utskrivning av checkar
Versionskontroll
W-2-beredning
Återkommande / prenumerationsfakturering
Återkommande fakturering
Återkommande fakturering för flera perioder
Quickbooks Online Hitta alternativ 2021 - Capterra Sverige
Recensioner av Quickbooks Online
Troy
Marketing Manager i USA
Verifierad LinkedIn-användare
Sjukhus och hälsovård, 501-1 000 anställda
Har använt programvaran för: 2 + år
Quickbooks Online, if it isn't broken don't fix it.
Fördelar:
Payroll Management in Quickbooks Online is the best of the best. Known for its great employee management tools, Quickbooks Online makes payroll a breeze. Direct Deposit in Quickbooks Online provides you with an easy and convenient streamlined system to set up for all of your employees and new hires.
Nackdelar:
Quick books online doesn't have many features that i would consider need improvement. It gets the job done.
Bryant
Business Owner/Personal Trainer i USA
Hälsa, välbefinnande och fitness, Egenföretagare
Har använt programvaran för: 2 + år
Övervägda alternativ:
Makes my job a ton easier
Kommentarer: I like Quickbooks. The company name does make sense... you do everything quickly lol. I haven't had a single issue other than the invoicing problem. I did spend more than enough time with their customer service which was a pain in the butt but the rep was really friendly and helped me get it sorted out. If I could recommend Quickbooks to a new or seasoned business owner, I definitely will! It looks expensive and hard to learn but honestly, it's much easier to navigate than it looks!
Fördelar:
I was hesitant at first since I didn't want to go the everything electronic route. My wife was doing all of the tax stuff so I just gave her the okay and made the purchase. I now do everything minus invoicing through Quickbooks. Everything is streamlined for me and I realized how much time I was truly losing by doing everything through Excel and calculating by hand. My wow moment was watching my time being cut in half literally by just snapping a photo of a receipt after connecting my bank account then adding details on the purchase... that's it!
Nackdelar:
Now... the invoicing part I'm just not fond of. There was an error with a payment and Quickbooks kept kicking back a payment a client had made. I ended up just going through Paypal Business and setting up my invoices through there and attached my Paypal account to Quickbooks to make things easier on myself. If invoicing was different, I would be 100% with Quickbooks.
Medicinska apparater, 2-10 anställda
Har använt programvaran för: 6-12 månader
Övervägda alternativ:
QBO Works, But It Should Be Better Than It Is
Kommentarer: Due to the massive price increase to move to a 60k+ ERP, QBO is probably still the way to go, it's just a shame that they haven't done a better job listening to their customers and implementing the MANY MANY requests and suggestions that they have been receiving for years.
Fördelar:
You can login online from anywhere, and it does a great job of syncing with your bank accounts
Nackdelar:
The support is basically non-existent. Also, there is just no reason that they haven't implemented more customization options for how long this software has been out. They also make syncing with other programs sound good, but then limit what can actually be done on the back-end.
Svar för Intuit
för 2 månader sedan
Hi, Ryan. Thanks for an honest review. This isn't the impression we hoped you'd have. We'd appreciate the opportunity to make this right. The best way to reach the QuickBooks Online Team is to use any of the methods listed here: (https://quickbooks.intuit.com/learn-support/en-us/help-article/account-management/quickbooks-online-support/L6WqNrDq0_US_en_US). We're always happy to help. All the best. -Kristina, The QuickBooks Team
Bokföring, 2-10 anställda
Har använt programvaran för: 2 + år
Övervägda alternativ:
20+ year user of Qucikbooks
Kommentarer: Overall I'm happy with QB's online, we save a lot of time as I mentioned before on data entry. I just don't pout my really compicated clients in the software, I keep them in desktop.
Fördelar:
I love how quickly the data entry goes in QB's online versus QB's desktop. With rules and auto entries it take the tedious parts of accounting and automates them. I'm able to focus my time on more complicated items that add value to my serives to my clients.
Nackdelar:
It still needs a lot of work on the developement of the software. You are unable ot customize PO's, which is insane to me. It's a little hard to get used to when coming from their sister product desktop. Desktop is so rubust and had very little flaws that I somtimes find myself banging my head gainst a wall, like why?!! Also, the subscription based pricing makes it so you always have ot pay for the software. With desktop I bought it once and none of my clients had to pay for it. Way to make money intuit, now but that money back into the developement of the software!
Alanna
Chief Marketing Officer i Kanada
Verifierad LinkedIn-användare
Datormjukvara, 2-10 anställda
Har använt programvaran för: 2 + år
Reliable accounting software, some syncing challenges
Fördelar:
I find Quickbooks is easy to use & reliable for doing basic business accounting. I also rely on the reporting features to quickly see a snapshot of important data like P&L, broken down into quarters and months.
Nackdelar:
I've run into some syncing problems with my bank, where Quickbooks doesn't automatically sync or the connection is somehow lost and I need to jump through some hoops to fix it. I'm not sure if that's a problem with my bank or a Quickbooks problem though. I also have run into some issues with having balances in 2 different currencies, and making sure income/expenses are properly accounted for.
Svar för Intuit
för 2 månader sedan
Hi, Alanna. We'd like to offer our assistance and make sure QBO helps you save time going forward with your banking. The steps listed here have resolved this issue in previously: (https://quickbooks.intuit.com/learn-support/en-us/help-article/banking/get-bank-error-download-transactions-quickbooks/L5Tek4yh7_US_en_US). Should you still experience the issue with the connection please reach out to our team so we can look into this further with you (https://quickbooks.intuit.com/learn-support/en-us/help-article/account-management/quickbooks-online-support/L6WqNrDq0_US_en_US). All the best. -Kristina, The QuickBooks Team