Vad är Paymo?
Paymo är en modern och intuitiv arbetsledningslösning för småföretag och fjärrteam som kombinerar avancerad uppgiftshantering, planering, schemaläggning, tidsuppföljning, samarbete och fakturering. Det innebär att du kan hålla reda på hela projektets livslängd – från skapande till betalning – utan att behöva använda och betala för flera appar.
Vem använder Paymo?
Små och medelstora projektbaserade företag (reklam- och marknadsföringsbyråer, webbutvecklings- och designbyråer, icke vinstdrivande företag, arkitektbyråer, advokatbyråer, universitet, virtuella assistenter osv.).
Var kan Paymo användas?
Molnbaserad
På plats
Prissättning av Paymo
Startpris:
11,95 US$/månad
Erbjuder en gratis provperiod
Erbjuder en gratisversion
Paymo har en gratisversion och erbjuder en gratis testversion. Paymobetald version börjar på 11,95 US$/månad.
Prisplaner
få en gratis provperiod
Paymo videor och bilder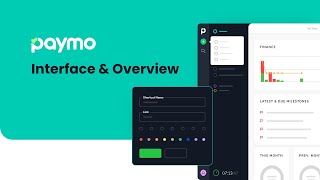 Funktioner i Paymo
Aktivitetspanel
Aktivitetsspårning
Anpassningsbara mallar
Arbetsflödeshantering
Bearbetning av fakturor
Budgethantering
Core Accounting
Dokumenthantering
Dra och släpp
Fakturahistorik
Fakturering
Fildelning
Fjärrstöd
Fjärråtkomst / kontroll
Flera valutor
For Creative Agencies
For Small Businesses
Färgkoder / Ikoner
Gantt / Tidslinjevy
Kalenderhantering
Kanban- styrelse
Kapacitetshantering
Klientportal
Kommentarer / Anteckningar
Kontaktdatabas
Kostnadsspårning
Marknadsföringskalender
Meddelanden i realtid
Mobilappar
Mobilåtkomst
Märkning
Märkning av uppgift
Målsättning / spårning
Online fakturering
Portföljhantering
Prioritering
Procent-fullständig spårning
Productivity Tools
Projektledning
Projektplanering
Projektplanering / schemaläggning
Projektspårning
Rapportering / projektspårning
Rapportering och analys
Rapportering och statistik
Realtidsdata
Redigering/uppdatering av uppgift
Resurshantering
Samarbetsverktyg
Schemaläggning av resurser
Skapande av faktura
Spåra milstolpar
Spårning av framsteg
Stapeldiagram
Statusspårning
Tid och kostnadsspårning
Tidrapportering
Tidsspårning
Uppdragshantering
Uppgiftsförloppsspårning
Uppgiftshantering
Uppgiftsplanering
Varningar / Meddelanden
Visualisering
Webbaserad implementering
Åtkomstkontroller / behörigheter
Paymo Hitta alternativ 2021 - Capterra Sverige
Krystle Chanel
Owner i USA
Verifierad LinkedIn-användare
Marknadsföring och reklam, Egenföretagare
Har använt programvaran för: 6-12 månader
I finally found the one!
Kommentarer: It is important to note that Paymo isn't idle in enhancing its software. Not only that, but new features are thoughtful and integrated seamlessly with the tool. I appreciate this because I have used other software that seem to have their priorities mixed up when releasing enhancements; adding things that don't move the needle ahead of things that do.
Fördelar:
After years of using project management software for both myself and companies I've worked for, I found the right tool for the job for my personal, small business as a marketing coach and online entrepreneur. Until I build a team, I'm using Paymo for myself, and other tools are not always price-sensitive for a solo user. I appreciate that Paymo provides an option to pay for one user until I'm ready to grow. A particular feature I was looking for was the option to view all projects on a single Kanban board. In the rare case that I found this option, it was a significant upgrade to acquire. But Paymo offers this and it's super easy to use! Other features I love: - Time-tracking/timesheet: Visual representation of where my time goes. I use the in-app timer every day. - Flexible viewing options: I can easily switch between list, table, board, and Gantt views, with easy to use filters that allow me to see exactly what I want. No custom reports or views need created - which can be time-consuming and inflexible (enterprise tools). - Note: The user experience of the Gantt chart was also what I was looking for. It is drag and drop and allows you to adjust your timeline from within the view. There's so much to love about Paymo! And that is saying a lot coming from someone who has researched and used as many tools as I have - including enterprise solution, Workfront. Paymo is definitely worth giving a try!
Nackdelar:
I wish there was a way to invite collaborators/reviewers like there is in Asana. If I want a coaching client to be able to collaborate, there is no way to do this without paying for another user. This is superficial, but, the name! When I tell people about Paymo, they immediately think it's a financial tool, not a project management tool, based on the name. I would hate for this to hold Paymo back in the market.
Övervägda alternativ: Teamwork, Airtable, Trello, Microsoft Project, monday.com, Adobe Workfront, Asana och Things
Anledningar att välja Paymo: I switched from Asana, Teamwork, and Things. I was looking for a tool with a kanban board option that allowed me to view tasks across all of my projects and I needed a cost-effective tool for someone who is currently solo but building a business. Asana was cost-prohibitive in that I could not pay for a single user, but had to pay for 5 minimum. Also, the kanban board option I was looking for was an additional upgrade for Asana and Teamwork, making these options even more expensive. Additionally, user experience was a factor. Asana generally has a good UI but I just like Paymo better. Teamwork has some work to do in this regard.
Tidigare programvara: Asana
Svar för Paymo
för 2 år sedan
You sure did your researh, Krystle, thank you for the review :) Actually, we're working on an improved client portal with in-app access to guest users, so they can collaborate with you on the same page. This is our #1 priority atm, so stay tuned! As for our name, this goes back more than 10 years when we started out as a time tracking and billing tool. The purpose was to use the app and GET PAID MORE, hence Paymo :) Hope this helps, thank you again!
Jaime
Creative Manager i Spanien
Grafisk design, 2-10 anställda
Har använt programvaran för: 2 + år
Jaime Zubiaur
Kommentarer: The control of the hours assigned to a project is Paymo's most useful tool. It lets you know quickly if a project is using more resources than expected.
Fördelar:
Although it has many functions, it is very easy to use and allows you to manage many projects with a global view of them.
Nackdelar:
I don't like the way the invoices are issued. I don't like that the list of tasks appears on the invoices. For a creative studio I think it detracts from the value. That's why we don't invoice using Paymo's tools, and it's a shame because I find the accounting charts very interesting.
Marknadsföring och reklam, 2-10 anställda
Har använt programvaran för: 1-5 månader
Monopolize you cause you can't export ANYTHING easily
Kommentarer: Would NOT recommend it to anyone who has even the slightest of "outside the box" process for projects or billing/invoices.
Fördelar:
Yet another system that after several months of use only did what we needed it too at 75% of the way, then AFTER buying into the "huge discount" and special they had going, did I find out they do not allow refunds at all! If you put ANY data into the system and ever need to export it for any reasons ...find a data entry person and hope you didn't enter a lot of information because unless you are a developer that can setup custom API's...your info is stuck in their system! You can enter clients, companies, etc. and change view to "Table" and see it in table mode, but that view still only gives you the general company information, NOT the contacts for that company and that is 1 of 2, yes that is right 2 places in the entire system of everything you may have entered where you can download/export that view into Excel/CSV file....everything else is PDF if you are lucky!! If you are a VERY small, VERY basic bookkeeping/accounting freelancer (NO TEAM, just you and very basic billing) - fine, it may work...but if you have more than 1 person in your team other than you, have different rates or even the SLIGHTEST out of the norm billing or cycles...GOOD LUCK!!! I am furious with this system after being told what it could do and I explained in detail, and "oh yeah, that is not a problem at all"...only to find out, everything I explained about what we needed, went in one ear and out the other just to make the sale...now I have a barely usable system and wasted $$$$!!
Nackdelar:
Can't export anything unless you have a developer standing bye. System is very "inside the box" thinking even after being told it would easily do what I had explained that I needed it to do support seems to take longer than usual and they are quick to respond with an answer that has NOTHING to do with what you originally asked (bots maybe?!?!) Can't get a refund, no matter how many lies they told you to make the sale in the first place!!!
Svar för Paymo
för 3 år sedan
Hi Cameron, Sorry to see you disappointed. Our goal is to help you improve the way you work, not to sell you on something. Indeed, you can export client, project, user lists, as well as time reports in csv format - invoices and Gantt Charts are available in PDF only. However, due to the fact that there's no standardised data structure for project management data, the only practical way to export it is via our API. And no, we're no bots, and don't force anyones hand to make a sale.
Heike
Head of Marketing i Sverige
Utbildningsförvaltning, 2-10 anställda
Har använt programvaran för: 1 + år
Helpful!
Fördelar:
It helped me a lot in my billing routing and planning work. Made my work schedule so much easier. Very useful app for my company.
Nackdelar:
I asked customer service for help on a few issues, but unfortunately there was no response, other than that it was a good experience.
Sean
Graphic Designer i USA
Grafisk design, 2-10 anställda
Har använt programvaran för: 2 + år
Paymo helps my team and I every single day
Kommentarer: It's has been really great. Honestly cant even imagine changing or going back to manually billing or manually keeping time on projects.
Fördelar:
I like how easy it is to use. It's very easy to bill for projects, create projects, set up reminders & see project status.
Nackdelar:
When you set a task to have a start date & end date. That task always gets dropped to the bottom of the list. So if you have something scheduled for 1/1/2022 & another for 1/1/2022-1/14/2022. The last one will go towards the end of the list near the 14th as apposed to the top towards the 1st