Vad är Service Fusion?
All-in-one field service management software that provides enterprise-level features at a small business price. Run your business from anywhere by creating estimates & jobs, schedule & dispatch, invoice & process credit cards. Track customer equipment history, run sales revenue and commission reports. Send text message and email reminders to customers. Integrated with Quickbooks and zero per-user fees, zero setup fees. Starting at $149 per month, Request a Free Demo Today!
Vem använder Service Fusion?
We serve over 6,000 small and mid-sized field service contractors in the HVAC, plumbing, electrical, appliance repair, home automation, A/V, locksmith, IT, and many other service industries.
Var kan Service Fusion användas?
Molnbaserad
På plats
---
Om leverantören
Service Fusion
Belägen i Irving, USA
Grundades 2014
Support för Service Fusion
Tillgängliga länder
Australien, Kanada, USA
Om leverantören
Service Fusion
Belägen i Irving, USA
Grundades 2014
Support för Service Fusion
Tillgängliga länder
Australien, Kanada, USA
Service Fusion videor och bilder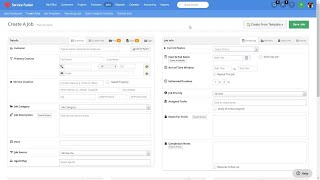 Jämför Service Fusion med liknande produkter
Funktioner i Service Fusion
Aktivitetspanel
Aktivitetsspårning
Anpassningsbara fält
Anpassningsbara mallar
Anpassningsbara rapporter
Arbetsorderhantering
Betalbearbetning
Bokningshantering
CRM
Citat / uppskattningar
Data Import/Export
Dokumentlagring
E-posthantering
Elektronisk underskrift
Elektroniska betalningar
Fakturering
Flera platser
For Plumbing Industry
För kommersiella och / eller industriella elentreprenörer
För låssmeder
Förebyggande underhåll
GPS
Hantering av fakturor
Inköpsorderhantering
Inspektionshantering
Interaktionsspårning
Jobbhantering
Jobbkostnad
Jobbplanering
Kalenderhantering
Kalendersynkronisering
Kontaktdatabas
Kontrakt / Licenshantering
Kostnadsberäkning
Kunddatabas
Kundhantering
Kundhistorik
Lagerhantering
Lagerspårning
Lagerstyrning
Leveranshantering
Lönhantering
Meddelanden i realtid
Mobilappar
Mobilåtkomst
Online bokning
Pave-certifierad försortering
Personalhantering
Platsspårning
Projektledning
Påminnelser
QuickBooks-integration
Rapportering och analys
Rapportering och statistik
Realtidsdata
Redovisningsintegration
Routing
SMS-meddelanden
Schemaläggning
Schemaläggning av anställda
Schemaläggning av möten
Schemaläggning av underhåll
Schemaläggning i realtid
Servicehistorik
Självbetjäningsportal
Skapande av arbetsorder
Statusspårning
Ta bilder
Teknikledning
Tid och kostnadsspårning
Tidsspårning
Tidsur online
Tredjepartsintegration
Uppdateringar i realtid
Uppdragshantering
Uppskattning
Upptagning av mobil underskrift
Utrustningsspårning
Varningar / Meddelanden
Verifieringskedja
Återkommande möten
Åtkomstkontroller / behörigheter
Övervakning
Service Fusion Hitta alternativ 2021 - Capterra Sverige
Recensioner av Service Fusion
Brandon
Franchise Community Manager i USA
Verifierad LinkedIn-användare
, 11-50 anställda
Har använt programvaran för: 1 + år
If you have a sales team that is mobile and on the road this is an incredible platform.
Fördelar:
It's very intuitive and has more tools and most businesses will need. It's very easy for salespeople to use and if they are not able to use it that's a good sign that you should be looking for a replacement.
Nackdelar:
There are a lot of options that can get a little bit overwhelming. The learning curve is a little high but that's due to the fact that there are so many tools available.
Andrew
Estimator/IT i USA
Faciliteter tjänster, 11-50 anställda
Har använt programvaran för: 1 + år
Best Software for running a service-business available. (I would know, I've looked at all of them!)
Kommentarer: Service fusion is the best software out there that I have seen. We used to use Smart Service and when one of their tech support agents expressed surprise that I had 8 tabs open and the software was still functioning I realized that it was a sub-par product. After that myself and our management sat through multiple software demonstrations to make sure we didn't end up with another sub-par software. Of all the demonstrations we went through, Service Fusion was, by far, the most cost effective and capable software available on the market. It runs on the internet, so we can access it from any computer or tablet without having to download any additional software. It also updates regularly, which, since it's on the web I don't have to visit each work station in the office to update software anymore, which is a huge time saver.
Fördelar:
The most impactful features for us are all of the automatic things the software does to communicate with our customers. It emails and texts them automatically the day before an appointment and when the technician is on their way. It has the widest range of features of any service-program I've seen and it is easy to use once the system has been setup to your liking. The Service Fusion team updates the software often, so we're always up-to-date with the latest features.
Nackdelar:
The only things that could be better are: The field application for technicians. It would be easier for us if we could create and edit inspection reports in the service fusion app itself instead of having to leave the app to fill out our reports and then upload them to the job.
Svar för Service Fusion
för 7 dagar sedan
Andrew, we sincerely thank you for taking the time to share your thoughts with us. We are thrilled to hear about your positive experience with our software.
Säkerhet och utredningar, 2-10 anställda
Har använt programvaran för: 1-5 månader
Service Fusion is not all that!! AVOID!!!
Kommentarer: Arrogant and hard to deal with
Fördelar:
Nothing. They lie and When I wanted a refund they would not give me one. This company sucks.
Nackdelar:
When I wanted a refund they would not give me one. This company sucks.
Hannah
Assistant to CEO i USA
Konstruktion, 11-50 anställda
Har använt programvaran för: 2 + år
Much Improved
Kommentarer: I've been using this software for years and it has much improved over time. There are several add-on features like call tracking and phone automation that are very useful.
Fördelar:
I like the ability to schedule workers, schedule payment notifications, and do job costing all from the same place.
Nackdelar:
It can be a little tricky to navigate and the custom template setup is a bit lacking.
Justin
Managing Member i USA
Kundservice, 11-50 anställda
Har använt programvaran för: 2 + år
Field management software
Kommentarer: The overall experience is great. I dont have complaints really.
Fördelar:
The thing I like best about Service Fusion is that it is very easy to understand and use. They have extensive videos about features. We find ourselves using it for more and more things and it is replacing more and more services we contract elsewhere. They are very aggressive in their improvements and are often coming out with updates and new features every month.
Nackdelar:
As with all service platforms and mobile work order software. Nothing seems to do everything that is needed. I wish they had a few different features. Like I said they are always working on new features.