Vad är Pardot?
Pardot empowers marketing and sales teams to work together to engage buyers, close deals, and grow relationships. Pardot's lead management features CRM integration, email marketing, lead nurturing, lead scoring, and ROI reporting to help marketing and sales teams work together to generate and qualify sales leads, shorten sales cycles, and track marketing ROI. Users can track all prospects on a site, qualify sales leads, and utilize social selling.
Vem använder Pardot?
Organizations that use online marketing for lead generation
Var kan Pardot användas?
Molnbaserad
På plats
---
Om leverantören
Salesforce
Belägen i San Francisco, USA
Grundades 2003
Om leverantören
Salesforce
Belägen i San Francisco, USA
Grundades 2003
Pardot videor och bilder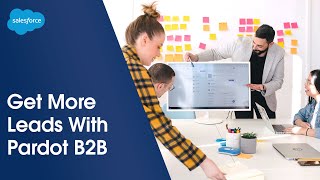 Jämför Pardot med liknande produkter
Funktioner i Pardot
A/B-tester
Abonnenthantering
Anpassningsbara fält
Automatisering av marknadsföring
Autosvarare
CAN SPAM-efterlevnad
CRM
Data Import/Export
Datavisualisering
Dra och släpp
Droppkampanjer
E-post marknadsföring
E-postspårning
Email-kampanjhantering
Engagemangsspårning
Event utlösta åtgärder
Fillagring
Flera kampanjer
Flerkanalig datainsamling
Flerkanalsmarknadsföring
For Small Businesses
Hantering av säljaktivitet
Innehållshantering
Instrumentbräda
Interaktionsspårning
Kampanjanalys
Kampanjhantering
Kampanjplanering
Kampanjspårning
Kanalhantering
Kontaktdatabas
Kontaktledning
Landningssida /Webbformulär
Lead-hantering
Lead-kvalificering
Lead-segmentering
Lead-upptagning
Listhantering
Mallhantering
Meddelanden om lead
Mobiloptimerade e-postmeddelanden
Multi-Channel Attribution
Omvandlingsspårning
Online forum
Prestandamätningar
Process / arbetsflödesautomatisering
Prospekteringsverktyg
ROI Tracking
Rapportering och analys
Samarbetsverktyg
Segmentering
Skapa och designa formulär
Social marknadsföring
Spårning av webbplatsbesökare
Svarshantering
Sök / filtrera
Tredjepartsintegration
Varningar / Meddelanden
WYSIWYG-redigerare
Webbplatsanalys
Åtkomstkontroller / behörigheter
Pardot Hitta alternativ 2021 - Capterra Sverige
Kate
Marketing & Account Management i USA
Verifierad LinkedIn-användare
Finansiella tjänster, 11-50 anställda
Har använt programvaran för: 6-12 månader
Övervägda alternativ:
Pardot delivers on promises
Kommentarer: Pardot has made it easy to understand how our marketing is working, know who is a hot lead versus a disengaged one, and to create content that is easy to share and delivers good ROI. It's built in many safeguards to keep you from getting in trouble with spam rules and avoid sending emails multiple times.
Fördelar:
The software is great for staying in touch with prospects and clients. It makes it easy to set up emails, create content, measure and report on results, and build stronger relationships. It's fun to use, once you understand how it works.
Nackdelar:
There's a long learning curve for adopting Pardot, and if I hadn't had a consultant to hold my hand through the integration and kick off, I'd be struggling. I find Pardot and Salesforce training to be overly confusing and it's really hard to find what you're looking for. It's a knowledge based system and continually adds more and more information, and it's not always clear if the instructions apply to you or apply to a different level of service. Other than that I highly recommend it because of all the functionality and way it can dramatically improve your digital marketing.
Joshua
Manager of Web Communications i USA
Utbildningsförvaltning, 201-500 anställda
Har använt programvaran för: 1 + år
Integrates well with Salesforce but lacks features of competitors
Fördelar:
The fact that it integrates natively with Salesforce is Pardot's best feature. The engagement studio automation product is great as well, making it really easy to create drip campaigns and other conditional flows.
Nackdelar:
The email builder is 10 years behind competitor's builders. To get things to behave, you have to code emails in html. The WYSIWG builder is poor, but asset management of images and files is even worse. Competitors like MailChimp and ActiveCampaign have much better platforms for designing beautiful, responsive emails.
Alex
Demand generation manager i Spanien
Byggnadsmaterial, 51-200 anställda
Har använt programvaran för: 1 + år
Övervägda alternativ:
Powerful tool
Kommentarer: I would say this is a very powerful tool because it's integrated with the CRM. One really useful tool is the Engagement Studio, you can create email flows and know their results.
Fördelar:
I like that the leads are syncronised automatically with salesforce including the source where the lead came from. When this leads is converted (he/she buys) we can know where it came from.
Nackdelar:
The UX still needs to improve. The graphic design of the platform looks a little bit old but nothing too bad. After using it for a couple of months you get use to it and you can move fast in the platform.
Verifierad recensent
Director, Growth & Revenue Operations i USA
Verifierad LinkedIn-användare
Datormjukvara, 11-50 anställda
Har använt programvaran för: 6-12 månader
Övervägda alternativ:
Not the easiest to implement or maintain for startups, not worth the high cost
Kommentarer: Overall, we didn't get the most use out of it mainly because its ease-of-use didn't turn out to be as advertised and sold. When you buy salesforce and pardot together, you're sold on the premise that it's 'one system', but at the end of the day they're still two separate systems that sync back and forth just like any other marketing automation tool. It just didn't turn out to be worth the heavy cost.
Fördelar:
Form handlers, automation/workflow builder, not much else.
Nackdelar:
The need to pay extra for detailed add-ons, particularly a dedicated IP (a basic need for email marketing), is really annoying (only available in their higher tiers). We didn't like not being able to relate marketing email activity to einstein activity sync. User interface could use some work as well; just not there yet overall.
Muhammad Daud
IT Manager i Storbritannien
Verifierad LinkedIn-användare
Finansiella tjänster, 11-50 anställda
Har använt programvaran för: 2 + år
Övervägda alternativ:
Boosting a business with Pardot
Kommentarer: Overall, I found Pardot great support for our business and it is helping us grow the leads with great marketing tools. Its algorithms are unique in capturing leads and working strategically with different businesses.
Fördelar:
I found Pardot a great utility and Platform for Campaign Managment, Email Marketing, Marketing, Marketing Analytics, Marketing Automation and Sales Force Automation. It has helped our business grow strategically and Marketing just went so easy.
Nackdelar:
Pardot is quite expensive and really advance to manage.