Vad är Paycor?
Paycor empowers leaders to modernize every aspect of people management so they can focus on what really matters: building winning teams. The unified HCM solution ensures employee data is in one place, so you'll never have to switch platforms, access multiple systems or re-key information. Automate tedious work, mitigate compliance risk, drive efficiencies, empower employees to control their own financial health and gain a deeper understanding of your business with robust analytics and insights.
Vem använder Paycor?
Over 28,000 medium-sized and small businesses trust Paycor to help them manage their most valuable asset their people. We are known for delivering modern, intuitive recruiting, HR & payroll solutions.
Var kan Paycor användas?
Molnbaserad
På plats
---
Om leverantören
Paycor
Belägen i Cincinnati, USA
Grundades 1990
Om leverantören
Paycor
Belägen i Cincinnati, USA
Grundades 1990
Paycor videor och bilder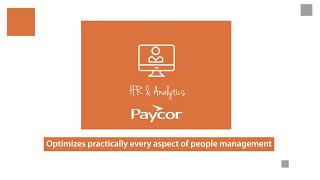 Jämför Paycor med liknande produkter
Funktioner i Paycor
360 graders återkoppling
401 (k) Spårning
API
Administration av anställda
Aktivitetspanel
Anpassningsbara rapporter
Anställdas databas
Anställdsprofiler
Arbetsflödeshantering
Avdragshantering
Bedömningsledning
COBRA-administration
Data Import/Export
Direkt insättning
Dokumenthantering
E-posthantering
E-verifiera / I-9-formulär
Efterlevnadskontroll
Elektroniska formulär
Feedback-hantering
Flera platser
Flera stater (endast Usa)
För revisorer
HIPAA-kompatibel
HR-ledning
Handikappförsäkringsadministration
Hantera arbetsflöde för orientering
Inlärningshantering
Integration av sociala medier
Intervjuhantering
Intervjuplanering
Jobbannons
Kalenderhantering
Kandidathantering
Kandidatprofiler
Kandidatspårning
Karriärutveckling
Kompensationshantering
Leverantörshantering
Livförsäkringsadministration
Löneförsörjning
Lönerapportering
Lönhantering
Medarbetarportal
Mobilåtkomst
Målsättning / spårning
Ombordstigning
Ombordstigning av anställda
Pensionsplanhantering
Personalhandbok
Personalhantering
Prestationshantering
Påminnelser
Rapportering av ACA
Rapportering och analys
Rapportering och statistik
Registrera dig för online-förmåner
Samarbetsverktyg
Schemaläggning av anställda
Semester- / ledighetsspårning
Sjukförsäkringsadministration
Sjukledighetsspårning
Självbetjäningsportal
Skatteöverensstämmelse
Skiftesbyte
Spårning av framsteg
Spårning av sökande
Tid och närvaro
Tidrapportering
Tidsspårning
Tidsur online
Tillgänglighetshantering
Tredjepartsintegration
Tryckning av checkar
Uppdateringar i realtid
Uppgiftshantering
Utbildningshantering
Varningar / Meddelanden
Vinst-instrumentbräda
Vinsthantering
W-2-beredning
Återuppta analysering
Återuppta sökning
Övertidsberäkning
Paycor Hitta alternativ 2021 - Capterra Sverige
Andrew
Executive Director i Australien
Verifierad LinkedIn-användare
Informationsteknologi och tjänster, 51-200 anställda
Har använt programvaran för: 6-12 månader
Övervägda alternativ:
Link Business Strategy with Individual Objectives, Measurement and Performance Reviews
Kommentarer: We wanted a system to easily allow us to execute our Business Strategy through the OKR mechanism and link these to our individual Performance Planning and Review for staff. 7Geese fits that bill.
Fördelar:
7Geese makes implementing Objectives and Key Results (OKRs) in your business fast and efficient. It compliments this with integration to Performance Reviews and other feedback mechanisms to create a holistically mechanism to integrate Business Objective setting with staff alignment and engagement. It's simple to use and the interface is fast.
Nackdelar:
OKRs are a great way to set goals and align staff. Initiatives, which are the strategic steps to get to the Objective, need to be understood and tracked. 7Geese does not have a mechanism for this yet. If it did, it would be almost perfect. It would also be great if the software had better 'at a point' reporting on OKRs, so that more traditional static monthly status reports could be generated.
Rebecca
HR Specialist i USA
Mat och dryck, 1 001-5 000 anställda
Har använt programvaran för: 1 + år
Övervägda alternativ:
Why go with Paycor
Kommentarer: My overall experience with Paycor has been great! Their HRIS and HCM offer us so much customization that we didn't have before we came to Paycor. The transition was seamless and they offer so many wonderful products, not to mention their partnership with so many other valuable companies.
Fördelar:
The software is easy to use, most of it is very intuitive and the implementation team we had was amazing! They made sure that the transition to Paycor went smoothly. They listened to our needs and were very prompt at helping us with any issues we had!
Nackdelar:
There are some reports that I would like to run, but cannot. If there is data for something, it should be reportable. However, Paycor reporting does offer a lot of reports and customization.
Svar för Paycor
för 3 veckor sedan
Hello Rebecca, thank you so much for the positive review! We are ecstatic to hear how effortless and simple your implementation process has been. We appreciate your feedback and are happy to hear you are enjoying our second to none customer service! We are always looking for ways to improve our products and encourage you to bring your reporting concerns directly to our product team by logging into perform and selecting "give feedback" as we believe it could be very helpful!
Sarah
Sr. Human Resource Manager i USA
Detaljhandel, 501-1 000 anställda
Har använt programvaran för: 6-12 månader
Övervägda alternativ:
Paycor Review
Kommentarer: Less than average- would not recommend
Fördelar:
Payroll is easier and quicker vs. our previous payroll company.
Nackdelar:
The systems within the system do not talk together- bad customer service
Svar för Paycor
för 2 veckor sedan
Hello Sarah, thank you for taking the time to provide your review. We are glad to hear how quick and easy your payroll has been with Paycor! We apologize that you have not been receiving level of support you expect to receive from Paycor, and it is not the level we have committed to deliver. If you are open to expanding on your feedback please email [email protected] as I believe it could be very valuable to our team.
Cortney
HR Director i USA
Verifierad LinkedIn-användare
Konsumtionsvaror, 11-50 anställda
Har använt programvaran för: 1 + år
Övervägda alternativ:
Paycor Makes My Life So Much Easier
Kommentarer: Highly satisfied with the product and I recommend it to everyone!
Fördelar:
Paycor has given us a cost savings as well as time savings. The integration between Applicant Tracking (which is amazing) and Onboarding has reduced our time to find, hire and set up new employees. Payroll processing time is dramatically faster as well as the time clock integration makes payroll easier. There is a great analytic component. The team is very helpful and we are seeing huge savings over ADP.
Nackdelar:
The tax component has been the only part that has been a little difficult. The time to get a response from this team is pretty long and it's not possible to contact them directly.
Svar för Paycor
för 3 veckor sedan
Hello Cortney, thank you so much for your positive review! We are delighted to hear Paycor has saved you time and money and that you are enjoying our onboarding product. I do see your concern about the tax team and I wanted to let you know that we have hired many additional members to this team. We are continuing to make optimizations to our service model and invest in our customer experience to ensure we are consistently delivering the highest level of customer service. If you have any additional comments please feel free to reach out to me direct at [email protected] as I believe your feedback could be very helpful.
Luis
Director of Facility Management i USA
Sjukhus och hälsovård, 201-500 anställda
Har använt programvaran för: 1-5 månader
Educational and Easy to Use
Kommentarer: The experience I have had with Paycor is phenomenal. It helps make payroll easy and it has all educational materials you need to use the software
Fördelar:
The software taring hub is very useful and easy to track.
Nackdelar:
So far I do not have anything negative to say about the software
Svar för Paycor
för 3 veckor sedan
Hello Luis, we are so grateful for your positive review! We are ecstatic to hear your are enjoying our training hub as we pride ourselves on empowering leaders!