Vad är Paycor?
Paycor empowers leaders to modernize every aspect of people management so they can focus on what really matters: building winning teams. The unified HCM solution ensures employee data is in one place, so you'll never have to switch platforms, access multiple systems or re-key information. Automate tedious work, mitigate compliance risk, drive efficiencies, empower employees to control their own financial health and gain a deeper understanding of your business with robust analytics and insights.
Vem använder Paycor?
Over 28,000 medium-sized and small businesses trust Paycor to help them manage their most valuable asset their people. We are known for delivering modern, intuitive recruiting, HR & payroll solutions.
Var kan Paycor användas?
Moln, SaaS, webb-baserat, Mac (Desktop), Windows (Desktop), Android (mobil), iPhone (mobil), iPad (mobil)
Om leverantören
Paycor
Belägen i Cincinnati, USA
Grundades 1990
Telefonsupport
Chatt
Om leverantören
Paycor
Belägen i Cincinnati, USA
Grundades 1990
Telefonsupport
Chatt
Paycor videor och bilder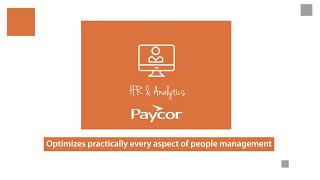 Jämför Paycor med liknande produkter
Funktioner i Paycor
360 graders återkoppling
401 (k) Spårning
Administration av anställda
Aktivitetspanel
Anpassningsbara rapporter
Anställdas databas
Anställdsprofiler
Arbetsflödeshantering
Avdragshantering
Bedömningsledning
COBRA-administration
Data Import/Export
Direkt insättning
Dokumenthantering
E-posthantering
E-postmallar
E-verifiera / I-9-formulär
Efterlevnadskontroll
Elektroniska formulär
Feedback-hantering
Flera platser
Flera stater (endast Usa)
HIPAA-kompatibel
Handikappförsäkringsadministration
Hantera arbetsflöde för orientering
Inlärningshantering
Integration av sociala medier
Intervjuhantering
Intervjuplanering
Jobbannons
Kalenderhantering
Kandidathantering
Kandidatprofiler
Kandidatspårning
Karriärutveckling
Kompensationshantering
Leverantörshantering
Livförsäkringsadministration
Löneförsörjning
Lönerapportering
Lönhantering
Medarbetarportal
Mobilåtkomst
Målsättning / spårning
Ombordstigning
Pensionsplanhantering
Personalhandbok
Prestationshantering
Påminnelser
Rapportering av ACA
Rapportering och analys
Rapportering och statistik
Registrera dig för online-förmåner
Samarbetsverktyg
Schemaläggning av anställda
Semester- / ledighetsspårning
Sjukförsäkringsadministration
Sjukledighetsspårning
Självbetjäningsportal
Skatteöverensstämmelse
Skiftesbyte
Spårning av efterlevnad
Spårning av framsteg
Spårning av sökande
Tid och närvaro
Tidrapportering
Tidsspårning
Tidsur online
Tillgänglighetshantering
Tredjepartsintegration
Tryckning av checkar
Uppdateringar i realtid
Uppgiftshantering
Utbildningshantering
Varningar / Meddelanden
Vinst-instrumentbräda
Vinsthantering
W-2-beredning
Återuppta analysering
Återuppta sökning
Paycor Hitta alternativ 2021 - Capterra Sverige
Keith P.
Corporate Systems & Web i USA
Verifierad LinkedIn-användare
1 001-5 000 anställda
Har använt programvaran för: 6-12 månader
We are a 1,200 person company with many global offices. Newton was a perfect fit for our needs.
Kommentarer: Recruiters now have more time to seek optimal candidates as they need less time in the platform to post jobs, schedule interviews, interact with hiring managers, etc. Newton does a great job in blasting out our job postings to the various job boards and tracks where our leads are coming from. Our job seekers have a much easier time with applying for jobs and since our business hires at over 40 locations internationally, having a simple job application process is key for getting applicants who do not speak English as a first language. The job listing integrates seamlessly into our company web site. All good!
Fördelar:
Our previous job posting and applicant tracking system was quite old and the user experience for both recruiters and applicants was far from ideal. Newton greatly simplified the job posting process by integrating with Outlook for interview scheduling, allowing mobile feedback from hiring managers (so that they did not need to enter the platform if they did not want to), and having dashboards which quickly showed status of jobs for the recruiters. The application process for job seekers was fast and easy, resulting in our receiving far more applicants per job than the previous tool. Overall, Newton was a perfect fit for our needs as it allowed our recruiters to focus more on seeking candidates (since entering jobs was much easier) and we are getting more/better candidates given the expanded reach and ease of use that Newton provides our job seekers.
Nackdelar:
The main thing that we did not like was that the analytics dashboards and tracking were all Flash-based, but that was updated in the most recent platform update, so now our recruiters do not have to worry about Flash plug-in issues. Otherwise, we are quite happy with Newton.
Sjukhus och hälsovård, 51-200 anställda
Har använt programvaran för: Gratis provperiod
Övervägda alternativ:
Would have been a Great Product!
Kommentarer: The Reps within Paycor were great, always willing to answer and were always helpful. They did put alot of pressure on upper management. I really preferred this system over others but I was not the one who made that choice.
Fördelar:
I loved the ease of the product and versality of it. It felt very easy to use, straight forward and simple. Unfortunately, the upper management felt pressure to sign on and so they ended up choosing a different system. Even though this was my preferred system.
Nackdelar:
Nothing, the software was great! I had no issue while learning the system.
Jennifer K.
Office Manager i USA
Religiösa institutioner, 11-50 anställda
Har använt programvaran för: 1 + år
Disappointing
Kommentarer: Awful. Continual errors on their part, hours on hold, having to retell the issue at hand time and time again only to get different, unreliable information. Issues have taken months to resolve and no one at Paycor seems to have any answers. We're a small company with 26 employees; it shouldn't be that hard.
Fördelar:
There is nothing really standout about the software. It is similar to other platforms; nothing special.
Nackdelar:
Clunky, not intuitive, not customizable and super time-intensive to implement.
Ryan M.
Director of Administration i USA
Verifierad LinkedIn-användare
Medicinska apparater, 51-200 anställda
Har använt programvaran för: 2 + år
Övervägda alternativ:
Paycor Review
Kommentarer: Overall, very positive experience. Website timeouts are an issue, but the ease of use is a good trade off.
Fördelar:
I like the ease of use and the ability to onboard users. Very straightforward. Non-technical folks can use this product easily.
Nackdelar:
Integration options are somewhat limited. The site often times out and time cards have to be manually adjusted often.
Joanie B.
HR Director i USA
Ideell organisationsledning, 51-200 anställda
Har använt programvaran för: 1 + år
Paycor for the Win
5
för 3 veckor sedan
Nytt
Kommentarer: We have been able to reduce paperwork and personnel tracking, automate hiring and onboarding, quickly process payroll, manage timekeeping, and process performance reviews and merit increases with ease.
Fördelar:
Paycor has been a fabulous tool for our overall HRIS and Payroll needs. It has made our HR department run so much more smoothly.
Nackdelar:
We had to implement our "Go Live" during COVID so we did not have any onsite support as we had originally planned