LeadSquared
Vad är LeadSquared?
LeadSquared is a new-age SaaS platform that provides end-to-end sales, marketing, and onboarding automation solutions. It specializes in solving sales challenges for high lead-volume, high-velocity
Läs mer
businesses that have multiple sales channels and teams. Benefits that LeadSquared users have identified: • Zero Lead Leakage • Intelligent and efficient lead prioritization • 70% reduction in lead turnaround time • Automated sales and marketing processes • Integration with multiple business tools •
Läs mindre
Vem använder LeadSquared?
LeadSquared is used by 2000+ education, healthcare, financial services, IT services, real estate, tech marketplaces, and other high-volume B2C businesses to improve their sales efficiency.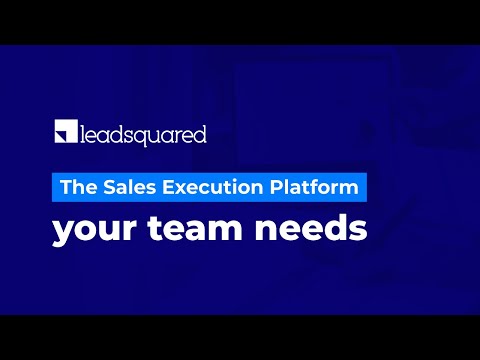 Är du osäker på LeadSquared? Jämför med ett populärt alternativ
Inte tillgänglig i ditt land
Gratis version
Gratis provperiod
Gratis version
Gratis provperiod
LeadSquared Hitta alternativ 2021 - Capterra Sverige
Recensioner av LeadSquared
Rahul
Administrative Assistant - Admissions i
Verifierad LinkedIn-användare
Utbildningsförvaltning, 11-50 anställda
Har använt programvaran för: 1 + år
Källa: GetApp
Very Useful Software for Sales Field
Kommentarer: I am using this software for our institution from last 1.5 years and found it very helpful. We have 5 users along with 1 administrator. It is very handy and hassle free software. Being as a administrator of the software in our organization I can say that is it very easy to adopt and our users are very friendly with this software.
Fördelar:
Reminder Pop-ups. E-mail campaign, Defined dashboard, Landing page integration, Auto responders, Separate list for particular data, HTML mailer creation, transactional SMS and Various Kind of Analytical Reports, etc. Export import feature of the LSQ to help generate more defined reports in excel format. E-mail campaign report helps to target the audience based on open and click rate of the mailer. Gets immediate responses from helping team (Technical team) at the time of any kind of technical error or at the time of support requirement.
Nackdelar:
Third party integration with LSQ takes time.
Devesh
Operations Head i Indien
Utbildningsförvaltning, 51-200 anställda
Har använt programvaran för: 1 + år
Övervägda alternativ:
Great CRM Platform for B2C Businesses
Kommentarer: Lead Management and accumulation from various sources and channels has made various segments of operations organized
Fördelar:
1. Automated and Customizable Workflows 2. Targeted Email Campaign 3. APIs and Connectors with various other platforms
Nackdelar:
Nothing as of now, mostly fulfils our requirements
Mahara
Team Lead i Indien
E-lärande, 1 001-5 000 anställda
Har använt programvaran för: 2 + år
Easy to use in android devices
Kommentarer: Simple and effective software for maintaining all kinds of sales & marketing activates.
Fördelar:
Its so friendly for usage. And it can be operated in mobile phones itself. Best software for field sales and marketing time. With in fraction of seconds we can mark all information even while we are discussing with our customers.
Nackdelar:
If we do a recording meeting , if any call or any other 3rd party interruption is done total recording have been crashed several times. Not supportive we lower model devices.
Verifierad recensent
Marketing Director i USA
Verifierad LinkedIn-användare
Marknadsföring och reklam, 51-200 anställda
Har använt programvaran för: 1 + år
Övervägda alternativ:
Long Implementation and Setup Process, Poor Support
Kommentarer: I would only recommend this product if you do not have any data to import from other software tools or if you are looking for very basic functionality. If you are planning to use more advanced functionality, ask them to FULLY demo it for you. Ask lots of questions, don't make any assumptions! I wish I had spent more time doing my due diligence during the evaluation process. I probably would have discovered it was not the best fit.
Fördelar:
The price is what was most attractive about this software. For the feature set included the price was right compared to the marketplace.
Nackdelar:
The setup process took much longer than anticipated. We had data to import from another system and working with the support staff off-shore was a challenge. I wound up having to pull an internal resource (developer) to get the import completed. I consider myself pretty savvy with marketing automation/email marketing/crm software tools and I was challenged with the implementation. When all was said and done, we were unable to gain all of the reporting and functionality we initially thought we were purchasing.
Rajesh
VP Finance & Accounts i Indien
Telekommunikation, 51-200 anställda
Har använt programvaran för: 2 + år
Övervägda alternativ:
CRM That Made A Difference
Kommentarer: So far Good, Excellent.
Fördelar:
Software integrates the company work process as per its own requirement. Hassle free CRM software. Helped in understand , knowing for what reason the service was delayed. Easily, identify at which level the task is pending, delay can be identified & productive steps can be taken to avoid the delay.
Nackdelar:
Earlier, automation tools offered to us was bit costly which refrain us from fully atomize the work process. (Now, that the price has been reduce). As the Billing & Ticketing solution is not provided the work process has become more cumbersome, as multiple software is required.