Vad är SolarWinds Service Desk?
SolarWinds Service Desk är en molnbaserad IT-supportlösning som har hjälpt organisationer att minska kostnaden per biljett med upp till 15 % och lösningstid för ärenden med upp till 48 % med smart ärendehantering, automatiserade arbetsflöden och integrerad tillgångshantering. Detta, plus en AI-driven kunskapsbas, kan utrusta dina anställda med de resurser som behövs för att snabbt lösa problem. Installation och konfigurering kan göras på några dagar istället för månader och kan sömlöst passa in i din verksamhet genom att integrera med mer än 200 molnapplikationer.
Vem använder SolarWinds Service Desk?
Passar perfekt för företag i alla storlekar, var som helst, med sofistikerade IT-organisationer som vill leverera överlägsen service till sina interna kunder (anställda andra interna hjälpsökare).
Var kan SolarWinds Service Desk användas?
Moln, SaaS, webb-baserat, Mac (Desktop), Windows (Desktop), Linux (Desktop), Android (mobil), iPhone (mobil), iPad (mobil)
Om leverantören
SolarWinds
Belägen i Tulsa, USA
Grundades 1999
Telefonsupport
24/7 (Live-support)
Chatt
Om leverantören
SolarWinds
Belägen i Tulsa, USA
Grundades 1999
Telefonsupport
24/7 (Live-support)
Chatt
SolarWinds Service Desk videor och bilder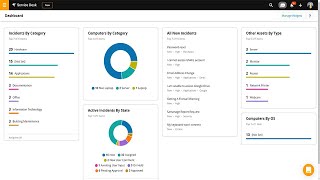 Jämför SolarWinds Service Desk med liknande produkter
Funktioner i SolarWinds Service Desk
Aktivitetspanel
Anpassningsbar branding
Anpassningsbara mallar
Anpassningsbara rapporter
Arbetsflödeshantering
Arbetsflödeskonfiguration
Automatiserad routing
Biljetthantering
CMDB
Call Center-hantering
Dra och släpp
E-posthantering
Efterlevnadskontroll
Enhetsautomatisk upptäckt
Fjärråtkomst / kontroll
Flera kommunikationskanaler
Flerspråkig
Hantering av servicenivåavtal (SLA)
IT-kapitalförvaltning
Incidentshantering
Instrumentbräda
Konfigurationshantering
Kontaktdatabas
Kontrakt / Licenshantering
Kostnadsspårning
Kundtjänsthantering
Kunskapsbashantering
Kunskapshantering
Lagerhantering
Leverantörshantering
Licenshantering
Livechatt
Meddelanden i realtid
Mobilåtkomst
Prestandamätningar
Prioritering
Problemgranskning
Problemhantering
Rapportering och analys
Realtidsrapportering
Relationskartläggning
Releasehantering
Revisionshantering
Samarbetsverktyg
Schemaläggning av underhåll
Servicekatalog
Självbetjäningsportal
Spårning av efterlevnad
Stöd för biljetthantering
Tillgångsspårning
Uppdragshantering
Uppgiftshantering
Varningar / Eskalering
Varningar / Meddelanden
Widgets
Ändringshantering
Åtkomstkontroller / behörigheter
SolarWinds Service Desk Hitta alternativ 2021 - Capterra Sverige
Recensioner av SolarWinds Service Desk
Hossam S.
Network Infrastructure & Operations Manager i Saudiarabien
Verifierad LinkedIn-användare
Detaljhandel, 10 000+ anställda
Har använt programvaran för: 2 + år
Övervägda alternativ:
Hossam's SolarWinds Service Desk Review
Kommentarer: My overall experience with SolarWinds is very positive, although we have switched to another system due to budget issues, yet i still prefer it.
Fördelar:
SolarWinds Service Desk is easy to use & what i like most about it is its dashboard customization feature, as i can be able to monitor my team's ticket status all day long, without having to look into the tickets of other teams, and being SolarWinds, it gives me the ability to view it in appealing charts, and reporting & notification is well maintained.
Nackdelar:
The least i like about it is its cost in relative to other ticketing systems in the market.
Asim M.
Service Desk Manager i Storbritannien
Ideell organisationsledning, 51-200 anställda
Har använt programvaran för: 1 + år
Övervägda alternativ:
Excellent ITSM tool
Kommentarer: Solarwind Service Desk has met all of our requirements. It is easy to use and follows ITIL best practises.
Fördelar:
Ease of use and customisation. Customer services
Nackdelar:
Reporting is limited. Even customisation in reporting is limited
Andrew D.
Center IT Engineer i USA
Informationsteknologi och tjänster, 1 001-5 000 anställda
Har använt programvaran för: 6-12 månader
Wish it was my daily driver...
5
för 2 månader sedan
Nytt
Kommentarer: Overall I enjoyed using this a great deal and wish we could move over to this from our current helpdesk solution. The connection time for our current software is absurd, having an external program needed just to remote in is a joke, and Kaseya goes down very...VERY often. This seems like the bar is set pretty low for SolarWinds to succeed, but I'd like to give credit where it's due. Web-based solutions for programs is truly the future in my opinion and SolarWinds is right inline with that. You can basically do everything from the web browser which means less for us to set up or maintain (and doesn't bug you about program updates all the time). I mean it when I say I'd love to move to SolarWinds.
Fördelar:
To give some background, we took on IT services for a smaller company that was getting absorbed by us. While a lot of the IT foundations laid down were pretty flimsy or problematic, one thing stuck out as very well done. They were using Solarwinds for I.T. support and it was definitely a sigh of relief amongst the other mismanagement from before. Everything such as device enrollment was pretty simple, the feature set for online client management was well-stocked, and my favorite was the ability to remote in without needing an external program to do so. We currently use Kaseya and it's just hot garbage, I sincerely wish we could move over to Solarwinds for our main company's IT helpdesk tools.
Nackdelar:
While there is a lot to like about this, some of the UI felt a little "cramped" from time to time. The feature set was nice, but what I was looking for was sometimes a tiny little button on a small option bar. Perhaps some buttons or icons of size would help streamline things, as this can also make training others more difficult, since the task options are easy to miss.
Verifierad recensent
Service Desk Administrator i USA
Verifierad LinkedIn-användare
Magasinering, 1 001-5 000 anställda
Har använt programvaran för: 1 + år
Good Out-Of-Box product for small, scalable team
Kommentarer: We were attempting to solve the issue of ticket management in the IT department. While it was a great out-of-the-box solution, it didn't offer the unique scalability we needed and the customer service wasn't helpful in growing the product with our needs. However, I still believe that, for a small shop, this product offers the best value for the price and is a great entry-level solution.
Fördelar:
I like that, out-of-the-box, Samanage offers great core functionality with a stable product that ties neatly into a beautiful UI for the end users. The UI is where Samanage really knocks it out of the park though. It's modern, simplistic, "forum" layout is attractive and intuitive, and chat indicators on the tickets feels like your moving from a traditional email reply into a IM chat.
Nackdelar:
There's a lot to be desired when it comes to the fine details of the service. There are specific customization options for project management and ticket automation that aren't available that we wanted in our shop. When we reached out to our support member to discuss a possible addition/fix. They advised us to post our suggestion on their feedback board and if it received enough votes they would implement it. The same suggestion was found submitted over a year ago on the board (with over 300+ votes) yet no action was taken. I was hoping for a more, collaborative answer, instead of posting on a forum board in hopes that other members validate my need for them to implement it.
Eromonsele E.
Security Engineer i Kanada
Finansiella tjänster, 201-500 anställda
Har använt programvaran för: 2 + år
Övervägda alternativ:
Great Service desk tool
4
för 2 månader sedan
Nytt
Kommentarer: Well, it was a good value for money.
Fördelar:
It is easy to use and implement, manage and upgrade.
Nackdelar:
Well, customer service was not easy to reach