Vad är Fishbowl?
Elevate your inventory management with real-time data while reducing costs and maximizing profitability. Fishbowl's complete manufacturing and inventory management solution automates and simplifies the manufacturing process. Fishbowl's inventory management includes advanced work orders, material requirements planning (MRP), bills of materials, barcode scanning, and can be easily deployed on-premise or hosted in the cloud.
Vem använder Fishbowl?
Fishbowl is the #1 Manufacturing and Warehouse Management Software that seamlessly integrates with QuickBooks and offers secure & cost-effective inventory management to manufacturers and so much more.
Var kan Fishbowl användas?
Molnbaserad
På plats
---
Om leverantören
Fishbowl
Belägen i Orem, USA
Grundades 2001
Tillgängliga länder
Australien, Kanada, USA
Om leverantören
Fishbowl
Belägen i Orem, USA
Grundades 2001
Tillgängliga länder
Australien, Kanada, USA
Fishbowl videor och bilder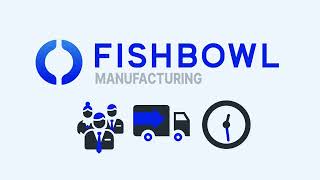 Jämför Fishbowl med liknande produkter
Funktioner i Fishbowl
3PL-hantering
API
Anpassning
Arbetsflödeshantering
Arbetsorderhantering
Artikelhantering
Asset Lifecycle Management
Audit av inventarier
Automatiserad schemaläggning
Beställning av restorder
Bokföring
CRM
Citat / uppskattningar
Data Import/Export
Dokumenthantering
Efterfrågan på prognoser
Etikettmall
Fakturering
Flera platser
Flerkanalshantering
For Small Businesses
Fraktetiketter
Fraktledning
För detaljhandeln
Försäljningsargument
Försäljningsprognoser
Försäljningsrapporter
Försändelsespårning
Hantering av leveranskedja
Incheckning / Utcheckning
Inköpsorderhantering
Kanalhantering
Kapacitetsplanering
Katalogisering / kategorisering
Kitting
Kontaktdatabas
Kostnadsspårning
Kvalitetshantering
Köpa in och ta emot
Lagerhantering
Lagerhantering för detaljhandel
Lageroptimering
Lagerspårning
Lagerstyrning
Leverantörshantering
Materialbehovsplanering
Materialräkningar
Mobilåtkomst
Mottagnings- och lagringshantering
Ombeställa hantering
Orderhantering
Orderläggning
Personalhantering
Produktidentifikation
Produktionsspårning
Prognoser
Rapportering och analys
Rapportering och statistik
Redovisningsintegration
Returhantering
Schemaläggning av produktion
Serienummerspårning
Spårbarhet
Statusspårning
Streckkod / biljettavläsning
Streckkodning / RFID
Sök / filtrera
Tredjepartsintegration
Uppgiftsplanering
Utgångsdatumhantering
Varningar / Meddelanden
Verifieringskedja
e-handelshantering
Återkommande beställningar
Fishbowl Hitta alternativ 2021 - Capterra Sverige
Ed
Web Designer/Developer/Small Business Tech Support i USA
Verifierad LinkedIn-användare
Detaljhandel, 11-50 anställda
Har använt programvaran för: 2 + år
Powerful, Affordable Inventory and Order Management Software
Kommentarer: Stated simply, Fishbowl is the best in it's class, period! Easy to use, incredibly effective and affordable Inventory and Order Management Software.
Fördelar:
Fishbowl offers and unparalleled ease of use. Our whole team was trained and up and running in hours. You simply won't find another software package with the range of features and reliability at this price range. It easily bests other software packages costing 3 times what Fishbowl costs!
Nackdelar:
Their call back support could be a little faster, but it's still likely better than most software companies.
Michelle
Custom Orders Dept. i USA
Kläder och mode, 11-50 anställda
Har använt programvaran för: 2 + år
A Great All Around Product For Inventory
Kommentarer: Fishbowl has helped us save money by being able to control everything from inside and not having to hire multiple 3rd parties to make connections. Fishbowl continues to add and upgrade the software to what consumers ask for.
Fördelar:
Fishbowl software is easy to use. I like that you always have step by step instructions and some videos to help guide you. If you don't find what you are looking for, all it takes is an email, and support helps you as quickly as they can.
Nackdelar:
The only negative issue I have while using Fishbowl software is with the reports. Even though they have multiple reports to choose from, I feel as some of them can be upgraded to include more than one product a t a time. Example, when searching for a product that was sold on a particular day, and you have more than one size of the same product, it would be nice to be able to select as many products as you want to look at versus one at a time.
Svar för Fishbowl
för 6 månader sedan
Thank you so much for this review, Michelle. We appreciate you taking the time to provide your feedback. We are happy to hear that your experience has been satisfactory and will take your suggestions into consideration while we continue to make improvements.
Robert
VP of Finance i USA
Mattillverkning, 2-10 anställda
Har använt programvaran för: 6-12 månader
Källa: SoftwareAdvice
Two major areas for improvement
Kommentarer: Our Operations team finds it helpful and far superior to QB Enterprise's Inventory management.
Fördelar:
Inventory builds and management within the FB software are great.
Nackdelar:
Two major flaws: 1) Support is very slow to respond. Their support page on their website indicates one can live chat, but It's been months since that was true. You can chat with a mindless bot all day and not get any support, but cannot chat with a real person. Email support requests often take hours to get a response. Don't even think about trying to call. 2) FB Inventory totals get out of balance with QuickBooks, presumably due to rounding. But a product that calls itself Fishbowl Inventory for QB should have some sort of built-in mechanism to keep the two in balance.
Plast, 2-10 anställda
Har använt programvaran för: 2 + år
Övervägda alternativ:
Good Value and performance
Kommentarer: Fishbowl has been key to our organization. This is where we maintain all inventory and create sales and purchase orders.
Fördelar:
Controlling inventory and sales management
Nackdelar:
Creating customized reports can be cumbersome
Bernui
IT assistant i USA
Läkemedel, 51-200 anställda
Har använt programvaran för: 2 + år
Övervägda alternativ:
Fishbowl Inventory Review
Fördelar:
Integration with our manufacturing process was easy. Purchases, Receiving, Bill of materials and Work Orders fulfilled our needs.
Nackdelar:
Reports provided are too basic, no help documentation to create your own reports. If you need a detailed or custom reports you have to purchase them apart.