Vad är Spiceworks?
The Spiceworks IT Help Desk is purpose-built for IT pros, we have just what you need to run a better internal IT help desk and a better business. Start tackling tickets in minutes with free help desk software (on your server or in the cloud). Plus, it's more than just ticket tracking: understand (and change!) team behavior and articulate your value to the business. Get it free today!
Vem använder Spiceworks?
IT pros! There's nothing better than making our IT profesional's lives easier. No matter if you're a CTO, IT manager, IT support specialist, or sysadmin - Spiceworks has something for you.
Var kan Spiceworks användas?
Moln, SaaS, webb-baserat, Windows (Desktop), Windows (på platsl), Linux (på plats), Android (mobil), iPhone (mobil), iPad (mobil)
Om leverantören
Spiceworks Ziff Davis
Grundades 2006
Chatt
Om leverantören
Spiceworks Ziff Davis
Grundades 2006
Chatt
Spiceworks videor och bilder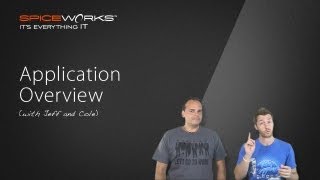 Jämför Spiceworks med liknande produkter
Funktioner i Spiceworks
Aktivitetsövervakning
Arbetsflödeskonfiguration
Baslinjechef
Biljetthantering
Diagnos verktyg
Efterlevnadskontroll
Fjärråtkomst / kontroll
Grundorsaksanalys
Hantering av servicenivåavtal (SLA)
IT-kapitalförvaltning
Incidentshantering
Instrumentbräda
Kapacitetshantering
Konfigurationshantering
Kunskapsbashantering
Kunskapshantering
Lagerhantering
Nätverksövervakning
Patchhantering
Problemgranskning
Problemhantering
Rapportering och analys
Resurshantering
Schemaläggning av underhåll
Självbetjäningsportal
Tillgångsspårning
Uppdragshantering
Uppgiftshantering
Upptidsrapportering
Varningar / Eskalering
Ändringshantering
Åtkomstkontroller / behörigheter
Spiceworks Hitta alternativ 2021 - Capterra Sverige
Recensioner av Spiceworks
Robert R.
Systems Administrator i Kanada
Verifierad LinkedIn-användare
Mat och dryck, 51-200 anställda
Har använt programvaran för: 2 + år
Ideal free helpdesk for small to medium businesses
Kommentarer: Overall I have been very happy with Spiceworks, especially the community of users.
Fördelar:
It's impossible to beat the cost of free. The product is well designed and functions extremely well for the job it is designed for.
Nackdelar:
Larger IT departments won't be able to route tickets to specific teams. It would be very nice if spiceworks could expand its offering to include sub service desks etc.
Matthew B.
Director of IT i USA
Ideell organisationsledning, 11-50 anställda
Har använt programvaran för: 2 + år
Övervägda alternativ:
Help Desk Where You Want It
Kommentarer: Starting a new role in the organization that had no Help Desk and no history or structure; Spiceworks proved to be the single biggest one thing that could be done right that would yeild improved IT services to the organization. User responsibility shifted to reporting IT issues using email and overall satisfaction improved and service impacting issues due to weaknesses in infrastructure, bad procedures or mislaid processes were identified by the ticketing system and corrected.
Fördelar:
I started using Spiceworks in the cloud and then copied the database and importing it to our VM and lost nothing. It is an efficient and easy to use platform. Adding techs and break-fix categories to track what needs to be improved proved to be successful. This allows IT to focus on root cause and then to deploy solutions to prevent the same.
Nackdelar:
The reports need to be streamlined to remove redundancy. Quantity is not always a good thing and by compressing and focusing on key areas the reporting could be a lot better and less fractured.
Jeffrey R.
VoIP Operations Manager i USA
Telekommunikation, 2-10 anställda
Har använt programvaran för: 1-5 månader
Spiceworks Helpdesk - A great option for small business or a start up operation.
4
för 2 veckor sedan
Nytt
Kommentarer: I have used spiceworks in a both a large corporate enterprise as well as in my current role with a small startup and both cases the software just works and functions as intended. A few tweaks here and there could make this software perfect but in any case it is a goto software for me.
Fördelar:
I loved that the price is free! This makes a huge impact to the success of a startup or small company. The other key feature is the fact that the product works. It functions exactly how a ticket system should function.
Nackdelar:
I hate that it is so difficult to be able to get our clients to use the site. This is primarily because routing the DNS information from our domain to their site is cumbersome at best. If they provide a simpler way to route your domain to their site it would improve the offering and would even be worth a few dollars per month for this functionality.
Josh B.
IT Support Specialist i USA
Har använt programvaran för: 2 + år
Awesome IT Help Desk software, horrible inventory system.
Fördelar:
Spiceworks is great for managing help desk tickets. Using HTML we've been able to customize our end-user portal. Create multiple ticket templates to capture the details we truly need from end-users. We have found that the mobile application for iOS and Android to be the best on the market. It has a great GUI, very user friendly, informative, and easy to set up.
Nackdelar:
The inventory system is lacking when it comes to producing accurate information. At one point this year we were upgrading our end users to dual monitors. We attempted to use Spiceworks to produce the make and model of the current monitor the end users were using. It came back telling us a generic description. I ended up writing a batch file that would obtain them remotely and that was accurate. We've also had issues where it would scan a computer that had 2 monitors but would only show one. We also went through a license key audit and thought we could rely on Spiceworks to produce accurate results. It ended up showing us that several computers had 3 iterations of office installed. I understand that these keys are in the registry but other similar scanners would only produce keys for whats actually installed on the workstation by cross-referencing installed applications and registry keys. We recently have been experiencing issues where Spiceworks would attempt to scan 180 assets and it would fail to complete the scan without errors. We found this out by using WSUS to determine how many computers we had and Spiceworks was off by 30 assets of the 180. At least twice a week it also locks up and our end users can't access the help desk portal to submit tickets. We've chosen to use LanSweeper to track assets. LanSweeper produced accurate results in a fraction of the time Spiceworks produced incomplete results. Spiceworks took 8+ hours, LanSweeper <30 minutes.
Patrick C.
System Admin i USA
Datormjukvara, 11-50 anställda
Har använt programvaran för: 2 + år
Best ticketing system
Kommentarer: This tool has been great for us. It's very user friendly which was better then other ticketing systems we looked at. It's been very beneficial to be able to keep track of our tickets. One huge benefit is the use of the mobile tool to be able to access and our modify the ticket when our users are on call
Fördelar:
Great tool for ticketing system. Being a small company we used excel to track calls and troubleshooting with customers and we needed a better solution to keep track of all the calls and tickets created. It's been great that we can access this in office and on our mobile device to refer to past notes in a ticket when we are on call. One benefit that we love is adding and modifying fields in the ticketing system to keep track of certain information of the customer
Nackdelar:
Having gone from tracking our own calls manually this has been a huge benefit and we haven't noticed any downsides to using this.