Vad är Kaseya VSA?
Se själv varför tusentals MSP-företag som vill få högre lönsamhet och IT-avdelningar som behöver göra mer med mindre använder Kaseya VSA:s IT-hanteringsprogram när de ska automatisera sin IT-hantering. Med Kaseyas lösningar kan organisationer hantera hela sin infrastruktur och IT-drift, inklusive molnmiljöer, lokala, hybrid-, virtualiserade och distribuerade miljöer, allt från en och samma plats. Starta din kostnadsfria testversion så kan du proaktivt hantera och kontrollera IT-tillgångar och program på distans, enkelt och effektivt.
Vem använder Kaseya VSA?
MSP-företag som vill få högre avkastning och lönsamhet och IT-avdelningar som behöver göra mer med mindre använder Kaseya VSA för att enkelt kunna skala och hantera mindre än 100 till mer än 50 000 slutpunkter på distans
Var kan Kaseya VSA användas?
Moln, SaaS, webb-baserat, Mac (Desktop), Windows (Desktop), Linux (Desktop), Android (mobil), iPhone (mobil), iPad (mobil)
Om leverantören
Kaseya
Belägen i Miami, USA
Grundades 2004
Telefonsupport
Chatt
Språk
engelska, franska, nederländska, tyska
Om leverantören
Kaseya
Belägen i Miami, USA
Grundades 2004
Telefonsupport
Chatt
Språk
engelska, franska, nederländska, tyska
Kaseya VSA videor och bilder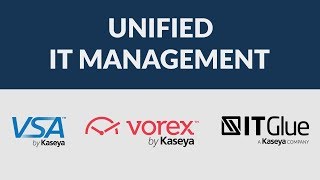 Jämför Kaseya VSA med liknande produkter
Funktioner i Kaseya VSA
Anpassning
Automatisk patchdistribution
Automatiska skanningar
Baslinjechef
Bred hantering av nätverk
CPU-övervakning
Datavisualisering
Diagnos verktyg
Efterlevnadskontroll
Fildelning
Fjärrstöd
Fjärråtkomst / kontroll
För MSP: s
Hantering av servicenivåavtal (SLA)
Hotvarningar
Händelseloggar
IP-adressövervakning
IT-kapitalförvaltning
IT-rapportering
IT-tillgångsspårning
Incidentshantering
Inspelning av session
Instrumentbräda
Kapacitetshantering
Konfigurationshantering
Kontroll och hantering remote
Lagerhantering
Meddelanden i realtid
Mobilåtkomst
Nätverksövervakning
Obemannad tillgång
Patchhantering
Policyhantering
Prestandamätningar
Problemgranskning
Problemhantering
Protokoll för enkel nätverkshantering (SNMP)
Rapportering och analys
Rapportering och statistik
Realtidschatt
Restaureringshantering
Revisionshantering
Samarbetsverktyg
Schemaläggning
Schemaläggning av underhåll
Serverövervakning
Självbetjäningsportal
Skärmdelning
Spårning av efterlevnad
Säkerhetskopiering och återställning
Sårbarhetsskanning
Tillgångsspårning
Uppgiftshantering
Upptidsrapportering
Varningar / Eskalering
Varningar / Meddelanden
Varningar i realtid
Ändringshantering
Åtkomstkontroller / behörigheter
Övervakning av Internetanvändning
Övervakning av bandbredd
Övervakning i realtid
Kaseya VSA Hitta alternativ 2021 - Capterra Sverige
Recensioner av Kaseya VSA
Rj E.
Owner i USA
Verifierad LinkedIn-användare
Informationsteknologi och tjänster, Egenföretagare
Har använt programvaran för: 2 + år
Great Product
Kommentarer: I have been using Kaseya VSA for about 10 years now. It has transformed my business. I travel less and less to clients sites and do most if not all work remotely for them. Their customer support is top notch and they work hard to help you. Their billing department could be improved, but they're working on it. They have Kaseya Connect every year in Las Vegas. I wish they would hold it somewhere other than casinos and strip clubs. Kaseya is a must for your business. They can scale with you as you grow your business too.
Fördelar:
Kaseya is awesome in the automation department. I am able to set scripts in place and have them run in the middle of the night. No more staying up after hours pushing out patches and fixes. I can set the patch management to scan for new updates, then push them out on a schedule that I determine.
Nackdelar:
The product works great on Windows machines, but updating a Mac can be tricky. I would like to see them move into the Android field more too. There are more and more Android devices coming into the work sphere that having an option to remotely fix androids would be great.
Andrey G.
Kaseya and Server Adminsitrator i Colombia
Informationsteknologi och tjänster, 11-50 anställda
Har använt programvaran för: 2 + år
Övervägda alternativ:
increasing helpdesk staff productivity
Kommentarer: -- Tactical Responsibilities
Use remote monitoring and management tool KASEYA to deliver pro-active remote support
Establish monitoring and maintenance necessary for new and existing clients
Monitors Server Windows Operating System performance and takes action to resolve problems
Monitors the Microsoft Exchange Service and resolved any issues regarding the email systems
Monitors Workstation Windows Operating System performance and escalate actions
Monitors network Devices status and performance and escalate actions
Monitors Storage Devices health and takes action to resolve problems
Monitors VMware Infrastructure performance and takes action to resolve problems
Prepare and present service and monitoring reports to management regularly
Documents problems and resolutions on production servers
Completes scheduled audits and provides reports to customers periodically
Fördelar:
Kaseya is one of the best RMM (Remote Monitoring and Management) tools in the market we have moved from REACTIVE to PROACTIVE and now we are moving to SERVICES related to "Service Management Maturity model" thanks to Kaseya we achieved 1. Analyze trends 2. Set thresholds 3. Predict problems 4. measure applications availability 5. Automate (highly appreciable when you handle hundreds of devices) 6. Mature Problem Configuration, change, asset and performance management 7. Increase Security in multiple layers 8. Manage the entire Windows updates process 9. Remote Control 10. Compliance and audit Reports
Nackdelar:
unfortunately using kaseya core modules, it is not stronger to manage network devices
Verifierad recensent
Manager IT i Indien
Verifierad LinkedIn-användare
Läkemedel, 10 000+ anställda
Har använt programvaran för: 2 + år
Övervägda alternativ:
Best Tool for Remote Monitoring and management : Kaseya VSA Pro.
5
för 2 månader sedan
Nytt
Fördelar:
With Overall experience Kaseya is the best tool for IT helpdesk and Asset management solution. I'm very happy and satisfied customer with the outcomes from Kaseya. Kaseya is the best Solution with the Commercial part and the Services from Kaseya support always quick and fast.
Nackdelar:
Not really. Still Kaseya is always helpful for me and my team. And never found this with any issue. t
Alexander B.
Project Manager i USA
Fastighet, 1 001-5 000 anställda
Har använt programvaran för: 2 + år
A powerful engine marred by lazy, ongoing GUI problems
Kommentarer: We took on Kaseya largely for remote control of clients and Windows/Office patching. We quickly made use of its Agent Procedures and reports modules and then continued on, slowly integrating module after module.
Fördelar:
Many powerful modules: - I would not even consider Windows patching without Kaseya: it is granular, easy to use, pretty complete - Agent Procedures and Policies allow enormous customization in what you can do - practically any script you can think of can potentially be run through here - LiveConnect is smooth and fast and provides a wealth of tools - Reports, Alerts, and Audit modules are clear (once understood) and provide tremendous detail and customization
Nackdelar:
Persistent, unfixed, obvious GUI issues spanning years and years after being reported: - screens not refreshing; - inconsistent filtering; - misleading word choices in scheduling boxes; - selecting multiple is a chore; - "View" is powerful to *use* but clumsy and unwieldy to *manage/administer* The way installation packages are created is terrible. If you have more than about a dozen OUs, you will see what I mean: you must create a new install package for each OU. We have 90. EVERY ONE OF THEM must be updated every time there is a new Kaseya client release (about four times a year). There should be one package that asks the user its OU based on a database that IT sets up. Kaseya Anti-Virus and Kaseya Anti-Malware (which we used to use) frought with problems, in accurately reporting what was out there & in reliably installing or uininstalling packages. KAM in particular was so broken it caused us to dump the entire thing and switch to Webroot (though the Webroot integration module is a bad joke: it looks like an alpha product, nowhere near beta). Patch rollback is difficult and usually impossible (though this may not be Kaseya's fault).
Verifierad recensent
President i USA
Verifierad LinkedIn-användare
Dator- och nätverkssäkerhet, 2-10 anställda
Har använt programvaran för: 2 + år
Powerful RMM Solution, if a bit complex.
Fördelar:
Kaseya VSA pulls together a powerful suite of tools for RMM. Scripting is extremely powerful, but you'll need to learn the "VSA way" instead of being able to easily pull a PowerShell script from some other source. The reporting capabilities allow us to easily report on almost any data collected for monitored devices.
Nackdelar:
VSA's interface really needs a modern web UI overhaul. The company seems to be making progress to at least provide a consistent look with fonts, icons and imagery, however progress is slow and it needs a lot more "love" from the design team. In this same process, there is a TON you can do with the solution, however data is often scattered across multiple tabs and sections in order to find everything you need. Often when working with clients, I'd have to move to several sections to find all needed details for a single device. It is all there, but I would love to see it streamlined.